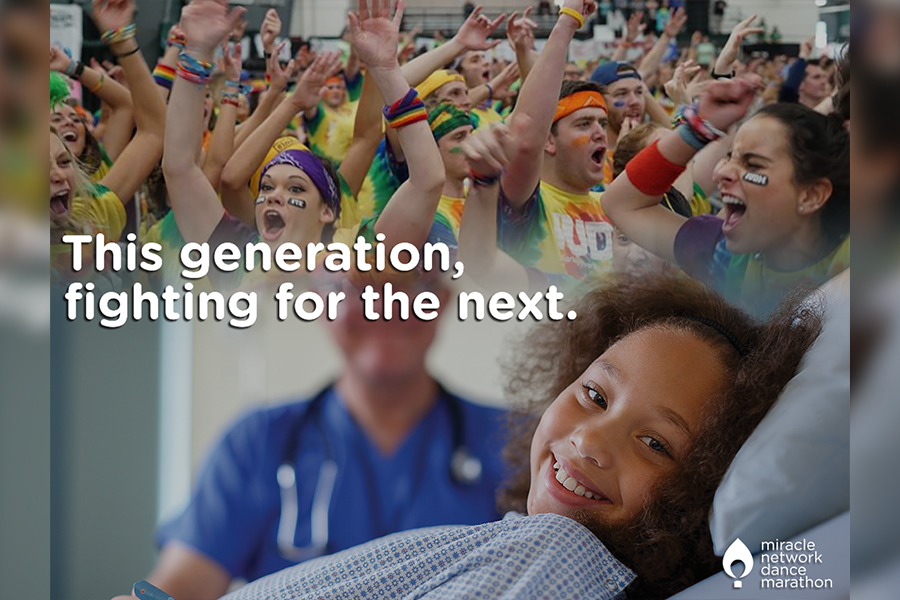 Fundraising for children's hospital, dancing in solidarity with kids
On Feb. 18, Davis Dance Marathon, a student-run organization on campus, will be hosting its sixth annual Dance Marathon event at the ARC Ballroom. With the motto that "bad dancing saves lives," it encourages the campus community to get involved in raising funds for the UC Davis Children's Hospital year-round and to participate in this event where they raise awareness for children's health.
Dean Paz, a fourth-year neurobiology, physiology and behavior major and treasurer of DDM, finds passion in this organization and the work it does knowing that he is helping children.
"I think the idea of helping the children's hospital is really something that attracts me toward this organization," Paz said. "I mean children, they're amazing. Helping children that don't have the ability to get out of bed — I mean our slogan is dance for the kids that can't — so fundraising for children that are really sick drives everyone to help achieve the goal."
Dance marathons are a nationwide phenomenon in college campuses across the country. A Children's Miracle Network initiative allows nationwide fundraising.
"Every year we've been trying to […] expand the movement," said Olivia Schlanger, a fourth-year psychology and dance double major and executive director of DDM. "We want to create and generate […] commitment for the kids across the campus especially because our local children's hospital is the UCD Children's Hospital. One of our mottos is: 'this generation fighting for the next.' We have to invest in the kids [and] where would any hospitals be without donations?"
The DDM event is meant to bring together the community and celebrate children that often have or had debilitating conditions as they try to heal. A main focus for DDM through the 12-hour event is to keep everyone on their feet, and through that fragment of pain, to demonstrate empathy toward the children and solidarity with the cause.
"Part of the dance marathon movement is you committing to standing or moving for [a certain] amount of time in solidarity with kids who can't take a break from their illness," Schlanger said. "It's the idea [of] realizing that it's an ongoing struggle for these kids — you remaining standing and your legs start to hurt and you realize it's bigger than just you."
DDM brings some of the children and their families to the actual event to share their stories and also to enjoy the event with participants. Michelle Thompson, the associate director of the Children's Miracle Network at UCDCH, helps serve as a liaison between DDM and the hospital itself. She found that children whom she thought didn't have the energy to stay out for more than a few hours would find so much joy in the event, they would stay for nearly the whole time. She has watched as children accepted and grew past their limitations. For instance, she recalls a young girl who previously never liked to discuss her illness experience approached the microphone and shared her story with everyone at one of the annual events.
"I help get some families there to attend the event," Thompson said. "I give tours of the Children's Hospital so [participants] can understand what they're fundraising for, and actually see the items and the programs and the things that we fund to make it more meaningful to them and [show] that it's not just a party."
The programs and tools Thompson mentions include multiple services that the hospital provides the children in order to ensure that they feel some sense of normalcy and have some way of digesting the challenges they are faced with at a young age.
"We pretty much fund all children's services except for the MIND Institute," Thompson said. "The CMN raises funds for the children's hospital. But the way it's set up here at UC Davis, […] it also reaches the children's surgery center, the cancer center, some of our specialty clinics."
The funds the hospital receives through the event are generally channeled towards areas where the money is most needed. For instance, funding has allowed the hospital to purchase equipment such as isolette beds for the NICU. After pooling in the funds over a few years, the hospital was also able to open a Pediatric Intensive Care Unit.
"We went to the hospital and got to tour the NICU, and I was just really inspired by all that was going on," Schlanger said. "They have webcams that the parents now can view the babies from their home [through], so that [they] don't have that disconnect — and that's through hospital donations."
Another area of focus for funding that Thompson mentioned is Child Life. This department provides a range of services, from helping children cope with anxiety before entering surgery to distracting children getting infusions at the cancer center to providing support to the entire family in the Emergency Department. A particular strategy that Child Life has employed to help children normalize their emotional experiences was having children simulate what happens to them using a doll. For instance, if a child with cancer is getting a port for infusion, that child can play that out on a doll to better comprehend the experience they are undergoing. The Child Life department also provides art and music therapy, and uses funds to purchase more play items for the children.
"Everyone takes something different out of their Dance Marathon experience," Schlanger said. "I just think that it's a really fun event, but it's also really powerful. It's really emotionally provoking and its really humbling that you are a part of this community and you're building a better tomorrow."
Written by: Sahiti Vemula — features@theaggie.org