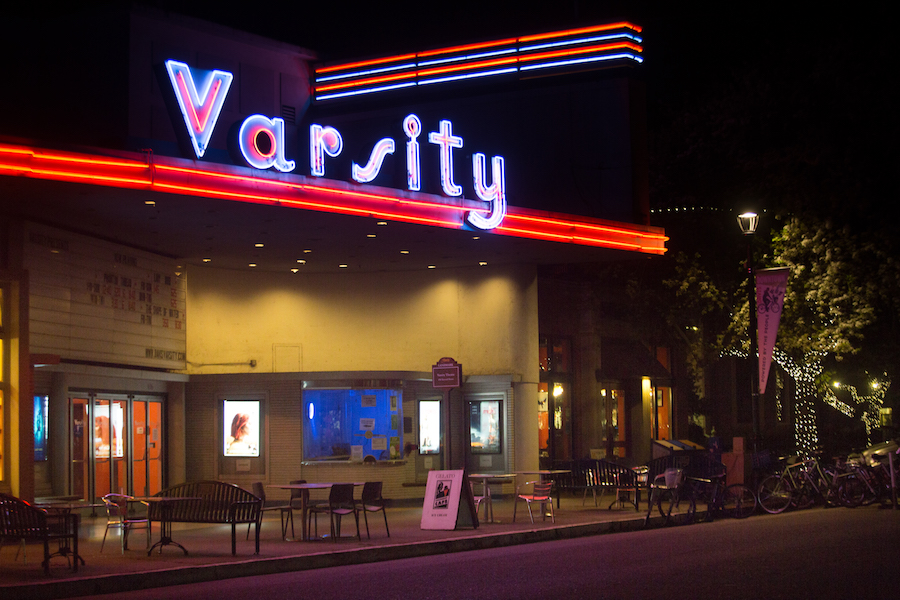 History behind neon lights explained
Bringing a unique selection of film and theater entertainment to Yolo County since its opening in 1950, the Varsity Theater is a staple of Davis culture. The first film to play at the Varsity Theater on June 9, 1950 was "The Eagle and the Hawk," thus launching the start of a very long and continuing history for one of downtown Davis' most recognizable landmarks.
"My grandmother actually worked here in the '50s as a teenager," said 12-year Varsity Theatre employee and lifelong Davis resident Whitney Martinez.
At the time of its opening, the Varsity was considered the "newest, most modern theater in the Sacramento Valley," with its angular architecture, bright neon letters and chrome detailing, according to an old theater flyer. After the theater's popularity began to decline throughout the '60s and '70s, the Varsity was ultimately remodeled in 1992 as a performing arts and conference center.
"Growing up in the mid- to late-'90s, [the theater] was a playhouse," Martinez said. "When I got here in 2006, we remodeled again."
The 2006 relaunch transformed the Varsity back into an old-fashioned movie theater, exclusively featuring a unique selection of independent and foreign films. With the help of a programmer, Martinez and theater owner Sinisa Novakovic work together to figure out what films students and the Davis community hope to see and how certain films have performed in markets similar to their own.
"Varsity is completely different from other theaters in the sense that they have those independent films that most people may not know about," said third-year cell and molecular biology major Frida Melgar. "And it's right by Mishka's Cafe, so you can totally just bring your cup of coffee with you to the movies."
"It definitely seems like a more unique and creative experience," said second-year managerial economics major Jessica Rasanayagam.
Connected to the neighboring gelato shop, Icekrimski Cafe, the Varsity is home to two auditoriums. Martinez says awards season is the busiest time of the year. In the past year, the Varsity has managed to bring critically acclaimed films such as "Lady Bird," "La La Land," "Three Billboards Outside Ebbing, Missouri," "Shape of Water" and "Phantom Thread" to its screens.
"My biggest hope for the future would be to add more screens, especially during awards season," Martinez said. "If only we had more screens, we could have films like 'Call Me By Your Name' or 'I, Tonya.'"
Coming soon to the Varsity Theater are "I, Tonya," "Isle of Dogs," "The Party" and more. For more information, visit the theater's website.
Written by: Sydney Odman — arts@theaggie.org