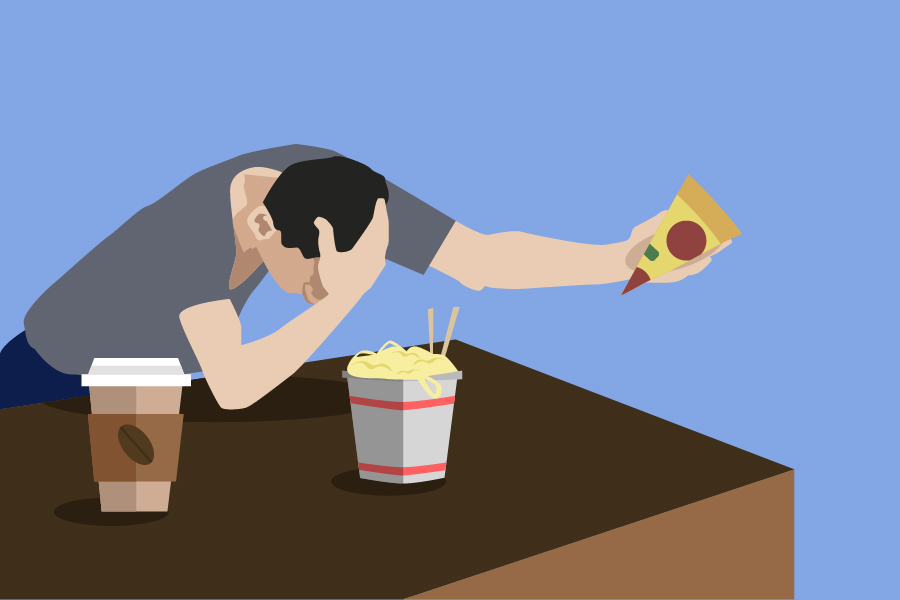 Are college students eating healthier today?
Contrary to the popular belief that an average college diet consists of ramen, pizza and peanut butter and jelly sandwiches on a day-to-day basis, studies show that current college students are actually more health-conscious than they're given credit for. While most students are indeed strapped for cash, they are more likely to spend on food to maintain a healthy lifestyle.
Naman Ajmera, a third-year mechanical engineering major, allocates time in his week to cook despite his busy schedule with school and work. Ajmera's primary motivation for being healthy is self-confidence.
"My diet consists mostly of high-protein foods. Outside of protein, I include as many fruits as I can, most frequently bananas and apples," Ajmera said. "I meal plan for short periods of time because I prefer eating fresh food over the convenience of having a meal from a couple days earlier. My meal planning revolves mostly around making meals that provide sufficient protein, and I meet my calorie requirements by eating smaller snacks and ready-to-eat food through the day," Ajmera said. "There could be multiple reasons for [students] to want to be more conscious. However, I think it's most commonly a desire to [improve attractiveness]; have one less aspect of your life to worry about and one more to be confident and proud of."
Whether students are making the decision to eat healthier for their physical appearance or personal well-being, students are understanding how better foods can be life-changing. Alexandria Crisler, a fourth-year chemistry major, makes the constant decision to eat healthy to avoid medical complications.
"My immediate motivation for health consciousness is to avoid foods and habits that can trigger my migraines," Crisler said. "At this point, I know there is a clear correlation between unhealthy foods and migraines for me," Crisler said "My other motivation sources are to proactively combat my medical history. My family has a long history with diabetes, heart disease and cancer. I know I can't prevent the genetic markers for any of these conditions, but I can at least live better now through healthier choices."
Although time and money are hindrances to developing a healthy regimen, better eating is being made possible through access to further resources and food options including gluten-free and vegan foods at the ASUCD Coffee House.
Cameron Henton, the manager of Chopstixx at the CoHo, which sells pho and sushi, has seen more students asking questions about the ingredients. However, he believes the dietary concerns at UC Davis have remained unchanged in the past few years.
"Students are coming up to us and asking about non-GMO products and whether it's gluten-free or not," Henton said. "Students have also asked about why we raised prices. Well, we provide a lot noodles and protein and have better-quality products. If you want something that's a little more and authentic, it's going to be a bit more expensive. Before [Chopstixx] was selling about a 150 bowls, but recently it's jumped to over 300. Students want something that tastes good and something to fill them up. In terms of ingredients, everything's fresh, and we provide different options."
In spite of the fact that students are making stronger efforts in their eating habits, there are still days where it is difficult not to succumb to convenience and affordability. While Ajmera and Crisler are attentive to what they consume, they too crave unhealthy snacks.
"I think that [the Freshman 15 stereotype] is less true now than it used to be, but I'm sure that college students still use those foods occasionally out of convenience and because they're so tasty," Ajmera said.
Written by: Becky Lee — arts@theaggie.org