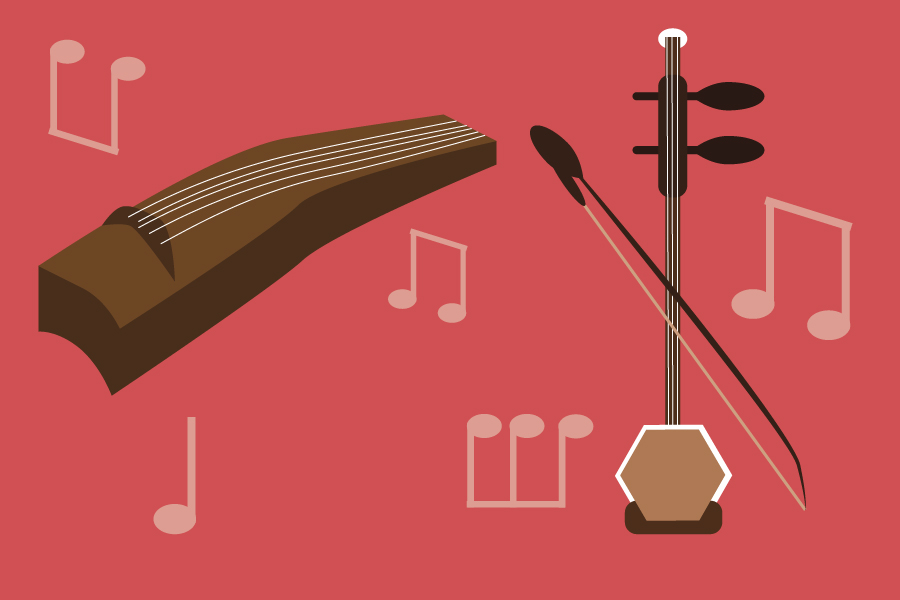 Confucius Institute seeks to help students, community members develop foundation in two traditional Chinese instruments
Beginning this spring, the Confucius Institute will offer UC Davis students and members of the community an opportunity to learn traditional Chinese music, taught by a former UC Davis student.
Alan Yip, a UC Davis class of 2015 alumnus with a master's degree in horticulture and agronomy, will share his knowledge of two traditional Chinese instruments with the community in a small-class format. One of the instruments, the guquin, is a seven-stringed Chinese zither with a long history and deep connections to Chinese philosophy. The other instrument, the erhu, is similar to a violin.
Yip has been working alongside the director of the Confucius Institute, Michelle Yeh, to promote understanding of Chinese culture. In collaboration with the Music Department, the Confucius Institute seeks to help potential students develop a foundation for the techniques of the guquin and the erhu in an eight-week program.
Yip, who learned from guquin masters in China, noted that many students who study the instruments in China do not learn the proper techniques, thanks to what he calls a "lucrative business" where "underqualified" guquin players market themselves as masters to those looking to try to learn traditional Chinese arts.
"More and more people want to have this idea of going back to the ancient ways of a slower paced life and culture and so on," Yip said. "So lots of people are actually going back to try to learn the ancient arts like painting, calligraphy, older styles of traditional music."
Yip began studying Chinese music in middle school and eventually took a quarter off during his time as an undergraduate at UC Davis to study in Shanghai and Beijing from guquin masters. Yip's grandmasters included a handful of people who essentially saved the guquin from the cultural purge during China's Communist Revolution, where the communist government attempted to outlaw many parts of classical Chinese culture.
"They worked very hard to save the instrument," Yip said. "One of my teachers said the red guards were outside while [my] teachers were learning the guquin, which was illegal in the eyes of the government. [The guquin] was an elitist instrument, and that was heavily frowned upon."
While the class will primarily be focused on learning how to play the guquin and the erhu, Yip intends on organizing the class to allow students to embark on "a musical journey."
"Some of [the class] is going to be music appreciation as well as in Chinese music," Yip said. "What I really want to do is emphasize the artistic value. Learning by doing is how I would emphasize the course."
Yeh is excited to introduce a music class to not only students at UC Davis, but to anyone in the surrounding communities who may be interested in learning about Chinese tradition and culture.
"It's not easy to find a good teacher for traditional Chinese music," Yeh said. "And Alan is great. We were just so impressed by his music, and he's a very serious musician."
In 2015, the Confucius Institute organized a solo concert for Yip, who showcased his talents for the guquin and erhu to a full crowd in a UC Davis lecture hall. People from Davis and the greater Sacramento area came to listen to Yip's program, where he played five pieces on the guquin and two pieces on the erhu.
Mengyuan Xiao, a Ph.D. candidate in plant sciences, met Yip at this concert, where Yip told her about his journey learning the guquin and the erhu. Xiao, an international student studying horticulture, learned how to play the erhu at a young age and continued to play during her time as an undergraduate student in China as part of her college's Chinese traditional orchestra.
"I didn't expect to see young people in the U.S. playing Chinese traditional music so well," Xiao said in reference to Yip's 2015 concert. "I'm glad Alan can start this class and get more people to learn it and learn about Chinese traditional culture and traditional music."
Xiao hopes that in addition to serving the community, the Chinese traditional music program will allow international and American students to gather together and hopes for the possibility of an orchestral performance.
"[The guquin] is a living tradition," Yip said. "And without it being a living tradition I don't see the guquin being able to survive in its entirety."
Students who are interested in Yip and the course can contact him at apyip@ucdavis.edu.
Written by: Taylor LaPoint — campus@theaggie.org