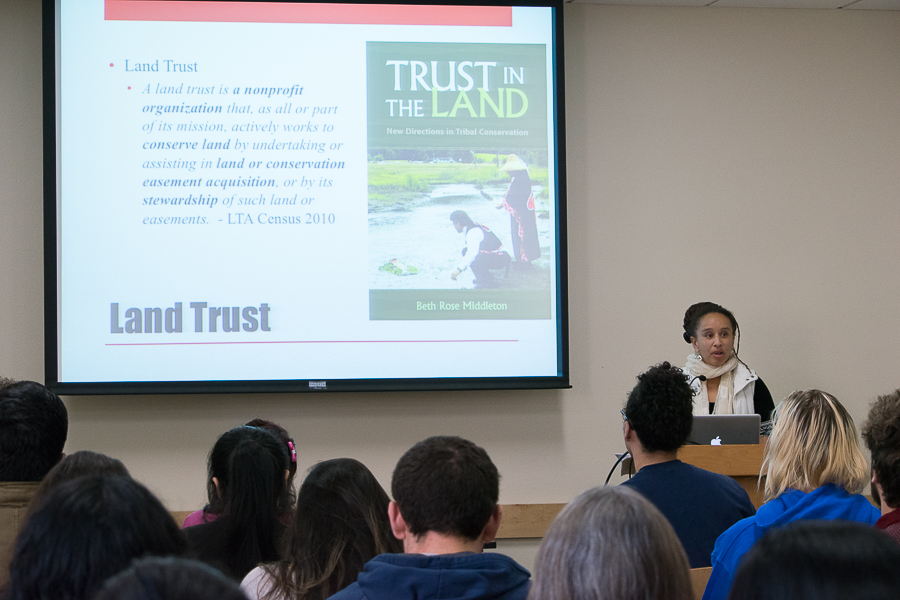 How Native Americans can reverse injustices of past
Beth Rose Middleton, a professor in the Native American Studies Department at UC Davis, recently gave a talk about the history of the sale of Native American land in California and how modern tribes can use environmental policy to help take back what is rightfully theirs. The talk was put on by the Feminist Research Institute in association with the Women's Resource Center. The groups are working together to bring awareness to the research being done by women, especially to inform undergraduates about their work.
"Professor Middleton's research addresses the historical origins and ongoing environmental impacts of the dispossession of California's Indigenous peoples," said Justin Spence, an assistant professor in the UC Davis Native American Studies Department. "Her research program engages contemporary Native American people in the process of finding creative policy solutions to a legacy of environmental injustice that has eroded their land base (both literally and figuratively). Her work provides a model of community-engaged scholarship that researchers in many fields can aspire to emulate — one where theory and praxis inform each other in support of historically underserved communities' efforts to maintain their political and cultural autonomy."
Middleton's research is at the intersection of her identity as a black-multiracial woman. Her research highlights discontinuities in the treatment of Native Americans in an effort to affect policy change. For example, in 1850 and 1851, the California state government and the Native American tribes of California mutually recognized each other's nationhood and signed treaties to establish their sovereignty. However, those treaties were never ratified by the state and were left unenforced, which allowed the state to continue selling Native American lands to companies who harm the California state ecology by flooding valleys, destroying the homes of wildlife and wasting natural resources.
The original land grants that were given to Native Americans were withheld from non-white and female citizens. Middleton's research has uncovered documentation that showed how difficult the state government made it for women to pursue and protect rights to their lands. The government forced Native American women to be living on the land that was granted to them, which would have required them to evacuate their homes and families. Once enough time had passed without anyone living on the property, the government seized the land and sold it to power companies who created dams that flooded valleys and destroyed ecosystems. One dire effect on the ecosystem has been the systematic annihilation of salmon populations which cannot travel up the dams and are instead directed into fish hatcheries.
Tribal people of California were first displaced by the seizure of their lands and were later displaced again by the urbanization that occurred thanks to the seizure of their lands, said Middleton. She also mentioned the 'stairway of power,' which is a series of dams and hydropower-generation facilities in the Feather River Canyon. Not only did Native American land allow for the growth of cities in which they could not afford to live, they continue to pay these companies for power generated on the land that they bought from the government's unlawful seizure.
Middleton's soon-to-be-published book, "Upstream: Trust Lands and Power on the Feather River," includes a 'how to' chapter for modern California tribes on what it will take to use the laws that are in effect to take back their land in a way that grants them the capacity to be the land's caretakers. This would give them the power to stop and reverse the creation of dams, intentional flooding of valleys, and more.
"Professor Middleton's collaboration with Native California tribes and the relevant research that she conducts are prime examples of engaged and responsible academic work," said Zoila Mendoza, the department chair and a professor of Native American Studies at UC Davis. "She brings this commitment to her undergraduate and graduate teaching and mentoring developing an exemplary method of active learning. We are very fortunate to have Profesor Middleton as a faculty member and proud that she is the holder of the Yocha Dehe Endowed Chair for California Indian Studies."
Written by: Jason Kelly — science@theaggie.org
Corrections (updated 2/27/18 at 7:30 p.m.)
An earlier version of this article incorrectly stated that Middleton was a black-Native American woman. The article also stated that the "stairway of power" is a series of mountain valleys. This is incorrect. The "stairway of power" instead refers to a series of dams and hydropower-generation facilities located in the Feather River Canyon.