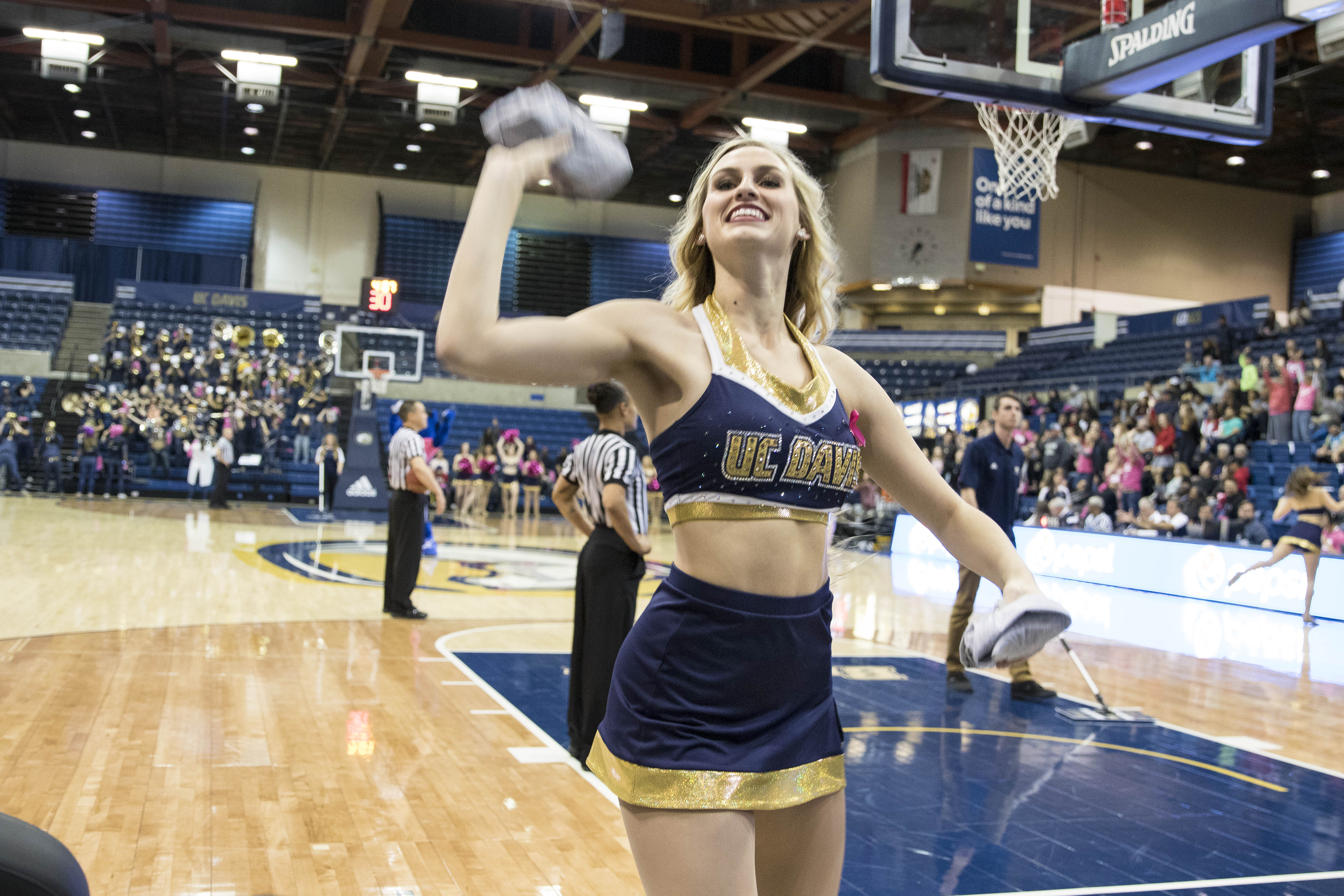 Students get opportunity to win thanks to Athletics Marketing
UC Davis students have been given an increased incentive to support the 11-1 women's and 8-4 men's basketball teams — UC Davis Athletics Marketing has been been sponsoring Amazon giveaways, free sushi for a year competitions and theme nights. These promotions are intended to encourage attendance and participation at athletic events.
"We're trying really hard to get our student population more engaged with both men and women's basketball," said Taylor Soares, a third-year communication major and an Athletics Marketing intern. "We've had a lot of double headers lately and the women obviously play first and we want [students] to come to both games and also we want to support other sports teams, like lacrosse and baseball, which is coming up soon."
In order to be in the running for an Amazon Echo and two Amazon gift cards, students had to attend two athletic events of their choice from Feb. 7 through Feb. 10. Out of the six athletic events that week, students could choose to attend a gymnastics meet, lacrosse match or basketball game. Every time a student checked in at a game, the Athletics Marketing interns tabled and added them to a list. At the men's basketball game versus Cal State Fullerton on Feb. 10, when students checked in, they received a raffle ticket. The winners of the raffle were announced during the second half of the game.
"The promotions seem to be working really well," Soares said. "I feel like we've had some record attendance at games."
Although student promotions — like the Amazon Echo raffle, game giveaways, the Woodstock's Pizza Obstacle Course and the West Village Shoot-Out — are handled through Athletics Marketing and its partnerships with Learfield Communications and local businesses, the free Mikuni Sushi for a year was coordinated by UC Davis men's basketball head coach Jim Les. Les starred in a promotional video with Mikuni Sushi owner Taro Arai to promote the competition.
Students had the opportunity to win a year of free sushi from Davis staple Mikuni Sushi by making a half court shot during Feb. 8 game against the UC Santa Barbara Gauchos. UC Davis Athletics Marketing cheered on the students competing with a Fathead of Arai. Unfortunately, there were no winners in the "Mikuni Half Court Shot Challenge."
Both UC Davis men and women's basketball teams are members of the Big West conference. During the Big West Tour, which runs from Jan. 10 through March 3, conference representatives worked with Athletics Marketing to give fans the chance to win prizes from the Big West spin wheel and tickets to the Conference Championship game.  
UC Davis Athletics Marketing has also hosted themed nights to make the games more engaging for students. The Thursday, Feb. 15 women's basketball home game was "PinkOut the Pav" in support of the fight against breast cancer. Attendees were given pink shirts where they could write who they were supporting on the front. This giveaway was sponsored by UC Davis West Village. The upcoming double header on Feb. 24 will be both a Greek night, where students involved in UC Davis Greek organizations compete for highest attendance, and Senior Night. The night's theme is "Bright Out," so all students are encouraged to wear neon colors.
For more information on what Athletics Marketing will be offering at an event, students can follow @ucdavisaggies on both Instagram and Twitter and like UC Davis Athletics on Facebook.
Written by: Liz Jacobson — sports@theaggie.org