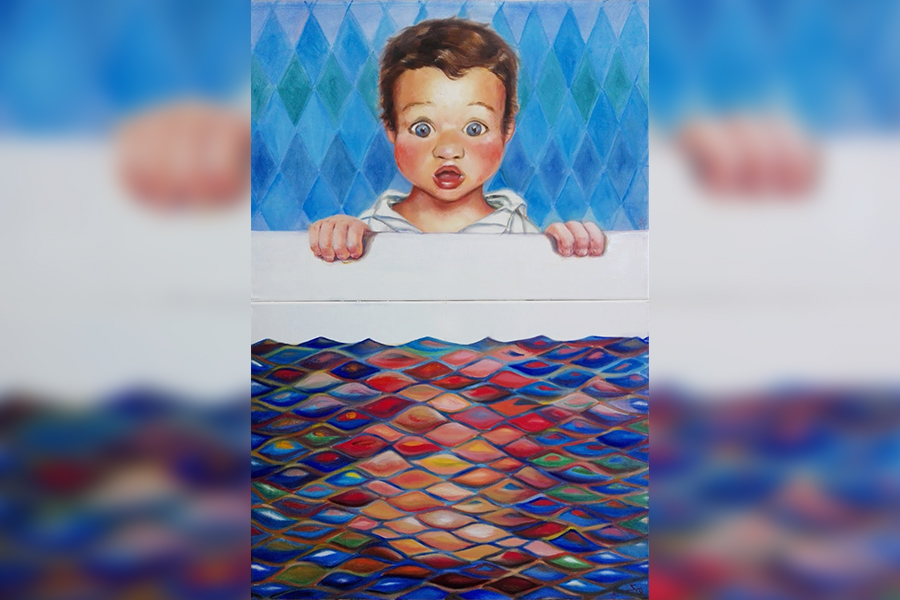 UC Davis student talks personal showcase, politics of art
Shuyi Qi, a fourth-year studio art and political science double major, is showcasing her collective work accumulated over her residence at UC Davis in an exhibit called "Journey." The featured show is a water series, a collection of pieces inspired by the philosophical ideas introduced in Plato's "Republic" — the struggle to transfer intangible, metaphysical forms into a visual world.
Originally from Beijing, China, Shuyi moved to the Silicon Valley at the age of 5. Growing up in an environment that produced more tech minds than artists, Qi managed to incorporate a technical, detail-oriented algorithm to her representational, not-quite-abstract work.
However, Qi explains that she wanted to allow abstract art to be the focal point of her exhibit.
"I found an interesting comparison [to Plato's philosophy] through water," Qi said. "At first, I was painting oceanscapes around Point Lobos near Pebble Beach. The water is constantly moving, and I wondered how I would paint this. I noticed that the water makes a diamond shape when it comes up the shore to create waves, and it reminded me of fluid dynamics."
In the larger scope of her exhibit, Qi wanted to reflect on not only her art, but also her progression from then to now.
"It's called 'Journey' because it's about my artistic progress as a UC Davis student," Qi said. "I have works that were done as far back as freshman year — only one, though, the only one that I thought was suitable, the one that can uphold a standard. Everything is ordered in a loosely chronological order. The oldest pieces are shown in the beginning, and as the observer works their way to the center, they find the most recent pieces."
Her ability to appreciate her journey is refreshing and bold. It's not often we look back and appreciate how far we've come and showcase it to the world.
In terms of personal growth, Qi found inspiration from her professors.  
"I definitely think that I improved a lot with each class," Qi said. "Some of that is due to my professors pushing and challenging me to step out of my comfort zone. The advice that stood out to me most was to use more color: 'Don't be afraid to push the color.' Typically, I am representational to a fault, so exaggerating color was never easy for me. Taking myself out of my comfort zone bled into my personal life. It's made me less reluctant to open up to new experiences and new people. I learned to let go."
With an unapologetic perspective, Qi was more than willing to share her thoughts with regard to the role an artist plays in the interpretation of their work, revealing her political side.
"I believe every artist has their own approach to assigning meaning to their art," Qi said. "Personally, I like to be more upfront with my intention. I like to point people in certain direction to get them to think about certain topics and issues. I think it not only shows a lack of artistic skill, but cognitive skills when an artist leaves too much up for interpretation for the viewer."
Qi, of course, recognizes there are exceptions — still lifes are a good example of that.
The artist speaks of upholding an unspoken artistic "standard." She tried to focus on the value of her content and maintain intention with "rhyme and reason."
"In comparison to the rest of the Art Department, I am quite 'conventional' with my methods, which makes me the odd one out at times," Qi said. "Focusing on being 'edgy' takes away from actually understanding and interpreting their work. I don't think there's enough thinking going on."
Her abstract exhibit is a great example of all the great things art has to offer. In an era of technology and practicality, it's a breath of fresh air to see a place like Silicon Valley — the home of the Steve Jobs and Bill Gates of the world — produce such a painter.
The exhibit is being displayed at the Walter A. Buehler Alumni Center from Feb. 5 to March 9.
Written by: Josh Madrid — arts@theaggie.org