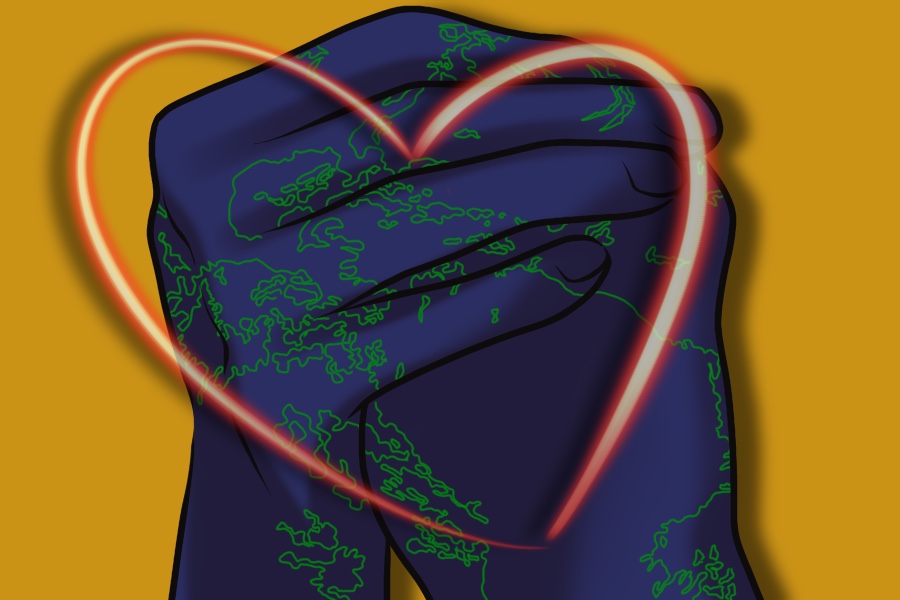 The Happiness Campaign seeks to reduce anxiety, increase happiness
As the UC Davis-wide Happiness Campaign comes to a close, fourth-year English major Sofia Molodanof shared what makes her happy.
"Happiness is very specific to each person," Molodanof said. "I think it is just being able to understand and being aware of things that make you happy. I really like taking walks through the Arboretum that is something I love. Some people find happiness by sitting under a tree and reading a book. It is really just acknowledging those different ways that can promote happiness for yourself."
The Happiness Campaign, a weeklong event on campus from Feb. 26 to March 2, brings attention to the stress that students experience as well as introduces strategies to manage stress and foster mental well-being. The event is sponsored by the Health Education and Promotion department at UC Davis.
Molodanof, who is the mental well-being student coordinator for HEP, gave an overview of this year's activities. She discussed a few events which took place earlier in the week. One event, Promote Happiness, included tabling on the Quad.
"The tabling event is focused on spreading happiness and students will be able to receive a happiness kit," Molodanof said. "There will also be a way for students to be interactive — to get feedback on where students find happiness."
The second event, titled Seek Happiness Through Yoga, was centered on yoga.
"The Yoga Club will have a special session that focuses on finding happiness through meditation and this is a great way for students to practice relaxing," Molodanof said.
"Our third event is on Friday, March 2, and is our Peace, Tranquility and Happiness Crafternoon which we are co-sponsoring with our LGBTQIA [Resource] Center from 12:30 to 3 p.m.," Molodanof said. "This will be an opportunity for students to create tranquility glitter jars, and they can learn about ways to spread more happiness."
Emilia Aguirre, a mental well-being health promotions specialist for HEP, spoke about the purpose of the event and ways in which students can benefit from it.
"The Happiness Campaign is a social marketing campaign […] to raise awareness about positive psychologies, about positive affirmations on campus and to really just spread happiness," Aguirre said. "We really want to remind students that everybody is going through their own struggles and just to remember and shed light on being positive."
Molodanof gave details on the stress UC Davis students experience.
"From the information and feedback that we got in, students at UC Davis tend to be more stressed than other university campuses," Molodanof said. "[The] main reasons include academics, relationships and students having to work. I think one of these things is just taking time for themselves. We are hoping that these activities will allow them some time to get in touch with themselves and to be relieved from stress for a little bit of the day. I think coming up with ways for students to alleviate that stress is super important."
In a follow-up interview by email, Molodanof provided statistics on the level of stress encountered by UC Davis students.
"Every other year, UC Davis implements the American College Health Association, National College Health Assessment (ACHA NCHA) which identifies health behaviors and perceptions related to a wide range of topics including mental well-being," Molodanof said. "Based off of the most recent ACHA NCHA 2017 undergraduate survey, we found that 44 percent of UC Davis students reported that their academic performance was adversely affected by stress in the past 12 months, which is 10.2 percent higher than the national average. 62.5 percent of UC Davis students reported that academics was traumatic or very difficult to handle within the last 12 months, which is 13.8 percent higher than the national average."
Aguirre empathized that stress management is an ongoing process.
"In addition to reaching UC Davis students through social marketing and just raising awareness [through] these events, [it is] also getting students to attend them and to take something from them — to expose them to different ways that they can take time for themselves and integrate that into a daily routine," Aguirre said. "Really just building that time to just reflect on the good and what makes each person happy."
Stephanie Miramontes, a third-year human development major and a volunteer at HEP, offered her ideas on being happy in an email interview.
"I think that one way you can be happier as a student at UC Davis is by getting closer to the campus community," Miramontes said. "Joining a club, engaging in new activities, and meeting new people you can find friends and happiness at UC Davis. I also think that just taking a moment to step back and remember everything you've accomplished to get here can help as well! I know things can be stressful at times, so it helps to take a short break and forget about what is on your plate."
Written by: George Liao — campus@theaggie.org