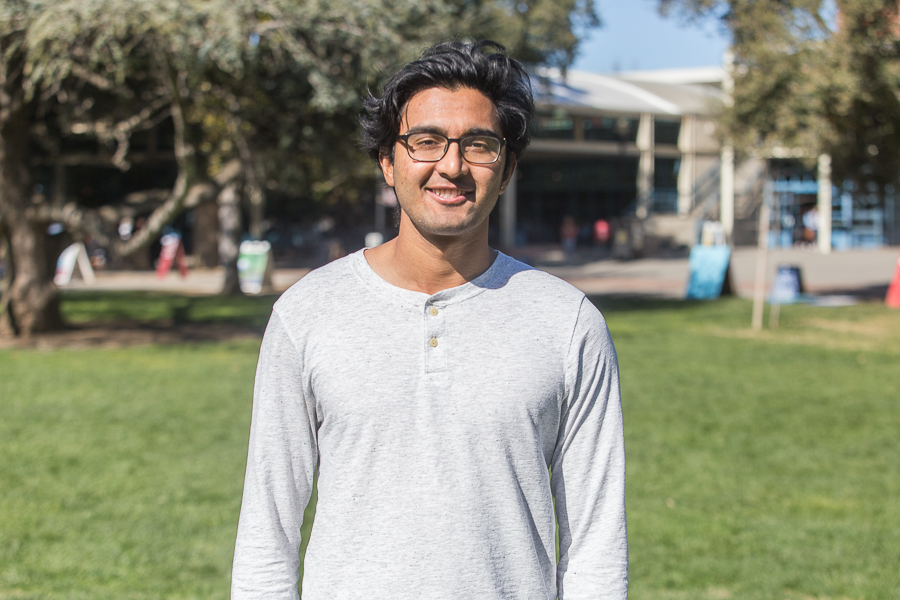 Nepalese athlete uses talents to advocate for people in his home country
On the third day of competition, despite having pulled a muscle only a few days prior, Aayush Kunwar was feeling good about his upcoming race. It was the middle of winter and the dirt track was soft and wet, but he was determined to not let anything stop him from doing his best. He proceeded to sprint spectacularly in the 100-meter relay and his team won first at the 2017 Nepalese National Games.
"[My team is called] the Armed Police Force, and [the opposing is] Army," said Kunwar, a fourth-year economics major. "We defeated Army for the first time in the history of Nepal in the relay, and I was the new team member. Since then everyone started talking to me, all the coaches from the different regions started talking to me, all the national athletes. And they knew that I study in California. It's a good thing, it's a new thing to them, they see me as a beacon of hope."
Kunwar has been on this particular mission to become a "beacon of hope" far before last winter. It's something that has developed in the past few years of his life as he's learned more about himself and the world he comes from. In fact, his story begins on the opposite side of the planet: Nepal.
Kunwar was born in Nepalganj but tends to say he's from Kathmandu, the capital of Nepal. He comes from an upper middle class family, and therefore Kunwar was fortunate to have the best education and childhood he could ask for, where all of his needs and those beyond were met.
"The public school education system in Nepal is poor, so if you are from a good family you are sent to private schools," Kunwar said. "So I went to a private school and we were made to study English from nursery school."
In the middle of the 1990s, the Nepalese Civil War broke out in Nepal between the monarchic government and the communist party. Kunwar's parents sent him and his brother to boarding school in India so that they could continue their education without worrying about the war.
"During that time it was a set routine for us," Kunwar said. "We woke up at 6 a.m., went out for some physical exercises — as a group, like the whole school would be out doing some physical exercises. It's compulsory, you have to wake up at 6, do some exercises and then go back, take a shower, and go to school."
At his school, the different houses, or groups of students, would compete against each other in sports like basketball and soccer. Kunwar liked playing both these sports, and he even represented his house in basketball senior year. It was his activity in these sports that he attributes to the development of his speed on the track.
"Since I was so good in basketball and soccer, they sent me for track and field as well and I finished second I think in the 200 meters, my first race basically," Kunwar said. "I think studying in India exposed me to different, other activities other than academics. I was more into sports, that's how I started doing track and field."
After returning to Nepal in 2008 to complete high school, Kunwar continued to play soccer and basketball. This is when he started to truly shine in track and field, and in 2011 he was considered Nepal's best national athlete under the age of 18.
"That was a turning point, I'd say, because I got a gold medal in 200 meters and 400 meter relay in high school level," Kunwar said. "Then our school started taking participation in all these national events, national competitions that were happening. In one of these national competitions I became the best national athlete because I won my 200 meter race, 400 meter race and long jump."
Despite his success, Kunwar's father was not completely happy with his decision to focus on sports. Kunwar mentioned that in Nepal, athletics are not considered a prestigious activity, let alone a career. It's around this time that he started to take serious note of this situation around athletics in his home country.
"Living conditions of athletes in Nepal are not so good either, so even if you're a professional athlete, you're not respected," Kunwar said. "And apart from that, track and field is not a nationally accepted super game. It's a big deal here [in the U.S.]. I was reading, it was like some billion dollars go to sports here in the United States, but it's a different story in Nepal."
After Kunwar graduated high school, he came to the United States to join his parents living in the town of Santa Rosa, just north of the Bay Area. His father already worked in the country, which made it easier for Kunwar and his family to move and gain permanent residency.
Kunwar then enrolled in Santa Rosa Junior College before transferring to UC Davis. After deciding soccer wasn't for him, he started training in track and field at the JC.
"I just kind of fell in love with the sports," Kunwar said. "I started getting better and better. Then all the sudden one day when I was breaking my personal best after best, my coach was just like 'why don't you try out for Nepal?' We just started looking for the best athlete in Nepal and how his times were. My personal best beat his personal best, that's how I was like 'yeah I think I should try for Nepal.'"
And so began Kunwar's journey to achieve even greater success at the sport, something he wanted to achieve so he could eventually be a voice for Nepalese athletes. The stark reality of it all, he realized, was that the basic facilities and equipment he received the the JC were far better than anything the athletes receive in Nepal. He claimed it's not that Nepalese runners aren't good at their sport, but that they lack the infrastructure to achieve their fullest potential.
"While in JC, we were training on a synthetic track, and every time I got injured I would get facilities, like I would go to the training center and get ice bath and things, for free," Kunwar said. "But back in Nepal we just run through the injuries. Whenever I go there and train it's just a dirt track and running there hurts my shins so bad. [When] I asked my teammates, 'do these [pains] happen to you?' they're like 'all the time but we just run through it' — there's no other option."
Nepal is made up of a caste system of distinct social stratification amongst different castes, or classes, of people. Athletes in Nepal tend to come from the lowest caste and face a number of challenges because of this. Unlike in the United States, where athletes get sponsorships and make good money, athletes in Nepal do not, and therefore cannot afford all the athletic gear they need.
"The government [doesn't] pour in money and I think there's [government] corruption going on," Kunwar said. "All these people are from ethnically poor backgrounds and they can't raise their voices [because…] first off, they're from military backgrounds, so they have to be disciplined and they can't raise voices against their leaders or authority. Secondly they're from lower caste, they're not [well] educated people, their salary was not high."
Essentially, Nepalese athletes are not able to speak for their betterment due to these social and economic restrictions. So in the summer of 2016, when Kunwar was training in Nepal with his fellow track and field athletes, he decided he wanted to work as hard as he could so he could become a voice for these people he feels so deeply for.
"You have to be good at what you're advocating for," Kunwar said. "So my goal, I'm [getting] better so I can have a voice, like I have a reason to talk."
Even though Kunwar wasn't able to join the UC Davis track and field team when he came to school here in the fall of 2016, he's been working hard to build the strength and motivation to focus his goal.
"I still talked to my coach at the JC, about all the improvements I could do like that, and also my coaches from high school," Kunwar said. "It was just giving me more hope. I was talking to the athletes from Nepal too and how they want me to come back and change things. They were saying this indirectly but I could feel the vibe."
This motivation is what led up to the winter of 2017, when Kunwar heard the National Games were happening and felt a deep urge to go. Without his father's knowing but his mother's help, he snuck away to Nepal to compete. This is when his team won gold in the relay race against Nepal's seemingly undefeatable team, an event that further reinforced Kunwar's dedication to his goal to become an advocate and uplift the living standards of Nepalese athletes.  
The biggest problem Kunwar has noticed is not only the lack of facilities and funds, but the lack of exposure for young people who have great potential.
"I'm going to go talk to my coach and see if he can get scholarships, because back in Nepal we didn't know you can get sports scholarships," Kunwar said. "It was all about 'you have to be good in academics, that's it' and I had so many friends who were super good athletes but they just had to give up basically, there's no future."
Kunwar is graduating from UC Davis this spring and already has plans for the next few years of his life. The South Asian Games are coming soon, and they're happening in Nepal. It's Kunwar's goal to get selected for these games, but regardless of the outcome, he wants to continue training in athletics roughly two more years and then become an advocate.
"There was this article that I read, it was this Nepalese guy who is super good, an academia-related person, and people asked him why [he] doesn't stay here in the United States, and he said, 'there are plenty of people like me in the United States, but they need people like me in Nepal' because it's an underdeveloped country and there needs to be a strong leader that can change the rhetoric around Nepal," Kunwar said. "And that applies to me too. I would be a need in Nepal, that's where I want to be, that's where I want to go."
Written by: Marlys Jeane — features@theaggie.org