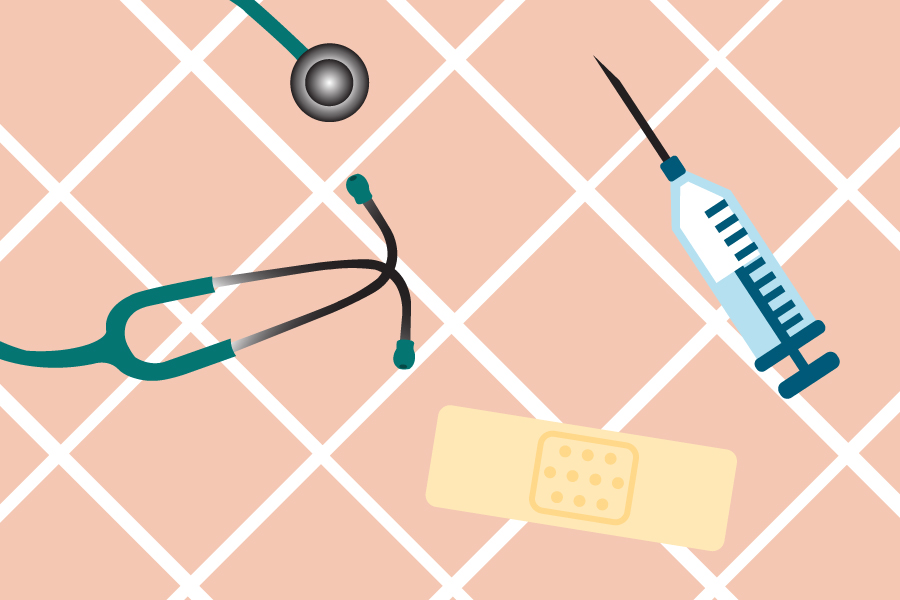 Reports say flu vaccine effectiveness especially low this season
Sniffles, coughing and fevers, oh my! February marks the peak for influenza season, which this year is proving to be particularly nasty. The Center for Disease Control reports a record-breaking year, the worst since the H1N1 swine flu in 2009. Like the rest of the nation, UC Davis was hit hard this year. Vaccinated or not, the bug has spread through the student body like wildfire.
So why is the flu hitting so hard this year? Dr. Cindy Schorzman, the medical director at the UC Davis Student Health and Wellness Center says one reason is due to the effectiveness of this year's vaccine.
"According to current CDC estimates the vaccination effectiveness is 39 percent, which is higher than previously reported," Schorzman said.
The Los Angeles Times reported early on in the flu season the projected vaccine effectiveness to be just 10 percent based on data from Australia's flu season, which starts earlier than the U.S.
"Historically [the U.S.] follows a similar pattern of effectiveness [to Australia] because the strains tend to be similar," Schorzman said. "However, the vaccine in the U.S. was more effective this season than Australia in their flu season."
Though the United States' vaccine was found to be considerably more effective than predicted, these initial reports affected whether people got the flu shot this season.
"I think that the press had an unfortunate impact on the numbers of people getting the flu shot," Schorzman said.
This is one of the major factors that caused this flu to hit the country so hard this season. Emmy Hughes, a third-year managerial economics major who tested positive for influenza, opted out of getting vaccinated this year.
"I didn't get vaccinated the year before, and I heard it was only 15 percent effective this year, so I didn't think it was that important," Hughes said. "But mostly I think it was laziness."
When asked about the vaccinations offered at the Student Health and Wellness Center, Hughes said she was unaware of these services. Hughes started getting sick on a Friday and experienced symptoms such as high fever, coughing, sore throat and even fainting.
"I blacked out a couple times," Hughes said. "I was eating and passed out at the table, and then I woke up and got up and I passed out on the floor again."
Fainting is not a common flu symptom, but she explained that fainting was not uncommon due to her anemia. She was concerned nonetheless.
"I went to the Davis Urgent Care," Hughes said. "It was Saturday, so it was the closest open resource."
She tested positive for influenza and was prescribed Tamiflu.
"They also gave me a prescription for cough syrup and told me to take NyQuil, which helped me sleep," Hughes said.
Trevor Carpenter, a first-year computer science major, went to the UC Davis Student Health and Wellness Center after showing similar symptoms where he tested positive for influenza.
"I don't have the student insurance, but they were very helpful," Carpenter said. "The whole process was very quick. I met with a nurse and a doctor within a half an hour. It was a very positive experience."
Like Hughes, Carpenter also did not get vaccinated this year.
"I thought about it, but I heard it didn't have a high success rate this year," Carpenter said.
When asked if he would have reconsidered getting the flu shot if the effectiveness was not so low, Carpenter said this wouldn't have influenced his decision. Because he had never had the flu before, Carpenter didn't know how severe flu symptoms were. The Student Health and Wellness Center prescribed Carpenter with Tamiflu, recommended painkillers and rest. His virus and symptoms were present for a week.
February is the peak of the flu season, but by no means is it over, and there is still time to get a flu vaccination. Schorzman also explained that even though the 39 percent effectiveness report is lower than other years, it is still worth getting.
"People who are vaccinated if they get sick will often get a less severe version of the flu, and that is in general, not just this season," Schorzman said.
To prevent getting sick it is recommended to get adequate rest, wash your hands frequently and pay attention to self care.
"I definitely still encourage the flu shot, even though it is later in the flu season, we expect the season to last through the end of March," Schorzman said. "Sometimes this will extend beyond, but it is not officially over until the health department, here the Health Department of Yolo County, issues a press release stating that it is over."
In response to Hughes being unaware of the available resources at the Student Health and Wellness Center, Schorzman spoke about a flu awareness and vaccination campaign.
"We are trying to get the word out," Schorzman said. "We do have a flu awareness and vaccination campaign, and we are trying to get a larger campaign going for next fall. This covers what the flu is, what the symptoms are and how to prevent the flu, including vaccination."
The Student Health and Wellness Center is still offering and administering flu shots through the end of the season. More information can be found on the Student Health and Counseling Services website.
Written by: Grace Simmons — features@theaggie.org