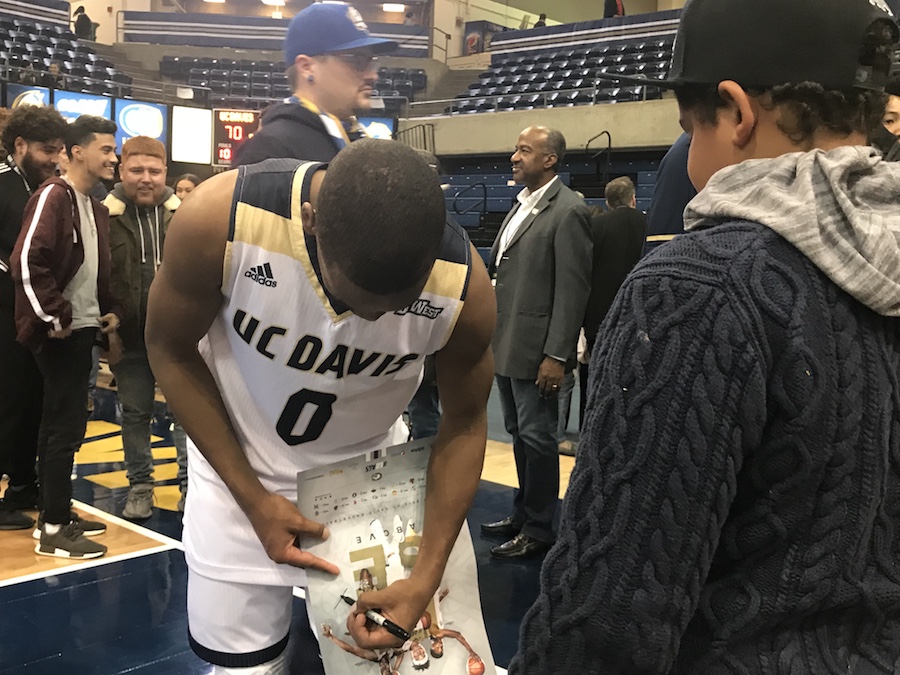 Boys from Progress Ranch interacted with favorite basketball players thanks to coordination of CMN 130 class project
At the final UC Davis men's basketball game of the season, there were a few special fans in the bleachers cheering on the Aggies. Five UC Davis students enrolled in CMN 130: Group Communications partnered with Progress Ranch to give young at-risk boys the opportunity to cheer on and interact with their favorite players.
It began with a group of UC Davis students who were tasked with completing a volunteer project in their community for the CMN 130 course. The project has made such an impact that some of the group members, like Jennifer Seymour, a second-year physics major, are considering changing their majors to communication.
"We knew that we wanted to [work with] at-risk children and we found out that Progress Ranch was located within the Davis community," Seymour said.
Progress Ranch is a non-profit organization that houses emotionally at-risk boys in Davis. Since 1976, Progress Ranch has dedicated itself to offering both residential care and treatment services for boys aged 6-15.
After consulting the boys at Progress Ranch and Activity Coordinator Leola Taylor, the group chose the final home game against Hawai'i for the special event. The students also coordinated with Kristin Moore, assistant director of athletics marketing. The boys then had the opportunity to watch the game in reserved seats and afterwards got autographs from the UC Davis men's basketball team.
One young boy told The Aggie that he was excited they picked basketball as their event. "Number zero" junior guard TJ Shorts II is his favorite player.
"[Coming to the game] makes me feel happy and it's very fun," he said. "[Shorts II] is super cool."
He got the opportunity to talk to his favorite player and excitedly showed off his signed poster to his friends after the Aggies beat the Rainbow Warriors 70-59.
"The kids were super energetic and hype [sic]," said Joshua Garcia, a third-year communication major involved with the project. "They all play football, basketball and baseball, so for them to come out and meet some of [the players] and the team… it was really cool to see their faces. It becomes more than a project, it becomes something special and near and dear to our hearts. It's more than just getting an A."
Taylor expressed the importance of students and groups coordinating events such as this.  
"It's important to volunteer if you can" Taylor said. "It's important if you see a group home that needs something and you're able to assist, like donating or fundraising."
This CMN 130 project created an opportunity for these young boys, whose struggles are often unseen, to interact with strong role models — UC Davis student-athletes.
"Kids are special," Garcia said. "[Working with them], we know we can impact the future."
Written by: Liz Jacobson — sports@theaggie.org