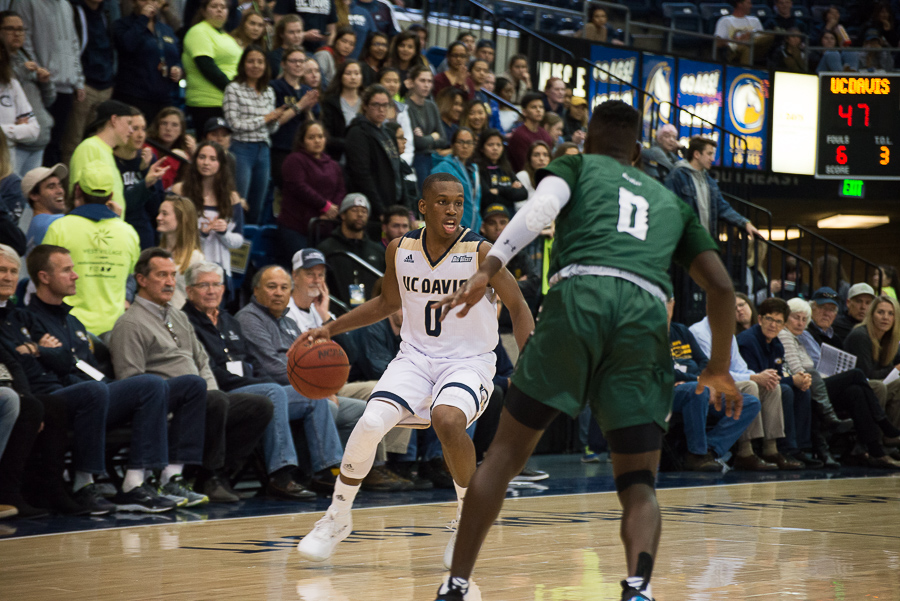 UC Davis men's basketball team defeated UC Irvine for first seed
In a sellout crowd of 5,000 in attendance at UC Irvine on March 3, the UC Davis men's basketball team defeated the UC Irvine Anteaters 90-84 in double overtime. Coming into the last game of the conference season, Irvine and UC Davis were tied for first in the Big West Conference. This Aggie win came with the regular season Big West Conference title, pushing their conference record to 12-4 and their overall record to 21-9.
It was a back-and-forth game the entire night for both teams, and junior forward AJ John racked up the stats sheet, hitting six out of 10 three pointers on the night, brining in a total of 20 points and nine rebounds for UC Davis. However, a tip of that hat is made to junior guard TJ Shorts II on the Aggies, whose hard work ethic and pure aggressiveness on the court diving for every loose ball and never being afraid to drive to the rim against players almost double his height earned him 21 points to his already high average, seven rebounds, five assists and three steals.
During regular play the teams were evenly matched, with the Anteaters nearly winning the game in regulation time off of a buzzer beater floater inside the paint that hit the back of the rim and bounced off, forcing the game into overtime.
The Aggies were down by five with 46 seconds left in the first 5 minute overtime, and many thought the game was already over. However, a three by John, a steal and two solid free throws by Shorts II propelled the game into double overtime, proving that the game can change in a matter of seconds.
In double OT, it was all UC Davis, catching the lead and never letting go of it, earning them the win and the regular season conference title. Finishing first in regular season grants the Aggies the No. 1 seed in the Big West Conference Championship at the Honda Center in Anaheim starting today, March 8 at 12 p.m. — the same tournament the team won last year that sent them to NCAA March Madness. UC Davis will open against the No. 8 seeded UC Riverside with a 12-4 overall record in the quarterfinals of the tournament.
Written by: Ryan Bugsch — sports@theaggie.org