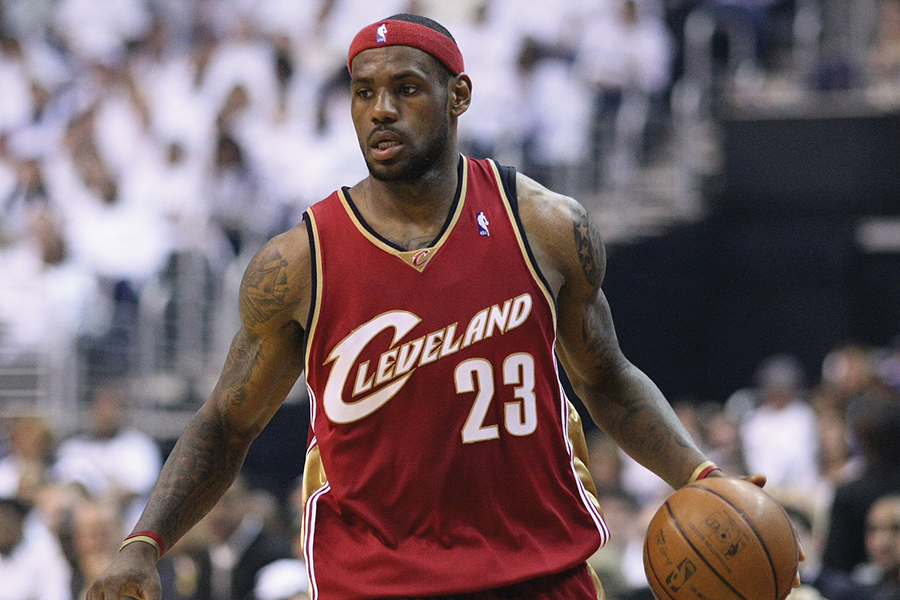 NBA athletes' charitable work shows commitment to service, social consciousness
"Shut up and dribble" was the phrase that Fox News host of The Ingraham Angle, Laura Ingraham, used in her response to recent comments that NBA star LeBron James made in a video posted to his Uninterrupted platform. The video, titled "Rolling with the Champion," depicts James and fellow NBA all-star Kevin Durant as they are driven around James' hometown of Akron, Ohio while the two field questions from ESPN's Cari Champion.
Over the course of the almost 17-minute video, James and Durant discussed topics that one would expect two professional athletes to discuss. Topics like what playing in the all-star game means to them, how they first fell in love with the game and so on. But all of the talk about basketball appeared to be a formality, as James devoted a significant portion of the his time in this video to talking racism in America, the current political climate and life outside of the game.
"The number one job in America, the appointed person is someone who does not understand the people," James said referring to President Trump. "It's not even a surprise when [Trump] says something. It's laughable. It's laughable and it's scary."
This was not James' first time volleying criticism toward the President, but on this occasion his remarks did not sit well with Ingraham. In her brief Fox News segment that aired on Feb. 15, she dismissed James' comments "ignorant" and "unintelligible," saying that "this is what happens when you attempt to leave high school early to join the NBA." She said all this and more with an unquestionably sarcastic and condescending tone, before concluding that athletes like James should stick to their craft on the court and refrain from airing their political grievances.
James responded to Ingraham's chastising just days after during an interview during the NBA's all-star weekend in Los Angeles. He made it clear that he would not shut up and dribble, as Ingraham suggested he do, because he means "too much to so many kids who feel like they don't have a way out."
This may seem as if LeBron is making a self-inflating comment, but the reality is that it is difficult to exaggerate how incredible and how important of a human being Lebron James actually is. He is unequivocally one of the greatest basketball players of all time and is among most accomplished professional athletes in history. He is a three-time NBA champion, a four-time NBA MVP, a three-time Olympic gold-medalist and is the youngest player ever to score 30,000 career points. The legend that is LeBron James stretches far outside the realm of basketball, too. Like most incredibly talented athletes, James is an international celebrity whose likeness is ingrained in pop-culture across the globe.
But James is also one of the world's most dedicated philanthropists. His Akron-based Lebron James Family Foundation has made a tangible impact on the at-risk community that James himself grew up in. The foundation provides everyday services for children and teens living in Northeast Ohio, motivating them to staying in school, pursuing a post-high school education and changing the community for the better. The foundation's "I Promise" program has recently set aside nearly $42 million to fund scholarships for students seeking to attend a four-year university.
James' work as a community leader and an outspoken social justice advocate cannot be diminished. Hate him or love him on the court, James is selfless when it comes to giving back to those who have so little. And whether you agree with his politics or not, one cannot deny that James' dedication to service has sparked real, positive change for struggling communities.
A similar story can be told of Durant, one of the game's greatest in his own right. Alongside his status as an NBA champion and MVP, at only 29 years of age Durant is currently seventh among active players in career points and has led the league in scoring in four separate seasons. Durant, who was also chided for comments that he made in the same video, has taken a stand of his own by increasing his philanthropic efforts.
Before Durant led his team, the Golden State Warriors, to a victory over the Washington Wizards last Wednesday night in the nation's capital, he and other Warrior teammates visited the National Museum of African American History and Culture alongside over 40 local schoolchildren. Durant's hometown of Suitland, Md. lies in Prince George County, just outside of Washington, D.C. This is where Durant chose to donate $10 million to Prince George County's public schools and College Track –– an after-school program aimed at helping disadvantaged students attend college.
But even before this recent trip back home, Durant has been involved in community service since his NBA career began. His self-titled charitable foundation has provided for deserving kids in and around both Oklahoma City and the Bay Area. In 2016, Durant's foundation donated $57,000 to build a new school for homeless children in Oklahoma and in 2017 donated a new outdoor basketball court for a Redwood City boys & girls club.
Both James and Durant's charitable work is both well-documented and far-reaching. The work that James, Durant and so many other NBA athletes do for communities nationwide is impactful yet is often times overlooked. The story that both James and Durant share –– from growing up in at-risk towns to reaching basketball immortality –– is a prime example of how NBA players from across the league have embraced the notion that a professional athlete's platform should be used to devote time and resources to those who are less-fortunate. And while the players deserve all the credit for their tireless efforts, the NBA and its commissioner, Adam Silver, has also received some recognition for creating a culture that encourages service as well as tolerance. Silver, in fact, was one of the first to offer his support for James and Durant's responses to Ingraham's criticism, saying he was "proud" of them.
There is an inescapable notion that is common among many people in this country –– from all walks of life –– that athletes are incapable of expressing sound opinions when it comes to political or social issues. A notion that the beliefs of professional ballplayers should be taken with a grain of salt. Because, after all, what do they really know about the world when all they do is play a sport for a living? Given this notion, it can be easy –– as it was for Ingraham –– to dismiss professional athletes, such as James, because their wealth and celebrity status lead many to believe that these athletes are out of touch with the "real" issues facing American society.
Yes, James, Durant and many others in the NBA are wealthy, uncommonly skilled and incredibly famous individuals who play a sport for a living. But so many of these athletes have lived a life that is so uniquely different from a large percentage of the general population. James is one of those athletes. Before the fame and the glory, James was just another kid from Akron growing up in a severely disadvantaged neighborhood, who made something out of his life by working tremendously hard at a sport where the odds of making it professionally are slim to none. And now that he has achieved wealth and success, James chooses to devote a significant portion of his energy and money back to the community he in which he was raised.
Although James experiences a level of wealth and fame that will never be achieved by the vast majority of the American population, he also has lived in harrowing poverty and has been subject to repeated racism. At age 5, James' house was condemned, spurring him and his young, single-parent mother to move 12 times in the span of about three years. And while he used basketball as a way to escape poverty, James still struggles with prejudice even today. Prior to this past season's NBA finals, for instance, the front gate of James' L.A. home was spray painted with a racial slur.
James' wealth of life experiences, ranging from severe poverty to incredible wealth and success, have shaped him into the socially conscious, politically active athlete that he is. He acknowledges that his place in society –– a position that he fought desperately to achieve –– has given him an uncommon opportunity to spread his beliefs. He feels that that is something that all professional athletes should be able to do.
"When you have a platform like this and you feel passionate about it," Lebron said in the Uninterrupted video. "You give your two-cents –– and maybe even more than that."
Lebron has certainly given more than just his two-cents. When athletes like him talk about politics, racism or social justice, they are not just talking about concepts and issues that they do not understand. They have lived them, they have dealt with them and they are actively doing something about them. They are not just dribbling.
Written by: Dominic Faria — sports@theaggie.org