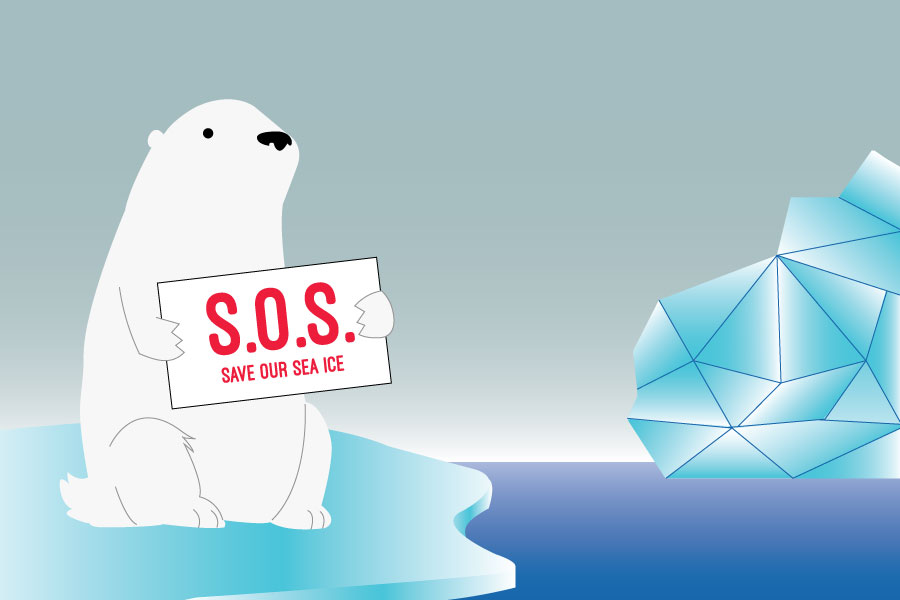 Students bike in freezing conditions to help preserve Arctic
Eight elementary schools in Davis have been participating in a drive to aid polar bears for the last month. So far, they have raised enough trip points to ceremoniously adopt 18 polar bears, following the efforts of over 1,000 students over 18 school days.
Polar Bears International, the organization charged with protecting the adoptees, specializes in protecting polar bears. It conducts ground research, promotes its findings and forms outreach initiatives like the Polar Pedal. Melissa Krouse, the program manager of Polar Bears International, explained the importance of emphasizing other means.
"When we burn fossil fuels for transportation, we add more and more carbon dioxide into the atmosphere," Krouse said. "This buildup acts like a blanket that traps heat around the world, disrupting the climate and melting Arctic sea ice. Bike commuting improves health while reducing congestion and the carbon emissions that melt Arctic sea ice. The link to polar bears is direct because most vehicles burn fossil fuels."
Davis is often rated as one of the top bike-friendly cities. The city endorses a variety of programs in order to maintain this status. Safe Routes to School focuses on maintaining clear paths for students from their homes to their elementary, middle and high schools. In 2013, Safe Routes surveyed many of the bike paths lacing through the city and developed maps leading to every school in Davis. Lorretta Moore, the Safe Routes to School program coordinator, explained that parent volunteers are the key to inspiring enthusiasm in children.
"We organize programs, and they make them awesome," Moore said.
Amber Welsh, a bike-to-school coordinator and parent of a student at Willett Elementary, explained that Davis schools are made for bikes.
"All of our elementary schools are built without parking," Welsh said. "They're designed as neighborhood schools. When people bring their kids to school in a car, they make a big impact on the neighborhoods by parking in front of people's houses. It becomes a safety issue."
Welsh is in charge of a school program that monitors childrens' routes to school. By scanning a barcode on their backpack, parent volunteers can log each students' mileage as well as inform their parents that they've made it to school safely and on time. This is the second year they've participated in the Polar Pedal, supported by a grant from Kaiser Permanente.
"When we do the Polar Pedal, we encourage kids to use these methods to get to school, even when it's a little more difficult to do so — [such as] biking or walking in the rain," Welsh said.
Moore and Welsh both congratulated students on persevering through trying conditions. Between Feb. 19 and 23, temperatures fell below freezing during commuting hours.
"Students were biking in a mean temperature of 38 [degrees] at 8 a.m. The coldest day that they biked for that month would have been 29 degrees," Moore said.
Currently, Welsh and other parent volunteers are calculating which classroom accumulated the most trip points. The winning class will have a party with Klondike bars and will be able to name the adopted polar bear.
"Really what we're hoping is that these kids have wonderful memories of biking or walking to school [and] will grow up and seek out communities that have similar infrastructure," Welsh said. "That's why we're trying to encourage this at such a young level. It makes the kids think about how their actions are impacting other forms of life — like polar bears in the Arctic — and global warming."
Written by: Genevieve Murphy-Skilling — city@theaggie.org