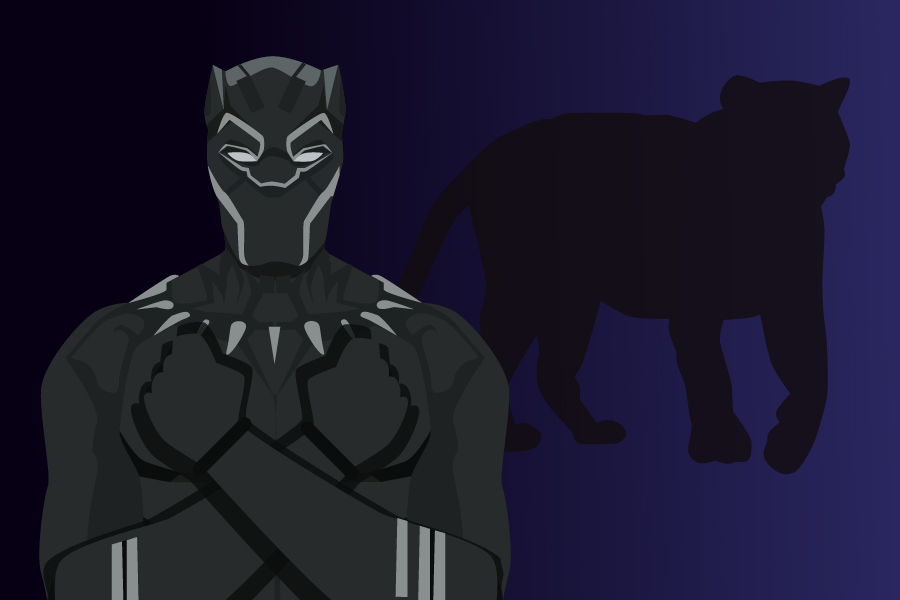 Marvel film proves more than an action movie
The highly anticipated Marvel film "Black Panther" made its debut on the big screen on Feb 15. The movie uses its platform to address many social issues while incorporating classic Marvel humor. It's an action thriller that makes time for talk. With a stellar cast of some of the biggest names in the African American community, such as Chadwick Boseman, Michael B. Jordan and Lupita Nyong'o, the film is projected to reach $1 billion at the box office worldwide, according to Bloomberg.
The score is the bridge between African and African American culture throughout the movie. African drums were met with engineered hip-hop sounds, which gave them film two dimensions to play off of. T'Challa (played by Chadwick Boseman) was surrounded by sounds of Wakanda (a fictional African country). Erik Killmonger (played by Michael B. Jordan) represents a young, contemporary African American man. He was accompanied by familiar American music sounds. He grew up in Oakland, Calif., which has a musical vibe of its own, distinct from African sounds. The two worlds come together in the score and the exceptional soundtrack.
The CGI is absolutely breathtaking from start to finish: everything from the rural scenery in Wakanda to the streets of South Korea and the several action-packed fight scenes. Movies like "Black Panther" are worth seeing on the big screen to fully appreciate their visual quality.
Aside from the visuals, messages embedded in the screenplay address several social issues facing our nation today.
Marvel is no stranger to acceptable, cheesy humor. Drawing inspiration from popular culture, phrases like "What are those?" make their way into a movie with a $200 million budget. However, the heavy word "colonizer" was used to address one of the two caucasian actors in the film, Everett K. Ross (played by Martin Freeman). A subtle way to get the watcher to think about a part of history in which the grave consequences had a rippling effect stretching to the present day.
It was empowering to see the guards and many of the strong warrior figures portrayed by women. The military general Okoye (played by Danai Gurira) defies societal gender roles with the determination to do what she feels is best. She plays a key role in preventing the technology of Wakanda from falling into the wrong hands. Shuri (played by Letitia Wright) is the head of the technological advancements of the city as well as the younger sister of T'Challa. She is the head of Wakanda's STEM industry — an industry that in our world is dominated by men.
W'Kabi (played by Daniel Kaluuya) touches on the highly controversial topic of immigration. His character believes that immigrants bring problems wherever they go and they must be kept out — it's a mentality of "us vs. them." However, T'Challa learns to understand that building bridges is better than building walls. Foreign aid and relief is necessary of those who can do more.
The film was spearheaded by African American director Ryan Coogler, known for his other works such as "Creed" and "Fruitvale Station" — a great example of diversity, not only in front of the camera, but behind the camera as well.
"Black Panther" is currently screening at Regal Six on F Street in downtown Davis.
Written by: Josh Madrid — arts@theaggie.org