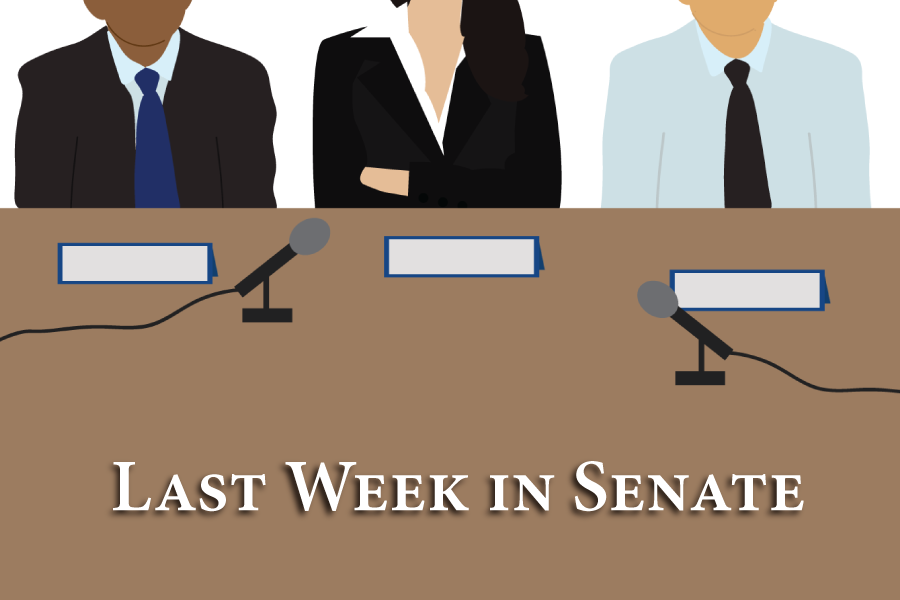 Funding for Student Advocates for Mental Health passes Senate
The ASUCD Senate meeting was called to order by Vice President Adilla Jamaludin on Thursday, Feb. 2 at 6:12 p.m. Senator Andreas Godderis was absent.
The meeting started with a Cultural Humility and Allyship presentation by Ethnic and Cultural Affairs Commission Chair Julienne Correa. The presentation included awareness training on how to work with individuals from diverse cultures on campus. An additional goal of the training was to bring awareness and understanding of issues that diverse groups experience regarding privilege of various demographics. Topics highlighted were identity, ethnicity, race, prejudice, stereotypes, racism, oppression and intersectionality.
Legislative matters proceeded after the training. First was discussion on the Administrative Advisory Committees Quarterly Report. The topic was the Degree Map template, which allows students to figure out what courses they need to take to fulfill their major and minor requirements. The Degree Map tool provides a template for students to enter the class loads at various points of their tenure at UC Davis. The tool also allows users to compare their major and minor requirements with other universities.
Discussion followed. Senator Jake Sedgley questioned if the presenters had heard of MyDegree as an alternative tool to use. The presenters acknowledged they had heard of MyDegree with a comparison of MyDegree and the Degree Map.
Up next was consideration of old legislation. The first item was ASUCD Senate Resolution #5, which supports the requests of Student Advocates for Mental Health. A proposed $25,000 funding request for the resolution was debated. Controller Jin Zhang asked why the group included the $25,000 clause. Officials from the group responded that the Beyond the Budget organizers will be able to identify the communities that need to be served within this legislation. Also, the group wanted to assure autonomy in their community decisions free of administrative supervision. Additionally, a concern was expressed that Student Affairs would be denied funding if they had student advocates from the Mental Health Initiative. Further discussion followed. Amendments were made. The measure passed without further objections.
Next was ASUCD Senate Resolution #X which would "demand justice" for student organizers who participated in the #DemocratizeUC movement and sit-in "against proposed tuition hikes and support their actions moving forward." Discussion of the resolution centered on the language of the resolution. After debate, the resolution passed without objections.
Senate Bill #42 involves the maintenance of compost vehicles. Discussion on how long the maintenance problem existed and where the funding of $70 will come from occured. Upon resolution, the measure passed without objections.
Other business included ASUCD Senate Bill #43 to allow $80 to reserve the Memorial Union Patio for the Disability Rights Awareness Resource Fair. The measure passed without objections. Senate Bill #44 pertains to the increased price for renting out classroom and impact on KDVS broadcast operations. This is a temporary resolution until a permanent solution is determined. SB #44 passed without objections.
New legislation was then brought to the table. Senate Bill #45 would allocate $1,400 for line item initiations that included Chaos Control, Education, WERC (Reusable Dishes Program) and Whole Earth Festival for fiscal year 2017-2018. No resolution was met.
Later, public discussion took place. Ongoing outreach for the To Boldly Go Campaign was discussed.
Public announcements came next. Volunteers for the Suicide Prevention Center of Yolo County were requested. A moment of silence was observed for the mass shooting in Parkland, Fla. The solemn moment was followed by an announcement that the Cross Cultural Center is hiring. Next was an announcement that the Cross Cultural Center will hold an event titled "Affirming Narratives for Shithole Countries" in support of ECAC's event titled "Navigating Hate Crimes on Campus."  
As she has done in recent weeks, Jamaludin critiqued the state of the Senate. She also spoke about the upcoming ASUCD Senate Town Hall on March 8 at 6:10 p.m.
"First off, there have been people repeatedly who come to Senate who don't help clean up and push the tables," Jamaludin said. "Pick up your stuff before I start calling you out by name. [The] Town Hall is coming up. It's going to be there at [Center for African Diaspora Student Success]. Please be punctual. This is our first Senate Town Hall in a long time and be prepared for some tough questions. I'm here for you all if you want to talk about how the association can do better. I want to give you what's in my brain. I really enjoyed my meetings for those who came out to me."
The meeting concluded with ex officio reports and a rundown of the elected officer reports.
The meeting adjourned at 11:11 p.m.
Written by: George Liao — campus@theaggie.org