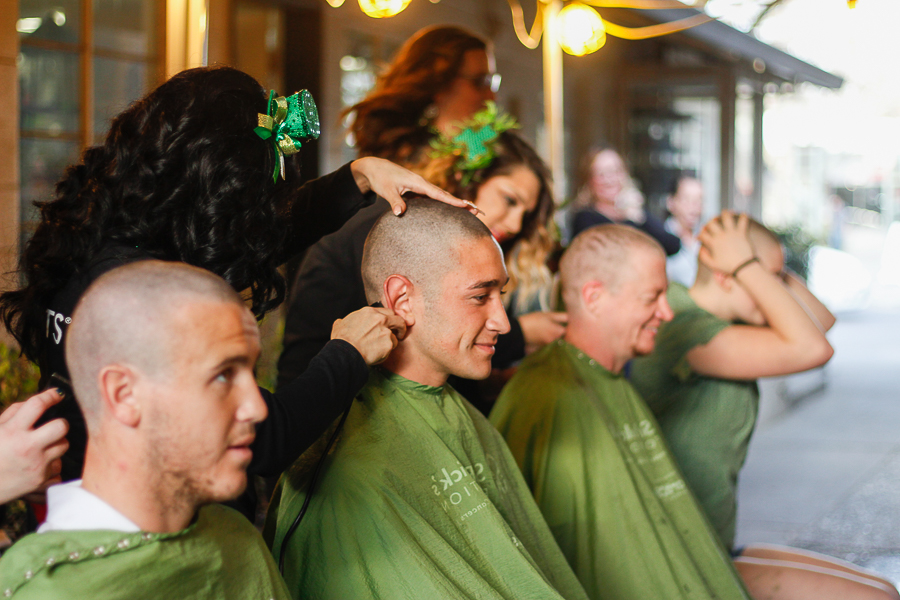 Fighting for a cause in Davis
Keaton's Child Cancer Alliance and the St. Baldricks Foundation hosted and partnered with SuperCuts to shave heads at de Vere's Irish Pub in downtown Davis to raise money for childhood cancer research on Thursday, March 9. The event, "MaHellYeah" was held for UC Davis' freshman outside hitter Mahalia White. 40 heads were shaved and $26,000 was raised, donations are still being made.
White was diagnosed with stage IV Hodgkins Lymphoma the day after her 19 birthday in December. White, one of the UC Davis women's volleyball top performing players earning the Big West Freshman of the Year title, fought through her freshman season with unexplained back pain starting halfway through the season.
Stage IV Hodgkins Lymphoma is an advanced stage cancer of the blood, and when it reaches this stage, it has spread to other organs outside of the lymphatic system.
The atmosphere was positive at de Vere's as people chatted in line to get their heads shaved. At de Vere's, no hair was safe, including beards. The event drew a diverse crowd, all of them enlisted themselves in the battle against childhood cancer.
While White was unable to attend the event due to her chemotherapy treatment, she still watched the event via Facebook live streaming and spoke to The Aggie.
White is very appreciative of all the participants willing to shave their heads.
"When I started losing my hair, I was very depressed about it," White said. "When I shaved my head, I felt better, but I still didn't look the way I wanted to look especially when it wasn't my choice. So, when I see people willingly lose their hair for people like me going through treatment, all the support means a lot to me."
UC Davis women's volleyball Head Coach Dan Conners stepped in to fight for the cause.
"It feels great, I feel free," Conners said after having his hair shaved.
Conners spoke on White's diagnosis in a post-shave interview.
"Obviously we're all bummed out, but Mahalia is a resilient kid and she's got such a positive spirit about it," Conners said. "We're just supporting what she needs, which is more of that positive spirit."
The women's volleyball team has responded to news of White's diagnosis with open arms and support.
"We visit with her when we can and definitely try to see how she is feeling every day," said sophomore blocker Jackie Graves.
The team has also responded by creating bracelets with the label "MaHellYeah" to help create awareness surrounding the disease. Then students and supporters started tweeting with the hashtag #MaHellYeah to help spread the word through social media.
Other sports within UC Davis athletics also supported White for this event. Men's water polo redshirt freshman attacker Jack Stafford has family members afflicted by cancer and wants to support other athletes as much as possible.
"When I found out another student-athlete had cancer, I wanted to do anything I [could] to support them," Stafford said. "As a college student, I don't have a plethora of money, so the best way to do this was to shave my head."
Loyal fans of UC Davis women's volleyball came out to support White and the team. UC Davis alumnus Martin Mangrich has been a fan of women's volleyball ever since he graduated in 2005.
"I can get my head shaved to help with cancer research," Mangrich said. "I should do it."
Volleyball season has ended, but the team is currently practicing, and the team misses her energy.
"We definitely feel her absence on the court," Graves said. "But we understand how positive she is and how much she wants to be with us, and it allows us to keep moving forward for her."
For the 2017-18 volleyball season, White was the team's top offensive generator with 398 kills. White performed consistently throughout the season, despite some pain in her back about halfway through the season. White believed her position as outside hitter caused her back pain since the outside hitter needs to constantly jump and results in excessive impact on the spine and knees.
White recounted an away game at UC Irvine when she had to be pulled out of the game because of excruciating back pain.
"Something about that day my back was in pain for the whole day, it wasn't like the other days where it would go away," White said. "I warmed up and everything, but every time I jumped and just moving in general really killed my back."
Even though back pain affected her play, White still had a team high 17 kills that game in October 2017.
"You gotta' do what you gotta' do," White said.
Mahalia's mother, Patsy White, has noticed the outpouring of support for her daughter and reflects on how vital it has been.
"Everyone lives up to the standard of Aggie family, it's a beautiful support system she's been given," Patsy White said.
Patsy White believes that the support from her team and herself will help Mahalia's battle with this advanced stage cancer. Patsy White is a cancer survivor herself who had her final chemotherapy treatment in July 2017 and knows too well the struggles that Mahalia faces and will continue to face.
"I know what it feels like, that news from the doctor that you have cancer," Patsy White said. "Your first reaction is 'oh my god, am I going to die?' "
White recalled the day she learned of her daughter's diagnosis.
"I remember it was Dec. 4, 2017 — I'll never forget the date that I got the call from her," Patsy White said. "I knew she had the MRI done, and that they finally had the results. I remember me telling her that they called her into the office and closed the blinds, and that's never a good sign when they do that. Her first reaction was to call me. When she called me, she cried and my heart clenched. My daughter is one of the strongest young ladies you would come across, she doesn't cry about too much of anything. As she was with me over the phone, I definitely knew something was wrong, and I was almost in tears myself."
Those afflicted with cancer are not the only people who battle with the disease. Doctors, researchers and medical experts also need to grapple with disparities in the world of cancer research.
Around 1.4 million cancer patients are diagnosed every year, Mahalia White is one of 70,000 cancer patients diagnosed every year in the United States that fall in the adolescent young adult population, which makes up 5 percent of the cancer patient population.
Dr. Marcio H. Malogolowkin, the chief of hematology oncology and professor of pediatrics at UC Davis explained the competitive environment of funding for cancer research.
"Pediatrics researchers are competing with other researchers who research for the other 95 percent; it's very hard to compete," Malogolowkin said. "So we depend on foundations, like St. Baldricks, those are important dollars because we don't get it from the government."
Malogolowkin highlighted some important aspects of UC Davis' Comprehensive Cancer Center that other centers cannot do. Like the cross pollination with adult oncologists like Dr. Scott Christensen, medical director of UC Davis Cancer Care Network, who works primarily with adult patients.  
"Where we are very unique is when compared to other centers, we are co-located, so that the pediatric program and the adult program work at the same building," Malogolowkin said.  "So, our interaction and our ability to share, co-share and integrate these patients is much easier than other programs."
Malogolowkin hopes to improve outcomes for patients like Mahalia White who are part of the adolescent young adult group. Unfortunately, outcomes for the group have not improved as quickly as patients under 15 and older than 39.
This may be for many reasons, according to Malogolowkin.
"This could be biological, psychosocial, or a lack of experience with this patient population," Malogolowkin said.
With her diagnosis and experience with stage IV Hodgkins Lymphoma, White wants to advocate for childhood cancer awareness one day.
Donations can still be made through the end of the year through St. Baldricks.
Patsy believes her family's experience with cancer will help Mahalia in her battle against cancer.
"She comes from a strong line of women who have had cancer and are survivors," Patsy White said. "She's a fighter.
Written by: Bobby John — sports@theaggie.org