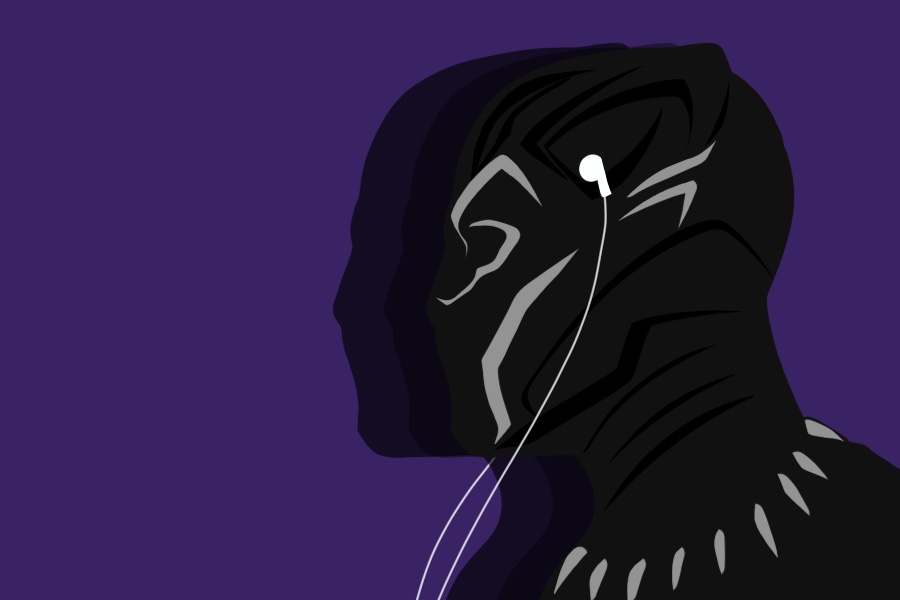 Star-studded record revolutionizes movie soundtracks
Since its Feb. 16 release, the phenomenon that is the "Black Panther" film has swept the nation. The superhero flick is characterized by an A-list cast, almost all of whom are black. While this is not the first black superhero movie, it has quickly become the most successful. Coupled with a great storyline and the cultural equality movements of today, the movie delivers in all aspects that a movie should. From the actors to the directors to the soundtrack, Black Panther celebrates black culture in a blockbuster way like never before. One of the main component of the film is its critically acclaimed soundtrack, overseen by none other than Kendrick Lamar and featuring the likes of Travis Scott, Anderson .Paak, SZA and The Weeknd. Much like the "Black Panther" movie, the album goes above and beyond what we've come to expect in cinema.
The album is kicked off by the now internationally famous song "All The Stars." The song pairs Lamar with his fellow Top Dawg Entertainment label-mate SZA. Beginning with the song's familiar, pounding drum beat, the tune leans on Lamar's incredible flow and lyrics before giving way to SZA's intoxicating hook. To date, the music video for the song has over 60 million views and counting.
After "All The Stars," the up-and-coming British singer Jorja Smith commands the song "I Am" all by herself. The song is both haunting and catchy at the same time. Over a slow, sticky beat, Smith croons, "When you know what you got / sacrifice ain't that hard / feel like dependin' on me." The track perfectly fits into the storyline of Black Panther, creating in the song the image of a tortured superhero.
Finally, we reach the meat of the soundtrack. The hard-hitting track "King's Dead" is anchored once again by Lamar, who receives verses from Jay Rock, another Top Dawg Entertainment artist, as well as Future and British musician James Blake. The song has a heavy, pulsating drumbeat paired with equally tough verses from the featured artists. It all culminates in a song that serves to trigger your adrenaline. The song could be your next gym song, or just hype up a scene by Black Panther's star, Chadwick Boseman.
10 years ago, it would be shocking if a soundtrack song made its way onto the radio. Nowadays, Black Panther is going so far as to normalize that fact. Its abundantly clear that with the help of Lamar, the movie and soundtrack are both shooting to the top charts, but for their own reasons, in what comprises a truly incredible feat.
Written by: Rowan O'Connell-Gates — arts@theaggie.org