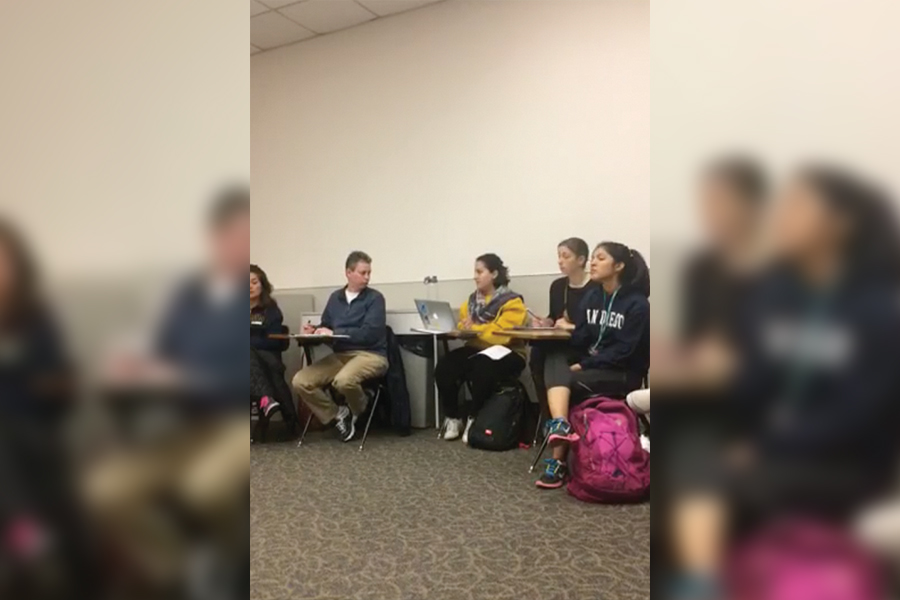 Discussion centered around student transportation to UC Regents meeting
On March 2, Students for a Democratic Society met with Sheri Atkinson, the interim associate vice chancellor, and Mayra Llamas, the interim executive director of the Community Resource Centers. Atkinson and Llamas were the only two administrators in attendance. Students at the meeting voiced disappointment over Chancellor Gary May and other administrators' absences.  
Amara Miller, the head steward of the UC Davis unit of the UC Student-Workers Union UAW 2865 unit and a Ph.D. candidate in the Department of Sociology, moderated the meeting.
Students posted the same signs in the meeting room in Olson Hall that were shown at the first SDS administration meeting. Two of the signs stated: "I can't believe we still have to protest this shit" and "We are on stolen Patwin land." Another sign said "Students over Profit," with a link to the "Rollback, Redistribute, Restructure the U.C." petiton and a fourth sign listed May and other administrator's salaries — many of which exceed $400,000 annually.
Students and administrators at the meeting addressed the topics of coordinating meeting times for the future, reviewing student necessities and accessing timelines to correct student problems. SDS members encouraged further proactivity and initiative by administration, expressing that they do not want to be the only ones advocating for their success as students at a public university.
Students also discussed the problematic nature of UC Board of Regents meetings being held at UCSF — the only UC campus with no undergraduate students. Students centered their discussion on directing administration to advocate for future meetings at more convenient locations for undergraduates.  
However, Atkinson told attendees that while she's "happy to continue to have meetings, […] having a continuous space set up like this [monthly] is not something that" both parties are in agreement of.
Thomas Jara, a second-year biotechnology major and a SDS member, was vocal at the meeting. Jara and others were under the impression that the meetings would be monthly. As students ran out of time at the one-hour meeting that day, they talked about how there are plenty of important issues to address at future meetings.
Connor Gorman, a fifth-year physics graduate student and a trustee on the statewide executive board of UAW 2865, outlined the current necessity for meetings until demands are met.
"It's clear there's material for quite a few meetings," Gorman said. "If, in like four years you actually address all the concerns and we were in a fully democratic university that prioritizes students and workers — and not admin and policing — then we can discuss not having regular meetings. But I don't think that's gonna happen for a while, and having regular meetings is a great way to get people to come."
Sydney Lewis, a third-year English major and SDS member, talked about how students do not want this to be an echo chamber of empty agreement.
According to Lewis, if they "funnel it into small action groups, then it's going to be 10 students talking for everyone," which Lewis said is what they are fighting against.
Miller outlined student necessities that were agreed upon at the previous SDS-administration meeting.
"Admin will let the whole student population know far in advance if and when tuition hikes are proposed," Miller said. "I do want to note that Gary May did agree to this and did say yes to this demand. Admin also agreed to reach out to UCOP and inform them that Regents meeting scheduled on non-school days would be preferable, and live-streaming them, and that we shouldn't have to go looking for those dates or locations. Admin did acknowledge this. We haven't yet received an email that this has been discussed with UCOP."
The agenda picked up where the last meeting's agreements over student access to Regents meetings left off. Miller read off this agenda to attendees. UC administration has agreed to set up need-based transportation to the Regents meeting, and students who are interested must sign up using the UC Regents Meeting Registration Form Google Doc.
"UC Davis will bus and house students for free to any UC Regents meeting provided that students stay the whole day and provide a written account of the experience," Milller said. "UC Davis should be responsible for advertising this program that would allow students to attend the UC regents meetings and confirming transportation to March 14 and 15 Regents meetings. Admin will advocate for these needs to legislators and show actual support for students and workers in a public way. This includes advocating to UCOP for salaries made equitable across UC workers, including impoloring them to reduce salary of chancellors to prevent another Katehi-level event [and] working with city government to establish rent control."
According to Miller, administration has done some work to start conversations around food and housing insecurity, but could do more.
"Admin did commit to provide more affordable housing, but didn't commit to a certain price, saying they would follow the market," Miller said. "They were willing to explore affordable and free food options, they are currently working on increasing availability of fruits and vegetables. Discounts including lowering prices at MU and Silo, increasing community gardening space and enhanced communication about food availability."
Regarding re-evaluating the militarization of the UC Davis Police Department, Miller mentioned vagueness from the administration in the face of these demands at the last meeting and read off their language verbatim.  
"'The police are looking at the way cops are being trained — no information has been given yet about exactly what that training is or the ways UC admin is looking into that," Miller said. "The 'are you opposed to lethal force' question — it's unclear what the answer actually is."
Atkinson did not reply to the demilitarization demand. She did mention that three task forces have been set up following the last meeting on the issues of mental health, food insecurity and affordable housing. According to Atkinson, the task forces have already been chaired and that, "If you want to send follow-up feedback, you can contact those people."
One student asked about student input on the task forces. Atkinson said a number of students were appointed to each task force, but did not have any specific names or other information about the process of that choosing.
Students in the meeting mentioned how the March 14 and 15 UC Regents meeting is scheduled for week 10 of Winter Quarter. The meeting is also located at the UCSF campus, creating a geographic barrier for UC Davis students. According to SDS, UC administration needs to advocate for accessible meeting times and locations with greater student input.
SDS member and first-year sociology major Aj Ballesteros called for more student control of the UC Regents' meetings times and locations.
"The upcoming Regents meetings is in week 10 — that's literally a week before finals," Ballesteros said. "Also, the fact that it's in the other half of the state makes it inaccessible to us distance-wise. If we don't go, it's because we aren't able."
The UC Regents are set to consider a tuition hike at the March meeting. Jara stated that it is imperative for as many students to go to the meeting as possible because tuition hikes increase food and housing insecurity, especially for those already suffering financially.
Becca Payne, a fourth-year studying technocultural studies talked about how, with limited spaces available for free transportation, students who need free transportation must be prioritized.
Atkinson was interested to hear input on how the administration should select students to go if not all students who want to go are able to. Payne urged Atkinson to ask May to send out an all-student email to inform students who may be unaware that the university is providing access to Regents meetings.
"Sounds like folks are interested in centering the centers and marginalized communities," Atkinson said. "I want to make sure we're on the same page for what that [outreach] email would include."
Students talked about advocating to the centers that support marginalized communities and having students from the Cross Cultural Center go, especially in light of funding cuts to the CCC. Ballesteros talked about prioritizing students of color and students from disadvantaged socioeconomic statuses for free UC transportation and housing, because tuition hikes "disproportionately affect people from those groups."
Payne talked about not wanting to make people self-select their labels and identities and mentioned an open space for free-form answers. Some students found issue in having to "prove your worthiness" in explaining their marginalization, and that certain students within certain marginalized groups should be prioritized without explaining any experience.
Payne said instead of asking about a student's socioeconomic status, it might work to ask the student if they believe they are financially secure enough to not need university transportation.
At the first SDS-administration meeting attended by May, requirements for attending the Regents meeting were set forth, including documentation, having students take notes and keeping a list of students in attendance. Lewis said these requirements are condescending and that administration was asking for unnecessary proof that students went to the meeting. Lewis proposed a sign-in sheet and Atkinson said that was open for discussion.
"I understand wanting documentation — that students actually went to the [Regents] meeting, but what was proposed at the last meeting was more like a homework assignment," Lewis said. "It seemed a little excessive."
In reference to how May talked about students returning to campus with a "write up," Jara proposed that students returning from Regents meetings could conduct a public forum at UC Davis to relay information to others who weren't able to attend. Jara wants administration to focus more directly on student outreach — ''I really want to stress emails," they said.
According to Ballesteros, "an email isn't enough."
"It should be done, but I wanted to see it taken further," Ballesteros said. "I think there should be awareness campaigns of what the Regents are and how they're making decisions that affect us and we have no control over that."
Kelechi Ohiri, a third-year organizational studies major and a student assistant to the chancellor, questioned the positionality of students in the room.  
"My question is: who are we centering when are doing this advocacy?" Ohiri asked. "As the […] only black woman in this room — and no disrespect to anybody, but I'm just being honest —  I wonder, when we talk about these things in rooms where folks most directly affected by these problems are not present, we at least speak that and name that. I'm very aware of positionality."  
According to Jara, the meeting was ultimately ineffective. Jara acknowledged the university's willingness to bus students to Regents meetings at UCLA and UCSF but said that it is nonsensical for Regents meetings deciding on undergraduate and graduate policies to be held at UCSF, a campus without undergraduates.
"The real question is [whether] the administration will continue to work with us or give us just another town hall and no action after," Jara said. "Students should be included in the process of the university — not just consulted from time to time."
While Atkinson publicized new task forces, Jara believes that mental health care and food and housing security should be a right given to students automatically, not something that task forces must be created for.
"We wanted [all] the admin [present] and all we got was Sheri in a small room which is a repeated process of admin.," Jara said via email. "Also, the task forces made by the admin only do so much (their job is to send a report not necessarily an action) and the task forces will split up the Students. Also it seems absurd that we have to make task forces for mental health, food and housing in the first place those things are human rights."
Written by: Aaron Liss — campus@theaggie.org
Editor's note: An earlier print edition of this article misattributed quotes to Becca Nelson. It has been correctly updated with attribution to Becca Payne.