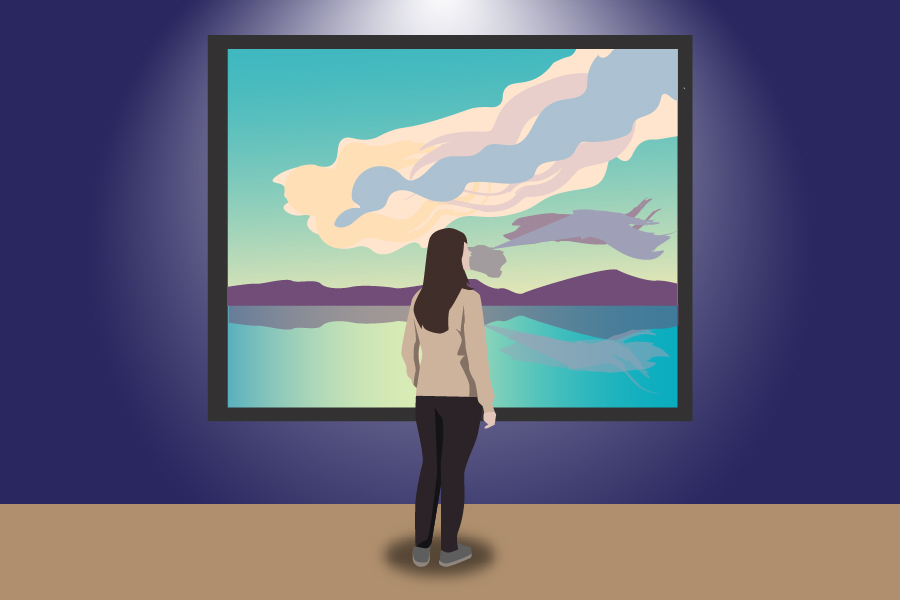 Art to fill your week of spring break

If you're not recovering from finals stress by relaxing in Hawaii or partying in Cabo this spring break, join the club. For those staying local this break (or for those looking to plan future Saturday outings during the quarter), the following is a list of museum destinations in the area. As you wait for Spring Quarter to arrive, spend a day or two exploring the broader world of Bay Area art.
Museum of the African Diaspora, San Francisco
According to its website, "MoAD offers programs that showcase the art, history, and cultural richness of the African Diaspora. Our goal is to explore and celebrate the beliefs, practices, traditions, and customs connected to these movements." Starting March 28, three new exhibitions will be on display. Along with "Digitalia" and "After the Thrill is Gone," MoAD's emerging artists program will focus on Andrew Wilson and his work in an exhibit called "Equivalencies: Abandoned Bodies." An entrance fee of $10 seems a small price to pay for a thought-provoking experience.
San Jose Museum of Art, San Jose
SJMA showcases modern and contemporary art. Some of the exhibitions and collections being featured during break include paintings by Raimonds Staprans, works by The Propeller Group (ending on March 25), "Show Your Work: Art and Math," and "Crossroads: American Scene Prints from Thomas Hart Benton to Grant Wood." With a college ID, tickets are $6. Visit SJMA's website for hours and more information.
UC Berkeley Art Museum and Pacific Film Archive, Berkeley
BAMPFA hosts a multitude of events differing every day from gallery talks, lectures and discussions to art labs (drop-in art making) and workshops to readings by poets and other writers. Take a look at the online calendar to see which days are of most interest to you. Saturdays and Sundays have the most events lined up every week.
Crocker Art Museum, Sacramento
The Crocker Art Museum was one of the first art museums established in the United States. Most notably on display right now (through May 13) is "Power Up," which features pop art by famous nun, printmaker and activist Corita Kent. The museum is also showcasing "Hopes Springing High" and "Faith Ringgold: An American Artist," which are in recognition of Black History Month. College students pay $8 for admission or can get in for free the third Sunday of every month. Other nearby museums can be found on the Sacramento Area Museums website.
Asian Art Museum, San Francisco
Through its collections, exhibitions and programs, the Asian Arts Museum aims to "inspire new ways of thinking by connecting diverse communities to historical and contemporary Asian art" The exhibitions currently on view include artist Fu Shen's paintings and calligraphy, "When Pictures Speak: The Written Word in Japanese Art," "Ascend" and "Collected Letters" by Liu Jianhua. Students pay $10 instead of $15.
Mexican Museum, San Francisco
Although garnering recent controversy for a majority of its oldest artifacts turning out to be inauthentic, the Mexican Museum in San Francisco still boasts an authentic contemporary collection. Currently the museum resides in Fort Mason, and its only exhibit on view right now is one dedicated to the works of Fernando Reyes. However, in 2019, the Mexican Museum will move into a new $86 million home. The Fernando Reyes galleries will end on March 15, so check out museum's website for updates on a new exhibition.
Sonoma Valley Museum of Art, Sonoma
SVMA's mission is simple: "Building Community through Art." For those into contemporary art, the Sonoma Valley Museum of Art has recently moved into "modern and contemporary work, bringing a new perspective to the area." Current exhibitions on display through April 15 are "An Eye for Adventure: Photographs by Jack London" and "Libros de Artista: Artist's Books from Mexico and the Mexican Diaspora." With ID, college students pay $7 for entry.
di Rosa Center for Contemporary Art, Napa
Another financially friendly option is the di Rosa museum, located in Napa. For $5, it has two galleries on view dedicated to the exhibition "Be Not Still: Living in Uncertain Times," with different artists featured in each gallery. In pictures, the museum itself seems like an art piece. The metal building contrasts with the green foliage all around it and the body of water in front.
The Museum of Craft and Design, San Francisco
The MCD is "devoted exclusively to modern and contemporary craft and design" and "showcases designers, makers and artists through an exciting and distinctive series of craft and design-focused exhibitions and public programs." Available to experience until May 20 are the exhibitions titled "Tom Loeser: Please Please Please" and "t.w.five." With ID, students get $2 off general admission price.
Marin Museum of Contemporary Art, Novato
A free option, the Marin MOCA is hosting "Nathan Oliveria: The Figure Over Time" until April 22.
The following are all quirkier museums and more focused on a single object as opposed to traditional concepts of art.
Pacific Pinball Museum, Alameda
With a collection of over 90 playable pinball machines, the Pacific Pinball Museum's mission statement is "to teach science, art and history through pinball, and to preserve and promote this important part of American culture." It is located in Alameda and admission is $20 with no discounts for students. However, the entrance fee gives you access to play on all the machines. It also allows you to come in and out of the building throughout the day in case you need a break from all that pinball playing.
American Bookbinders Museum, San Francisco
In North America, San Francisco is the place to be if you are at all interested in the exploration of bookbinding and bookbinders. The American Bookbinders Museum hosts daily tours at 11 a.m and another round at 2 p.m. for $15. The museum brings up a good point on its website that might make you more curious about what it has to offer: "In the age of digital media our relationship with the book is evolving, making this the ideal time to tell the history of this object and memorialize its significance in regards to where we are today."
Western Railway Museum, Suisun City
For $10, you can learn all about electric railways and even take a ride in some vintage cars. Starting on April 4, there is a limited time 11-mile scenic ride available that takes passengers through the vibrant green California countryside brought on by winter rain. Visit the museum's website for more information.
Written by: Cecilia Morales — arts@theaggie.org