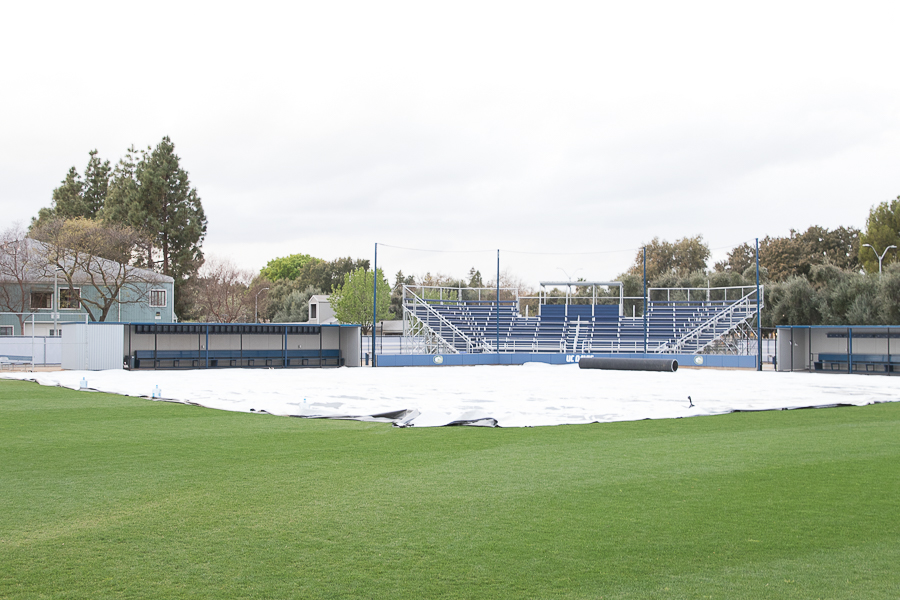 La Rue Field receives complete makeover in time for new season
The UC Davis softball team officially kicked off its 2018 home schedule on Thursday afternoon at the newly-renovated La Rue Field, following a five-month project that gave the facility some much-needed repairs and upgrades.
The team will enjoy new dugouts and bullpens as well as a new clubhouse and locker room beyond the outfield fence.
Some major changes were made to the playing surface as well, including fresh sod in the outfield. To help handle inclement weather around the year, the renovations also involved leveling off the playing surface using laser technology and installing a completely redesigned drainage system.
For Aggie supporters, there were new bleachers built behind home plate, in addition to an outdoor press box at the top of the seating section. The field's scoreboard and sound system were also revamped in the process.
The renovation project was originally scheduled to commence back in early 2015, with estimated costs hovering around $3 million to $4 million at the time, but was pushed off until this past fall.
The remodeling of the field began in early October and was partly funded by the Marya Welch Initiative for Women's Athletics, which promotes women's sports on campus and raises money for the 14 UC Davis women's NCAA teams. The group comprises UC Davis fans and former student-athletes, among others, and ultimately strives to provide the best opportunities for current Aggies and give them the tools to compete at the highest level against their opponents.
"We have a tradition of success throughout the history of our program and, on this 50th anniversary season, we are so excited to see the fruits of the labor of all the wonderful women who have paved the way and laid the strong foundation for the UC Davis softball program," said UC Davis softball head coach Erin Thorpe in a press release on March 5. "These facility improvements are a testament to all the student-athletes who have pulled on that Aggie jersey and represented the university with 'Aggie Pride.'"
La Rue Field is located at the corner of La Rue Road and Russell Boulevard, directly across the street from the Segundo Residence Halls. The UC Davis softball team will play a total of 24 home games this season in their new digs.
The team began its schedule with 18 consecutive road games in February, compiling a record of 11-7. The Aggies played a pair of games on Thursday to officially reopen the field, beating Nevada by a final score of 9-4 and then falling 2-0 to Utah State. UC Davis will play another five games over the course of the next four days, including a doubleheader on Saturday starting at 11 a.m. against Valparaiso.
Written by: Brendan Ogburn — sports@theaggie.org