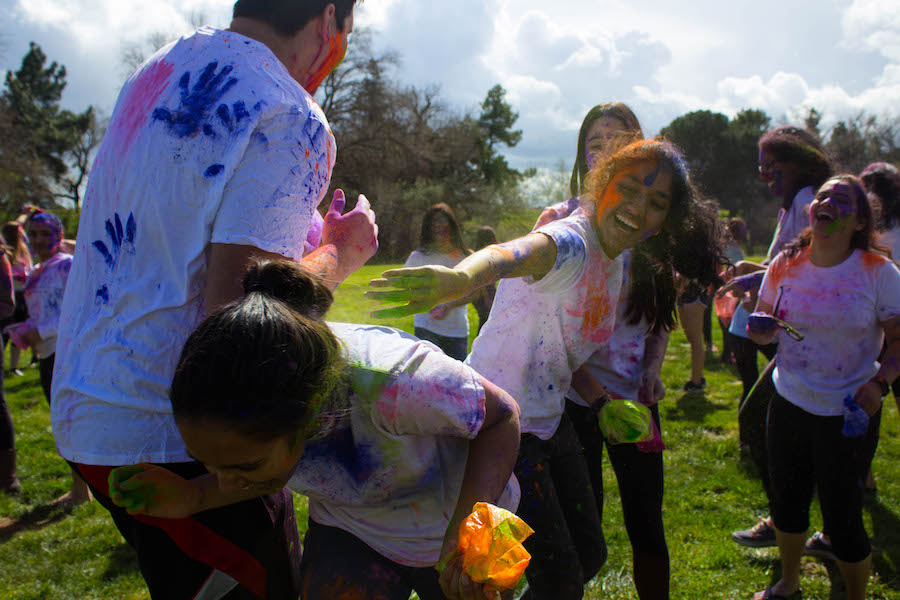 Indian Student Association, Indian Graduate Student Association host annual Holi event
On March 3, the Indian Student Association and the Indian Graduate Student Association collaboratively hosted UC Davis' annual Rang de Davis, celebrating the Hindu holiday Holi, which is commonly known as the "festival of colors." Located on the lawn by the Arboretum Gazebo, the festivities began at 11:30 a.m. and lasted until 3:30 p.m.
Holi has been celebrated for over 2,000 years as a welcoming of spring and a festival of love. Historically, celebrants wore white and gathered with close community members to light bonfires, throw gulal (color powder), eat rich foods and dance. Today, most Holi festivals consist of family and friends spending the day playing Holi, which consists of smearing powder on each others' faces, playfully throwing powder and playing with pichkaaris (water guns).
Students and community members in Davis paid the traditional celebration homage with vibrant, colorful powders and iconic Bollywood songs. At one point in the afternoon, it began raining, later even hailing. However, the weather did little to dampen the spirits of the dancing crowd, who responded by enthusiastically continuing to pelt each other with handfuls of rainbow-colored powder.
Hemali Patel, a fourth-year managerial economics major and the president of ISA, described the logistics and planning that led up to the event.
"Organizing events isn't easy, but it's something I love doing, so it's always fun. We have been working on [planning the event] since mid-January," Patel said. "It's hectic, but it's a lot of teamwork and collaboration."
Patel went on to explain why ISA and IGSA put on this celebration every year.
"The goal is for everyone to have fun," Patel said. "We want to celebrate what Holi is […] and it's a great way for everyone to relax."
For ISA, the profits made from various events held throughout the year helped fund the budget for this celebration. Patel stated that at the end of the year, after its culture show, ISA donates all of its remaining proceeds to charity.
ISA Vice President Vrinda Gupta, a third-year Asian American studies and international relations double major, briefly described the intertwining roles of ISA and IGSA in the event planning.
"IGSA and ISA really collaborated a lot and they really helped," Gupta said. "ISA ordered the rang, which is the color, and figured out the DJ logistics and reserved them [the DJ]. A lot of it [the planning], after you get the administrative work down, is just promoting, advertising and selling tickets. Luckily for us, last year our Holi was really successful, folks were really excited just to come by word of mouth."
IGSA President Satyabrata Sarangi, a fourth-year Ph.D. student in electrical and computer engineering, elaborated on the event planning timeline.
"We started the preparation around September, once we were done with Diwali, and then we started the meetings with the Arboretum [staff]," Sarangi said.
Sarangi explained how IGSA and ISA planned to educate students who decided to partake in the cultural celebrations.
"We have three posters depicting the history of Holi and how Holi is celebrated in India," Sarangi said. "Arboretum interns will be there to demonstrate things so whoever enters the event will know what the history of Holi [is] and how it is celebrated there."
IGSA and ISA sold 400 tickets for the event. Including Arboretum staff members and the board members of both student organizations, the total number of attendees reached an all-time record of 450.
Gupta went on to relate the event to Indian representation and presence on campus.
"I think one of the biggest things for me, personally, and I feel like for a lot of ISA, is that it's just really great to have this event so we can have some representation here on campus and to kind of just have a space where we're able to celebrate ourselves and our identity," Gupta said.
Written by: Priyanka Shreedar — campus@theaggie.org