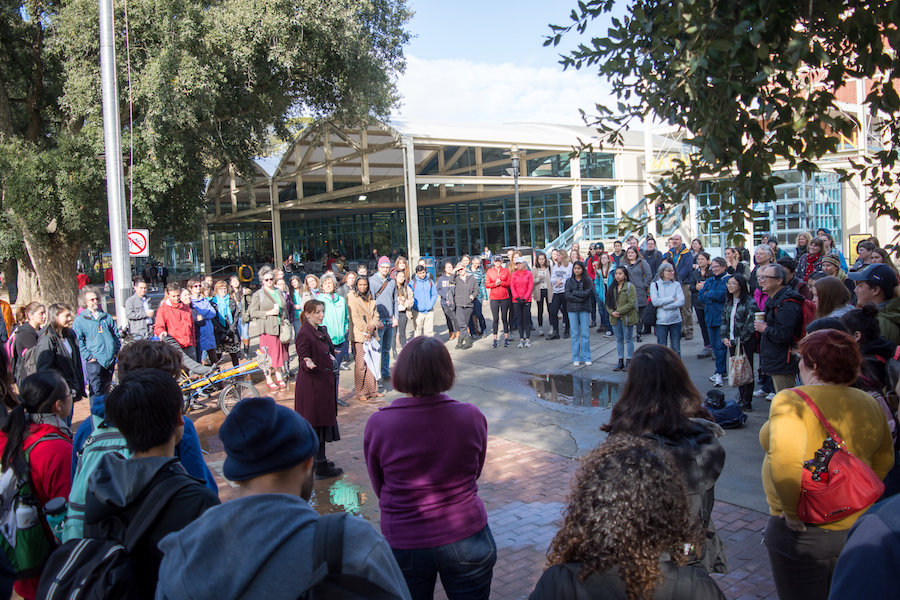 After Parkland shooting, walkout memorializes victims
UC Davis students, staff and the wider Davis community participated in the National School Walkout at the MU on March 14 to remember victims of gun violence in Parkland, Fla.
17 minutes were dedicated to remember the 17 individuals who died in the shooting. Over 80 people gathered to memorialize the dead and injured from the gun shooting at Marjory Stoneman Douglas High School on Feb. 14.
At 10 a.m., participants gathered in a circle at the MU flagpole for a recitation of the names of the shooting victims. This was followed by speeches from concerned members of the UC Davis and Davis community about gun violence, the emotional impact of past school shootings and a recent school lockdown at Harper Middle School in Davis because of a gun threat.
Alexander Fisher-Wagner, a second-year cinema and digital media major at UC Davis, organized the UC Davis walkout through a Facebook event page. Wagner was asked about his motivation for coordinating the event.
"About a week after the shooting, something hit me emotionally," Fisher-Wagner said. "I do not understand exact what. But I felt that, as a student, this can happen to me. This can happen here. This can happen to my friends. And there was something that I can do. The lack of response from UC Davis […] was concerning for me. I went ahead and said that I was going to do something myself."
Susan Lovenburg, a representative from the Yolo County chapter of the Brady Campaign, a gun violence prevention organization, attended the event and spoke about the growing youth movement against gun violence.
"I think it is really important to remember the number of people who have been affected by gun violence, which is part of the objective today, and the other is to advocate for the reform of our gun laws in the United States," Lovenburg said. "I see a really significant shift in a younger population of students getting involved in this issue. And I am hoping it is going to help push through some legislation at the federal level."
Carly Kilpatrick, a fourth-year political science student at UC Davis, spoke about why she attended.
"I think that there should be stricter gun control laws," Kilpatrick said. "And more specifically, honor the people who died in the shootings in Florida a month ago today."
When asked about what she thinks will come out of the walkout, Kilpatrick said she thinks "in general, since [the shooting] happened, there has been a lot more talk about gun control."
"There [have] been so many shootings," Kilpatrick said. "They happen and then it is on the news for a little bit and then it stops. And this has carried momentum for a while. I would hope today that this just continues to carry on momentum for this movement to not have guns in schools and especially not have teachers with guns."
Julia Hagelberg, a second-year sociology major, spoke about what the youth-driven anti-gun violence movement means.
"Us being college students […] just shows that it is about all students — not just about one particular age range," Hagelberg said. "But it affects all of us because we just want to better our education and be able to control our lives without being fearful of a thing that is our human right to education."  
Hagelberg spoke about arming teachers in schools.
"I don't think that teachers should be armed with weapons," Hagelberg said, "I [think] that you are supposed to be educating us, and I don't want to be fearful that you are going to pull out a gun. I don't want to even hear that you think you need it in case someone comes to shoot the school. Why should we be preparing for that? That should not be a thing we think about when going to school."
Cassidy Kays, a third-year sociology major, said the ongoing student anti-gun violence movement is "acknowledgement of what is happening" which is "not coming from the government."
"We are seeing this whole generation of kids, teenagers and college students speaking out and I am so proud of being part of a generation that is actually standing up for students' rights [and] children's rights," Kays said. "It is so important. Schools should be a place that is safe and students should not be afraid for their lives when going to college and going to school. That is crazy."
Written by: George Liao — campus@theaggie.org