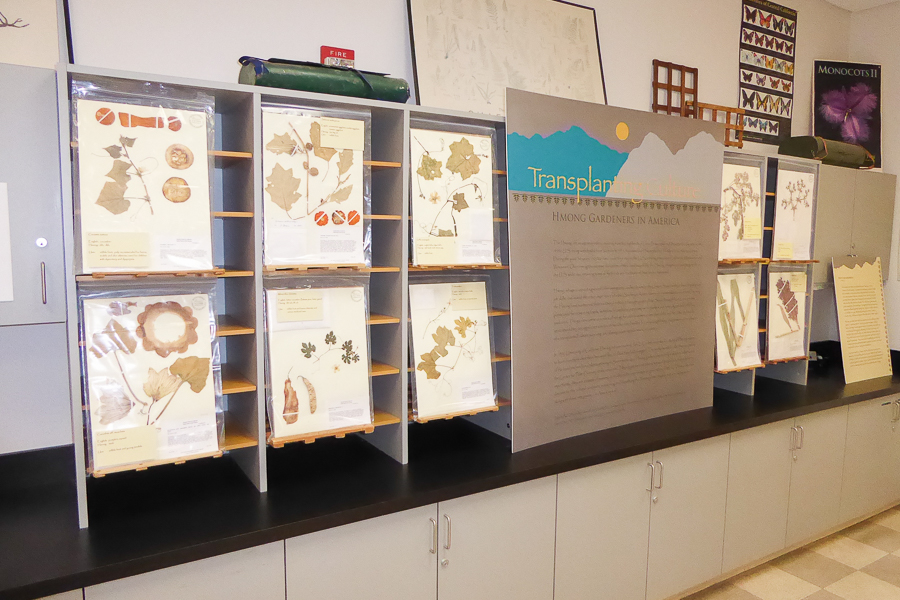 Exhibit shows scientific and cultural roots of plants used by Hmong people
In January, the Herbarium at the UC Davis Center for Plant Diversity hosted a botanical tea event with an exhibition of Hmong plant specimens for culinary and medicinal use. A follow-up exhibit was given at the herbarium on Biodiversity Day in February.
The exhibitions were arranged by herbarium curator Ellen Dean and Mai Xiong, a fourth-year sociology and Asian American studies double major who has worked at the herbarium since her sophomore year, with additional help from herbarium staff. The specimens on display were culled from a collection of over 100 different plants from earlier university projects, Dean said. When Xiong came across this fairly extensive collection, she was inspired.
"Because Hmong is an ethnic group that is not well known, it surprised me that there was a collection of Hmong plants," Xiong said. "I was inspired by the fact that while these plants were being documented, important parts of the history of my people were too."
Xiong, a member of the Hmong Student Union at UC Davis, was inspired to work on the project so as to explore and represent the Hmong cultural roots of the plants. As part of the preparation for the events, she took Dean to Hmong New Year, bought and cooked traditional Hmong food, and asked Hmong students to participate.
"I want people to learn how plants are culturally used, in general," Xiong said.
Bringing the cultural history to bear on plants is a type of study referred to as ethnobotany.
"I favor a broad definition of ethnobotany as the study of direct relationships and interactions between people and plants," said Daniel Potter, a professor in the department of plant sciences who teaches a course on ethnobotany at UC Davis. "This includes studies of how people use, manage, perceive, and describe plants."
Potter is enthusiastic about the exhibit.
"I think it's a great contribution to understanding not only traditional plant-people interactions but also how they may change," Potter said. "One of the reasons I like the broad definition of ethnobotany described is that it encompasses studies of migrations of people, movements of plants and cultures, and how cultural and biological changes affect people's interactions with plants."
This is especially significant for the Hmong culture, which has had only an oral language for most of its history. Without a formalized written language before the end of the 19th century, a lot of personal history has never been documented. The plants, then, serve as a type of text that hold the historical and cultural stories of the Hmong culture.
This aspect of the exhibition was important to Xiong, and through her research, it even brought her closer to her parents and to her culture. As a child, she never really cared for the plants her parents grew in their home garden, she explained. To this day, she says, her parents grow and collect plants that have been passed down for generations in their family.
"I began to have more conversations with my parents about plants," Xiong said. "Those conversations usually turned into a mixture of plants, Hmong cultural practices and the religion, which is commonly known as shamanism."
Xiong hopes that those who have seen the exhibit gain more awareness of the Hmong culture and its complex social history. And through all her and the herbarium team's hard work, it seems to have paid off.
"We have an exhibit and tea every January, and this particular exhibit attracted more undergraduates than any previous exhibit," Dean said.
Written by: Matt Marcure — science@theaggie.org