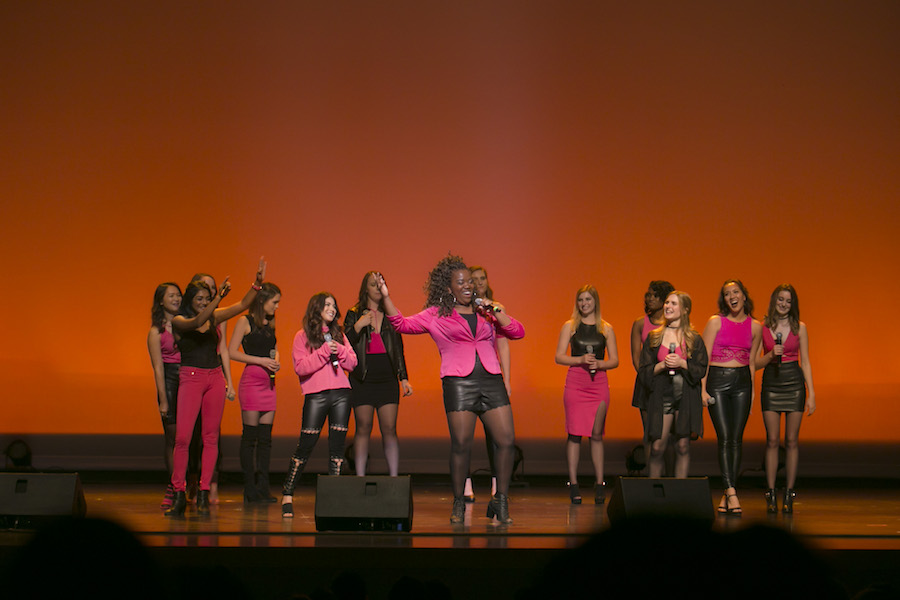 Mondavi showcase features diverse range of a cappella groups.
As students return from a week of rest and relaxation, UC Davis has no shortage of events to keep the fun going well into Spring Quarter. One such event is the 2018 HellaCappella showcase, featuring a cappella groups from all over the west coast.
For the past fourteen years, HellaCappella has served as a platform for a diverse range of vocal performance groups. This year, the event is hosted by The Spokes, an all female a cappella group based in UC Davis. They have assembled groups from throughout and beyond the UC system to participate.
From UC Berkeley, Dil Se is an a cappella group which blends the rich musical traditions of Southern Asia with contemporary conventions of a cappella.
"We're going to be debuting two new songs in our three-set piece," said Divyaditya Shrivastava, a second-year mechanical engineering major and member of Dil Se. "We're super excited to show them off."
The concert will also feature performances from UC Davis a cappella groups such as The Spokes and the Liquid Hotplates. The Spokes is UC Davis' premier all female a cappella group.
"Our most important mission when it comes to the show is showcasing the best a cappella on the West Coast and this year's line-up is going to be one of the most talent-filled yet," said fourth-year cell biology major and co-president of The Spokes, Anusha Suresh.
From UC Santa Cruz, Cloud 9 is an a cappella group which will also be featured at the Mondavi Center showcase. Joining the showcase from Oregon are two a cappella groups: Divisi and On The Rocks.
Founded in 1999, On The Rocks is an all-male a cappella group from the University of Oregon. According to their website, the group has become a success due to its "fun-loving energy, great sound, and charming looks." They have traveled all over the west coast to be featured in showcases like UC Davis' HellaCappella.
All of the a cappella groups involved have practiced extremely hard to make this event a success and one that the UC Davis community will remember for years to come.
"We work very hard, and I couldn't be more proud to be a part of something so meaningful and empowering in my college career," said fifth-year psychology major and co-president of The Spokes, Amanda Beardsley. The fourteenth annual HellaCappella is taking place at the Mondavi Center at 7 p.m. on Friday, April 6. You can purchase tickets at the door for $22 or online for $17.
Written by: Isaac Flores — arts@theaggie.org