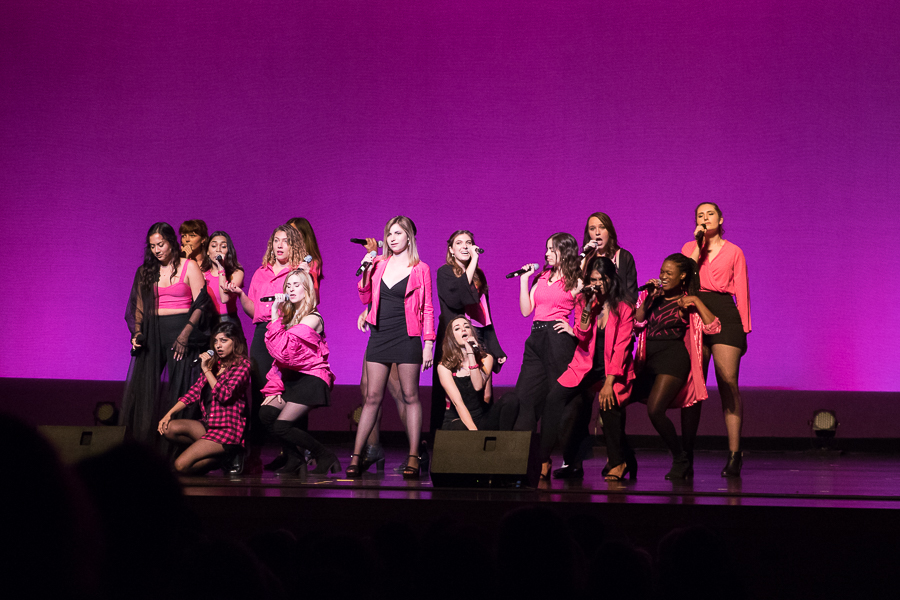 Mondavi showcase a major success.
Many minds were blown at the 14th annual Hellacappella showcase on April 6. Star-studded performances from a cappella groups from all over the West Coast proved to be an indefinite crowd-pleaser.
The event itself was organized by UC Davis' premier all-female a cappella group, The Spokes. This year, the showcase sold out the Mondavi Center's more than 1,800 seats.
Wearing striking, bold shades of hot pink and jet black, The Spokes sang a range of songs aimed at female empowerment and the expression of the group's unique personality as an all-female ensemble.
Members of UC Davis' Birdstrike Theatre acted as emcees for the showcase, introducing each of the a cappella groups with line after line of comedy gold.
"One of my favorite parts of the show was the witty comedy in between the a cappella groups," said Kat Hanrahan, a second-year environmental science and art history double major.
The effort and dedication of each of the individual a cappella groups shone through in their spectacular performances which featured a range of songs old and new.
"There is something really beautiful when others get to share in the fruits of your labor," said Audrianna Escobedo, a second-year art history major. "It was a wonderful night!"
Another crowd favorite in the showcase turned out to be the all-male a cappella group from the University of Oregon, On The Rocks. The group has recently released an album.
"Hellacappella is actually really special for us because we get to represent the Northwest and much of Oregon," said Jasper Freedom, a member of On The Rocks. "We've been working on this album for four years. We've put a lot of thought into every aspect of it."
Overall, the night proved to be a wild success, continuing Hellacappella's legacy as a wonderful showcase that highlights the vocal prowess of many West Coast a cappella groups.
Written by: Isaac Flores — arts@theaggie.org