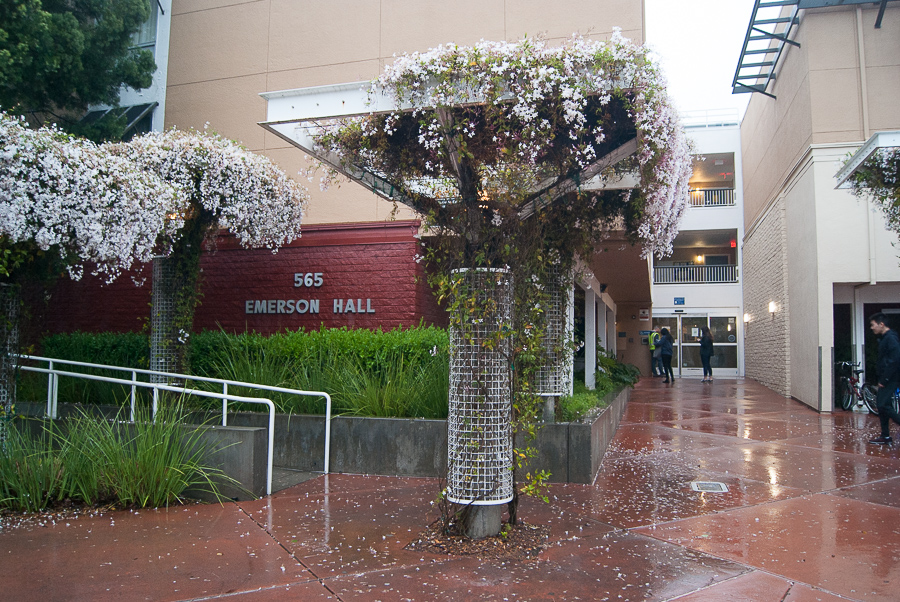 Students discuss on-campus housing concerns
On March 14, the UC Davis Finance and Capital Strategies Committee approved funding for the new Emerson Hall project in the Cuarto student housing area. This action was followed on March 15 with a unanimous vote by the UC Board of Regents for final approval. The Emerson Hall replacement project will tear down an older building in order to construct three buildings which will house over 800 students.
Matt Dulcich, the director of Environmental Planning and Local Government Relations at UC Davis, spoke about the housing changes coming to Cuarto and in general about new housing at UC Davis.
"The key item for Emerson and Webster Hall is to add more supply for UC Davis students and [provide] enough housing capacity for first and second-year students," Dulcich said. "The Webster and Emerson Hall projects are part of the most ambitious housing plan ever for UC Davis. They will contribute more supply for UC Davis students. That is the first real benefit, and the key idea is that these are part of the overall pipeline of new housing projects that we started."
Dulcich spoke about what the housing project means for the university.
"I think the basic idea is that it represents UC Davis reinvesting in these properties and contributing to the neighborhood," Dulcich said. "These buildings will be very attractive, and they will [bring] a high degree of improvement to the appeal of the neighborhood."
However, construction currently taking place at Cuarto has come at a cost for current students. For Michael Plastino, a first-year undeclared student, and Spencer Towill, a first-year managerial economics major, the construction at Webster Hall has caused serious noise problems.
"I live on the face that is closest to construction and it is very loud," Plastino said. "It starts at 7 a.m. and they have not gotten a ton done on this building. It has been going on the whole quarter and many mornings I will wake up to the sound of construction and especially when they are doing certain projects with the jackhammer."
Plastino said that while the construction has not affected everyone at Cuarto, "everyone who is on the face of the building" next to the construction will "wake up in the morning pretty consistently whenever there is construction."
Both Towill and Plastino are teammates on the water polo team. Towill agreed with Plastino's concerns about the construction noise.
"My room is situated just right next to where the construction is," Towill said. "During our [water polo] season, […] we will have a super early morning practice just the day before and we will be super tired and then the next day, when we don't have practice until 10:00, the construction starts about 6:30 a.m."
Regarding the construction noise problem at Cuarto, Associate Vice Chancellor of Student Affairs and Executive Director of Student Housing Emily Galindo mentioned actions put into place to improve the situation.
"We have a construction mitigation team [and] their sole responsibility is to ensure that they work with residents, staff and the contractors to deal with any issues that arise," Galindo said. "Students are told before they come to campus that there is construction occurring. Then we ask the contractors to limit [noise]. They are not supposed to start until 7 a.m. We also have a liberal transfer policy, so if a student truly feels like the noise is something that is impacting their ability to study or are impacting their progress, we do not want to see that happen."
Dannie Kiel, a second-year applied mathematics and physics double major and former resident of Tercero Hall, explained that construction-related problems and overcrowding have manifested at Tercero. Kiel is also a former resident advisor who resigned recently from her position.
"I lived in Tercero for two years," Kiel said. "The first year I was there, it was pretty bad. It was pretty overcrowded and usually long lines at the dining common. Then they put in three new buildings at Tercero, and did not expand the food at all."
Kiel went on to speak about availability of housing in Davis.
"The big problem is that Davis in general has a high occupancy rate," Kiel said. "There is not enough housing, so it is good that they are putting in new residence halls. They definitely need more housing, because they are letting more freshmen in — they need to have more freshman housing."
Galindo, responding to student concerns, said the topic of overcrowding is twofold.
"One has to do with our responsibility to make sure to meet our freshman guarantee based on the enrollment," Galindo said. "The second issue has to do with the buildings themselves in that we purchased them back in the 1980s. They have reached the end of their useful life. There are systems that need to be replaced. Things like they are not sprinkled. We do not have internet. There are just a number a things that, when we did facilities assessment, that led us to a place where it was time to redevelop the properties."
Galindo spoke about the expansion of the Cuarto Dining Commons to prepare for the additional students coming to Webster Hall.
"The first thing we did in the Cuarto area back in about 2010 was we renovated the dining facility and expanded it, so that it could serve a larger number of students," Galindo said. "Then we started with Webster Hall, which is currently under construction. It will be complete in the fall of 2019. And then the next redevelopment is Emerson Hall. That is the one we just got design and budget approval for at the regent's meeting last month."
For the long-term, Galindo also said that providing housing for second-year students is an objective.
"[A] long-term part of our goal is also to get to a place where we can provide second-year housing for students," Galindo said. "Right now, we provide it as an option, but it is not a guarantee and we want to get to a place where we can do that. And we feel like our second-year students will be interested in this accommodation."
The timeline for the Cuarto projects are for Webster Hall to open in Fall 2019. Students displaced by the demolition and subsequent construction of the new Emerson Hall will be moved to Webster Hall. The expected completion of Emerson Hall is slated for Fall 2022.
Written by: George Liao — campus@theaggie.org