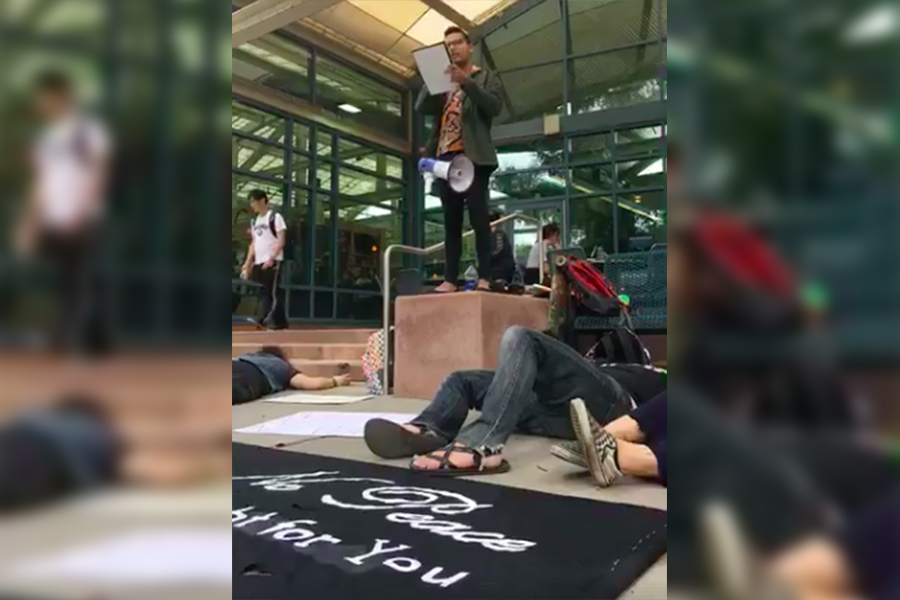 Protesters seek to demonstrate solidarity with victims of police violence
On April 4, the group Students and Workers Ending Racial Violence organized the event #StephonClark Die-In. A group of students gathered in the quad to demonstrate solidarity with people of color who have been killed by police.
According to sociology graduate student B.B. Buchanan, Black Lives Matter Sacramento put out a call on Monday for solidarity actions both across the United States and internationally.
In response to this call, Buchanan and other protesting students had an emergency meeting and organized a die-in to show their solidarity.
"A die-in is a kind of political action which has been [popularized] since Black Lives Matter hit the scene," Buchanan said. "People lie on the ground […] to provide a visual effect that says the number of people that had been killed has been numerous."
Around 10 students laid flat on their backs in front of the CoHo, drawing the attention of many passing students.
"[I came out today] for justice for all of the people […] that had been unjustly hurt by the police," said fourth-year technocultural studies and English double major Becca Payne.
In addition to the die-in, the students chanted slogans such as "No Justice, No Peace." They demanded justice for Stephon Clark, a black man who was shot and killed by Sacramento police on March 18.
Protesters also laid out a banner which stated "No Justice, No Peace, Rest in Power, We Fight for You."
"I showed up today because it's really injustice what happened to Stephon Clark and the whole system of policing," said second-year political science major Parker Louis. "A lot of people don't know about these injustices and events like this raise awareness."
According to Buchanan, there were protests in Sacramento throughout spring break around Clark's death, and a number of people present at the die-in knew Clark.
"Part of the reason why we put on the solidarity action was to raise awareness that UC Davis is not so far away from Sacramento," Buchanan said. "People are affected by the death of black folks in Sacramento as well as elsewhere."
Written by: Clara Zhao — campus@theaggie.org