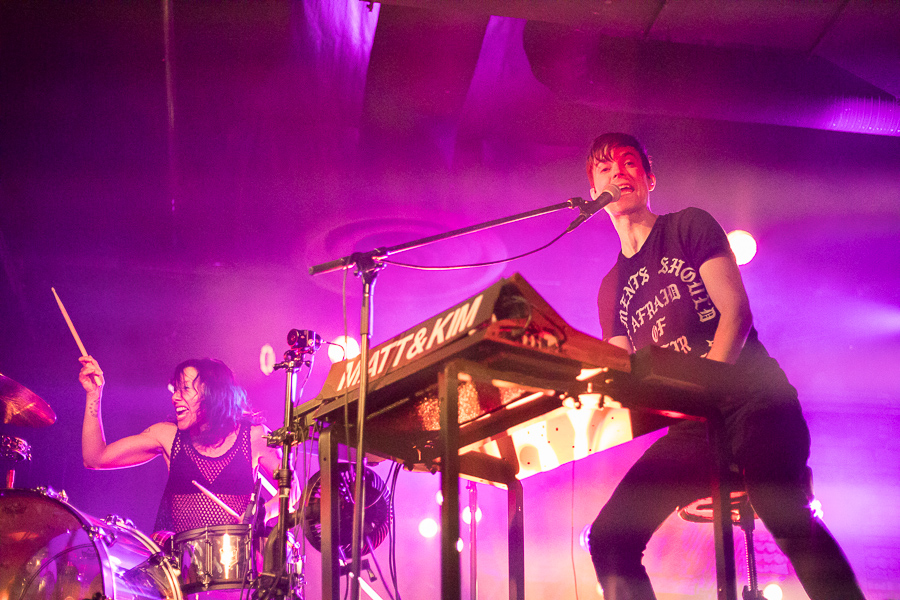 Matt and Kim break hiatus
The crowd settled in as the band Twinkids opened for the show. People leaned into the bar to order drinks and excitedly murmured through the performance. Despite an incongruous audience, the electronic duo remained completely immersed in their music, swaying with eyes closed as if no one else were in the room. Eager to be with Matt and Kim for their first tour ever, Twinkids started the evening by being unapologetically themselves. Gene Fukui even paid homage to his hometown in Tokyo with a Japanese cover, completely entrancing everyone with the soft ballad.
Following Twinkids was Cruisr, an indie band from Philadelphia. The music evoked summer vibes — upbeat and reminiscent of the beach. Lead singer Andy States was refreshingly sardonic and full of jokes in between each song. At one point he asked everyone to shout out their names simultaneously and dedicated the next song to the first name he heard. For Twinkids and Cruisr, the stage was a place to pour their hearts into, and that's exactly what they did. The theme of the night was apparent: honest, humorous and experimental.
The first appearance of Matt and Kim took me by surprise. There was no introduction or ease into the show. The Brooklyn duo ran onto stage and immediately began playing before I knew what was going on, and at that point I realized I was in for a show that would completely blow me out of the water. Having listened to Matt and Kim's music before, I expected a burst of energy from the performance. However, I didn't anticipate it going completely wild.
Kim was undoubtedly the highlight of the night, sporting electric blue eyeshadow, a black mesh top, bralette, red plaid pants and the biggest smile on her face. Her no-filter personality shone through as she openly embraced her sexuality, drumming with a pair of giant dildos and tossing a few blow-up dolls into the audience to mimic a crowd surf.
I quickly caught on that Matt and Kim weren't there to make me feel comfortable. They were there to break me out of my shell, forget the world outside and have pure fun. By the end of the show, everyone was dancing together, bodies glued to each other.
Although the concert followed a set list, it seemed completely improvised. They performed a little bit from each album, a few sneak peaks for upcoming singles and a cover of Rihanna's "Umbrella." The duo exuded a level of energy that made me wonder why I always felt contrarily lethargic in my day-to-day life. They proved there's no age limit on having fun and expressed their joy in music and in each other by simply being themselves.
There was a simplicity in their music. With only a drum, keyboard and a couple pre-recorded samples, Matt and Kim executed arguably one of the craziest concerts I've attended. Though the absence of structure was something I wasn't used to, seeing the duo having a blast and completely in tune with the audience made the show one I'd want to go to over and over again.
Written by: Becky Lee — arts@theaggie.org