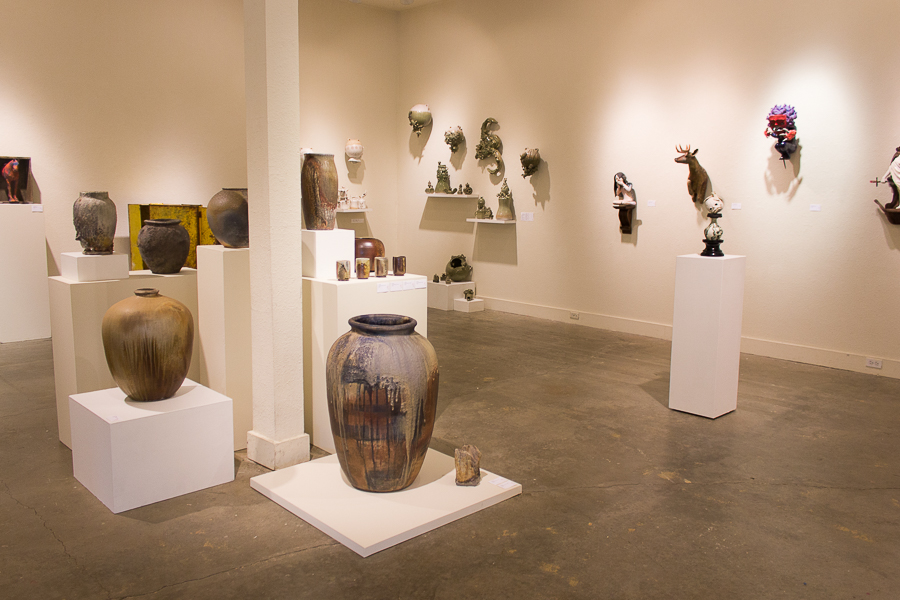 The best ceramics California has to offer
Starting on April 13, the Davis Arts Center will be holding its first reception for the exhibition "ACGA: Ceramics in Focus 2018" from 5 to 7 p.m. This reception will be held as a part of "2nd Friday ArtAbout," a monthly event hosted by Davis Downtown in an effort to connect the public with both Davis and regional art. On April 27, the second reception for this exhibit will be held at the same location and time but in association with the California Conference for the Advancement of Ceramic Art. "ACGA: Ceramics in Focus 2018" will be available for viewing between both reception dates and up until the end of the conference on April 29.
According to Jan Schachter, a member of the board of directors for the Association of Clay and Glass Artists of California and an exhibition curator, the DAC show arose to "display a body of work" and out of "an interest in having a significant visual presence during the CCACA Conference."
"The first ACGA exhibit at Davis Arts Center was in 2006," Schachter said. "The pleasure of the Davis Arts Center show is that opportunity, as an artist, to select a group of pieces yourself to be show together, rather then just one piece, which is most common in juried shows. The artists also assist in the installation, which is a great opportunity, too."
Michael Azevedo, the deputy director of DAC, commented on what makes this exhibition special compared to other shows held at the venue in the past.
"Each year, a different judge selects artists based on the ACGA members that enter the annual competition," Azevedo said. "The juror brings their own vision and aesthetic in selecting the winning group of artists."
This year, seven artists — Bill Abright, Joseph Kowalczyk, Françoise LeClerc, Eusebio Ramirez Lozano, Daniel John Stingle and Claudia Tarantino — were chosen to participate by Michelle Gregor, a Bay Area artist and the judge of this year's exhibit.
Bill Abright, an artist who has worked with ceramics for 50 years, explains what drew him into being involved with the exhibit and the Davis Arts Center.
"I have participated in the CCACA conference for about 30 years," Abright said. "I have always attended an opening at the Davis Art Center of interesting ceramics during the conference. Now it's my turn."
On the evolution of his ceramic style and inspiration over time, he shared a list of varying interests "[f]rom thrown pottery to sculptural thrown vessels to constructed figures to drawings to hand-built fish to drawings to big masks to crows to ducks to owls to constructed figures to watercolors back to figures."
A "self-taught potter" who has been working with ceramics for over 40 years, Claudia Tarantino has had less of a sporadic and wide-ranging evolution in terms of her ceramic style and inspiration compared to Abright.
"I started as a production potter," Tarantino said. "After several years, I transitioned into sculptural work in porcelain. Over time my work became narrative trompe l'oeil still life constructions grounded in memories."
For students interested in ceramics, she has some advice.
"Take a class," Tarantino said. "Participate in workshops. Look at art — all kinds of art. Follow artists whose work you respond to."
On why she thinks students should attend this event, Tarantino noted the opportunity to be exposed to talented ceramic artists from California as well as an opportunity to appreciate their passion.
"This exhibit and the CCACA conference put on by the John Natsoulas Gallery [on April 27 to 29] bring together some of the most accomplished ceramic artists in California," Tarantino said. "It is an opportunity to be exposed to artists who have pursued ceramics as a career and have dedicated themselves to making, showing and teaching ceramic art."
For more information on "ACGA: Ceramics in Focus 2018" and the Davis Arts Center, visit its website. Aside from the Davis Arts Center, you can also catch all six artists' work at Regency Square during the conference on April 27 from 10 a.m. to 9 p.m., April 28 from 10 a.m. to 5 p.m. and April 29 from 10 a.m. to 3 p.m.
Written by: Cecilia Morales — arts@theaggie.org