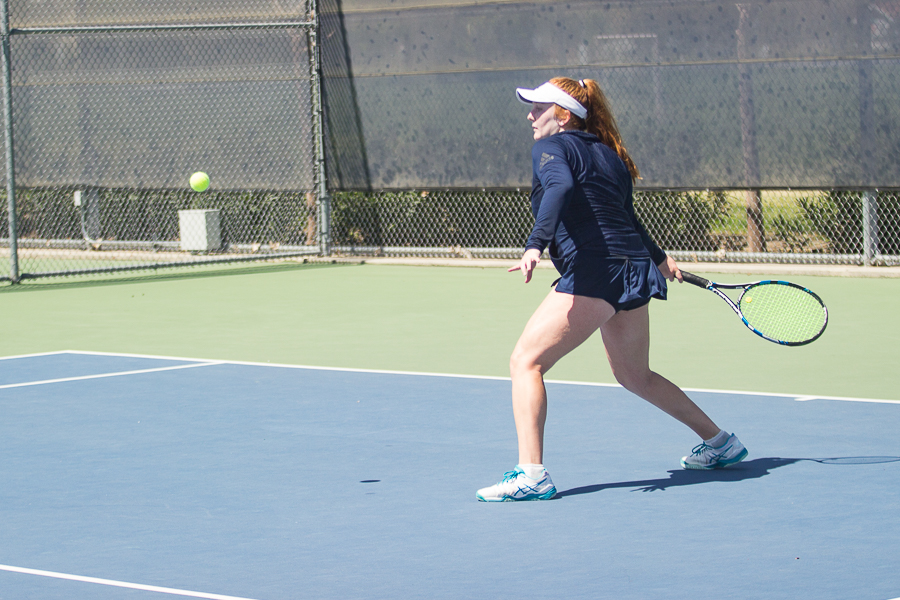 Aggies confident for upcoming Big West Championship tournament
UC Davis women's tennis steamrolled Sonoma State 7-0 at Marya Welch Tennis Center on April 14, the first match in a two-match weekend. This decisive win followed a 5-2 loss to San Jose State one week before on April 7 in which UC Davis was not at full strength due to injuries.
"It's nice to get back in the winning column," said head coach Bill Maze. "We feel like we are back now, we're excited, we feel like this was a great match to get us ready for a big one at Long Beach State."
The women started by winning all three doubles matches to grab the doubles point without much pushback from Sonoma State.
With momentum, the Aggies continued with the same energy into singles play without losing a single set to the Seawolves.
The official win for UC Davis was secured by junior Isabelle Von Ebbe's nearly perfect performance, 6-0, 6-1. However, both teams agreed to play out the remainder of the matches. In total, the women only lost three games in singles play before locking in the win.
In the number one spot, senior Kristy Jorgensen got off to a quick start in the first set. After both players won a game a piece, Sonoma State's Christina Colling lost two consecutive points, and then double faulted her way to 40-love. After a short rally, Jorgenson stepped into the court and stung a backhand down the line to break Colling's serve, making it 2-1.
Jorgensen proceeded to secure the set with a forceful inside-out forehand, taking advantage of Colling's second serve on a break-point to take the set 6-3.  
The second set was smooth sailing for Jorgensen, securing it 6-1.
"This win will help us out at [Long Beach], which will help us at Indian Wells," Jorgensen said.
For the sophomore in the number two spot, Kristina Breisacher, the match was not as seamless. After exchanging top-spin heavy balls with her opponent, Jenna DeTurk, this match turned out to produce longer and safer rallies and was the longest match of the day. Each player waited for the other to commit the error rather than pushing forward to cut off the court to their opponent.
"Her opponent was playing pretty darn well," Maze said. "Kristina wasn't hitting the ball as well as she can."
The tide turned at 5-5 in her first set when DeTurk lost two consecutive points on her serve and then double faulted to make it love-40 in favor of Breisacher. Breisacher broke her opponent's serve to make it 6-5.
Breisacher's first set did not come easily — DeTurk was on the verge on answering back and rallied to make the score 15-40 in favor of Sonoma State. Breisacher's determination was apparent as she focused and carefully placed her shots, rallying her way to deuce.
On deuce, Breisacher and DeTurk traded heavy shots, each player waiting for the other to commit an error. Breisacher was a little quicker getting to the ball and DeTurk eventually missed wide on the backhand side, giving the set to UC Davis, 7-5.
This long set appeared to have broken DeTurk's focus, and Breisacher easily won the next three games, and eventually the set, 6-2.
"I knew that Kristina would come through because she never says die," Maze said.
Maze and the Aggies are excited for the rest of their regular season, and are staying focused for their remaining games.
"We also have a couple tough matches next weekend, it's kind of nice to keep grinding away before the tournament so we don't get into a lull," said senior Lani-Rae Green. "We're definitely working at it every single day. So we're excited."
In the Big West, UC Davis is currently number one at 6-2. UC Davis' women's tennis program has never won a championship, and for the past two years, UC Santa Barbara has won the year-ending tournament.
The women will travel to Reno to face University of Nevada, Reno on April 20 before coming back to face Sacramento State for their last home game. That will cap off regular season play, and the women will head into the Big West Conference championship tournament at Indian Wells starting April 26.
This year the team thinks they are in a good position to take a Big West title.
"We've had some good teams in the past years, but this is definitely the best team we played on, our best chance to win the conference at Indian Wells," Jorgensen said. "We couldn't be any more excited or amped up, we're ready to go."
Written by: Bobby John — sports@theaggie.org