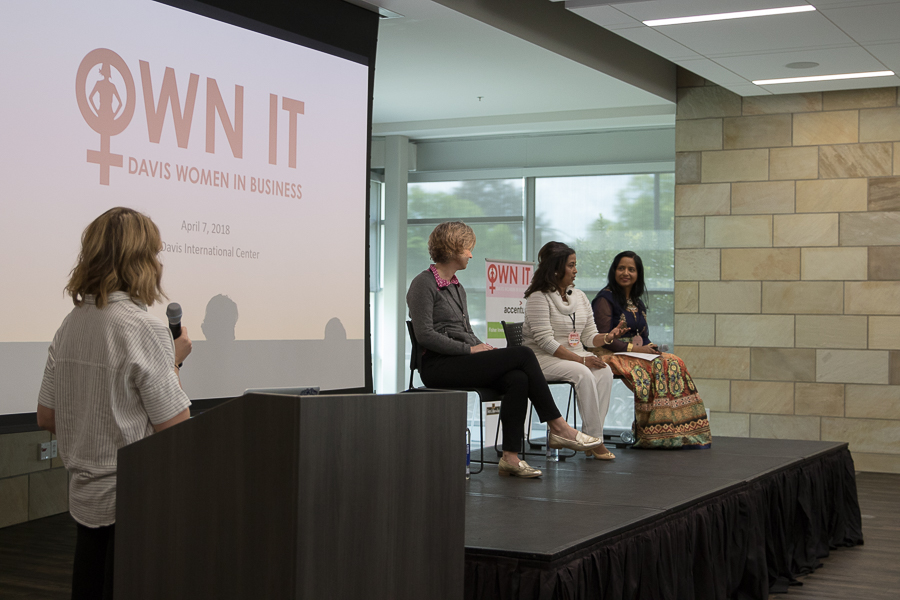 Summit seeks to bridge gap between female leaders, students
The annual OWN It summit hosted by Davis Women in Business was held in the International Center on April 7.
OWN It is a women's leadership and networking event featuring female leaders from various fields, including business, technology and entrepreneurship.  
"We wanted to create OWN It to bridge the gap between women who we want to see and become and young students like ourselves," said Nicole Garcia, a fourth-year communication major and the president of Davis Women in Business.
According to pamphlets distributed at the event, Davis was one of the first schools on the West Coast to have an OWN It summit.
The Davis OWN It summit was made possible through the efforts of DWIB founder Disha Bahl, a fourth-year genetics and genomics major, and DWIB members.
"I think what makes our OWN It event especially unique to UC Davis is that it's an event geared toward empowering women and letting them know that they can reach places that they want to reach," Bahl said. "There's this typical idea of a glass ceiling, or that women can't be in certain fields, and this event is geared toward breaking those types of barriers that women have in their brains."
The event started off with a presentation from Diane Bryant, the COO of Google Cloud.
Bryant spoke about her own experiences as well as the importance of sponsorship, confidence and inclusion, noting that men often have more active sponsorship in their lives than women. She distinguished between the role of a sponsor and a mentor.
"It makes a very, very huge difference in your career when someone is actively pulling for you and willing to put their reputation on the line," Bryant said in her speech. "[Rather] than someone standing on the sidelines telling you to do this and do that."
Subsequent panels featured women from Facebook. The speakers covered a wide range of topics including the importance of mentorship, self-care and finding one's voice.
"Find where you feel you can help the world," said Farhanna Mohammed, an operations manager at Facebook.
The last part of the summit consisted of breakout sessions where students had the opportunity to network with and ask questions to women from a variety of professions, including educational policy, consulting and tech.
"This conference brings together leading business women with college women who are at the beginnings of their professional careers," said first-year managerial economics major Aakanksha Gupta. "Listening to their stories was very inspirational for me."
Written by: Clara Zhao — campus@theaggie.org