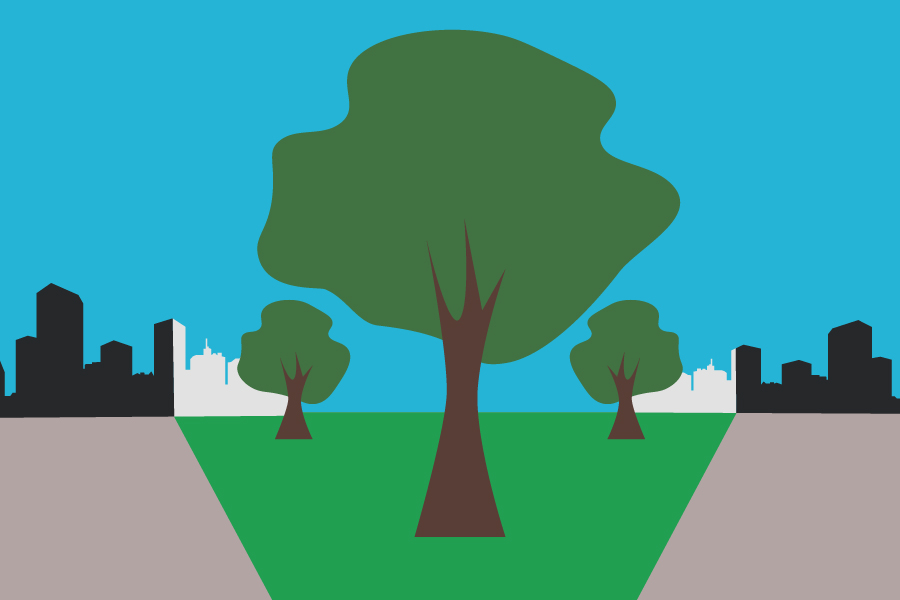 New trees, landscaping to be installed
Tree Davis was founded in 1992, and has since worked with over 3,000 volunteers to plant over 9,000 new trees in and around the Davis area. The Woodland Tree Foundation was founded shortly after, motivated by the efforts of Tree Davis, and has since planted 4,607 trees around the city. The two groups have been in close communication since the inception of the latter and have worked closely, having joint tree-planting projects and working together to create a healthier environment. Tree Davis and the Woodland Tree Foundation have since taken it upon themselves to populate trees along Highway 113, working northward and southward, meeting at Road 29 in the middle.
"The tree-planting began a little after 1992 for us — for Tree Davis," said David Robinson, the board president of Tree Davis. "As for today, both of us will grind on with the tree-planting. We will replace the ones that killed each year, get girdled by ground squirrels, get mowed over by CalTrans or die of drought. We plant them, we water them, we will get them filled in. But the interchange project will require landscaping, soil moving, soil amendment, maybe creation of birms. We're drawing in Yolo County […] everyone will have to get involved."
There have been several challenges the two groups have had to face since undertaking the project. In order to plant and grow trees around the highway, volunteers have had to apply for encroachment permits and pass collision and sight safety requirements to plant trees from CalTrans, as the trees need to comply with their regulations. Small wildlife, such as ground squirrels, often dig up and eat the acorns and seeds, and cars and trucks can cruise over seedlings and destroy growing trees.
The biggest issue, however, lies in the soil. During construction, foreign soil was compacted and imported, losing much of its nutrients. This depleted soil makes trying to grow so many native trees difficult.
"The goal is to determine — with the help of experts — what the soil problems are within the area, so that volunteers can plant everything," said David Wilkinson, the president of Woodland Tree Foundation. "The vision is to really create something more beautiful, more ecological out there that I think will reflect well on the county. Hopefully, with both Tree Davis and Woodland Tree working together, we'll be able to create a nice landscape out there."
Robinson and Wilkinson have both reached out to the Yolo Resource Conservation District for assistance with the project and have since gotten in contact with Jeanette Wrysinski, its senior program manager. They hope that by bringing the YRCD, CalTrans and other related organizations into the conversation, they'll be able to get more done with the soil issues and be able to refer to experts for more drained soil areas and more difficult plantings spots.
"I do think that having a complete tree corridor along Hwy 113 between Woodland and Davis is feasible and I don't think there are any environmental risks," Wrysinski said via email. "WTF addresses highway safety issues by coordinating with CalTrans for planting a safe distance from the roadway […] human encroachment since the mid-1800s has resulted in the removal of a vast number of oaks and other native trees."
Leaders from the two tree-planting groups will meet with members of the Yolo Resource Conservation District on April 24 to discuss how to move forward with the project. Those looking to join or volunteer for Tree Davis or the Woodland Tree Foundation can visit their respective websites.
Written by: Ahash Francis — city@theaggie.org