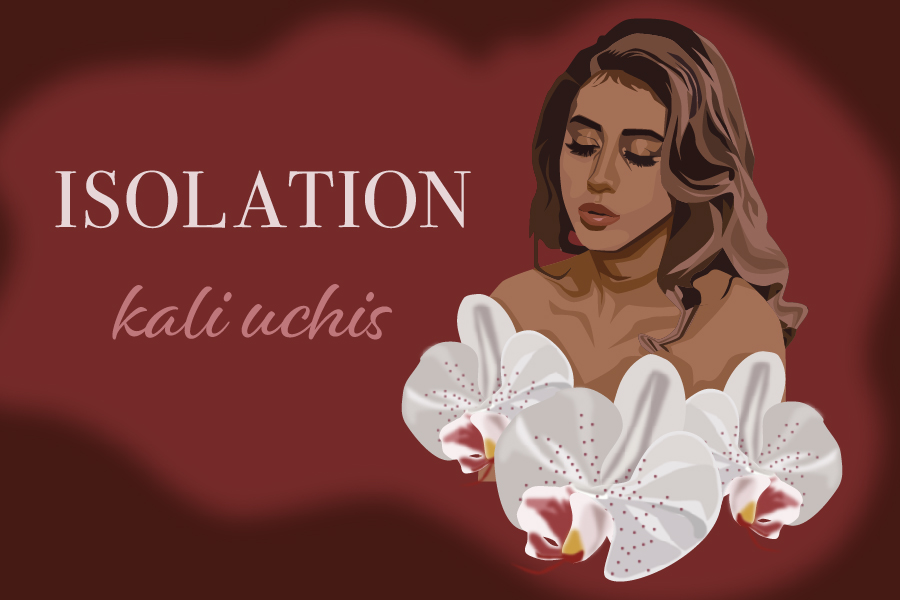 Journey through regret, empowerment, loss, love
For Kali Uchis, a rising Colombian-American singer-songwriter and producer, introducing and capturing new listeners with her talent has happened primarily through being featured on songs by more widely known artists. Does the dreamy, disarming, soothing, fitting voice accompanying Daniel Caesar in "Get You" ring a bell?
It's no surprise these songs immediately garner much acclaim and popularity after being released. Uchis' voice is special — almost childlike (in a good way) in its high pitch — and successfully executed in the way she moves through vocal ranges. Her voice also brings with it an element of passion and genuinity to whatever she sings that can't be matched by any other artist. "See You Again" and "F—KING YOUNG / PERFECT," both by Tyler, the Creator, demonstrate just how perfectly she balances out and strengthens a song.
After releasing her nine-track EP, "Por Vida," in 2015, Uchis finally presented her debut album, "Isolation," on April 6.
Overall, the album has more of a produced, fine-tuned feel to it. As with most artists, their pre-being-signed-to-a-record-label music, or even just the music that kickstarts their career, can feel more innocent and raw. For me, "Isolation" is different from the melodic, honest tracks on "Por Vida" that I was first introduced to. But this is not to say it's worth disregarding. Uchis still keeps some of that sentimentality and high-pitched coos in "Isolation," but this time with upbeat, electronic and reggaeton sounds that make for a more groovy and pop-sounding album as a whole.
"Just a Stranger" features Steve Lacy, a young hip-hop producer who has worked on albums such as "DAMN." by Kendrick Lamar and "4 Your Eyez Only" by J. Cole. The track also boasts writing and production input from Romil Hemnani, the producer of "BROCKHAMPTON." The song illustrates a well-executed collaborative effort that culminates in a newer sound (clearly evident in the production efforts by Hemnani and Lacy) while still staying true to Uchis.
Other notable mentions include "Your Teeth In My Neck," "Tyrant," "In My Dreams" and "Nuestro Planeta." "Your Teeth In My Neck" is a mellow, danceable track, "Tyrant" features the soulful and powerful Jorja Smith and "In My Dreams" is a light pop track with electronic notes reminiscent of an '80s song. "Nuestro Planeta" is worth highlighting mainly because it is entirely in Spanish and features a Colombian reggaeton singer-songwriter — not the only Latino musician featured on a song either, as BIA, a Puerto Rican rapper, joins Uchis on "Miami" — demonstrating that Uchis celebrates her roots.
Uchis is dreamlike every time she sings. This dreaminess is heightened even more so through this album's lyrics. The first nine songs pass in a blur and arrive at "Gotta Get Up," which is a lamentful interlude. She begins the interlude with, "I'm getting tired of sleeping in / But you're much better in my dreams" and continues to tell herself that she needs to get up and get something real. The album continues on with "Tomorrow" (partly sung in Spanish), which is a last call for being wild, as she yearns to burn like a comet together with her former lover, claiming she will never return.
Another interlude, titled "Coming Home," is more cognizant but still dreamlike. She is coming to terms with reality, her mistakes and her break up, and she is stronger because of it. "After The Storm" features Tyler the Creator and Bootsy Collins. It isn't the last song on the album, but has the closure of it. This track is a positive, uplifting anthem reminding us that life still goes on after rough times and the sun is always there to meet us: "The sun'll come out, nothing good ever comes easy / I know times are rough but winners don't quit / So don't you give up, the sun'll come out."
It also emphasizes the power of being confident, not just in oneself but in the ability to help oneself: "So if you need a hero (if you need a hero) / Just look in the mirror (just look in the mirror) / No one's gonna save you now / So you better save yourself."
Experience Uchis in her isolation, her feelings and her thoughts surrounding the loss of a past love. According to Uchis, "This album is dedicated to the people who feel trapped in their position, in hopes that the music will enable you to change it."
Written by: Cecelia Morales — arts@theaggie.org