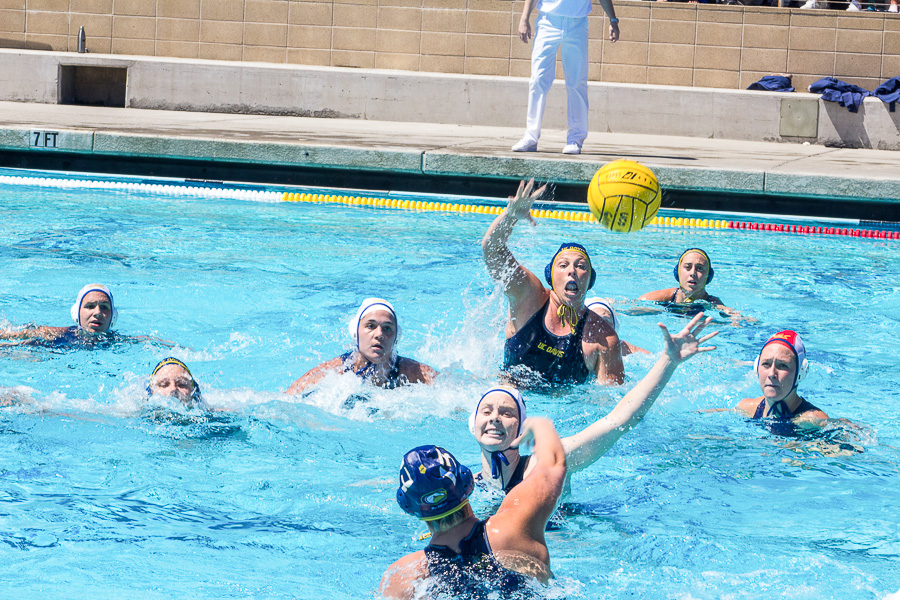 Women's tennis, water polo, lacrosse shine in senior send-offs
Picnic Day: arguably the best day of the year in Davis. The entire UC Davis experience is on display for visitors and students alike. The parade is rolling, the sun is out and the community is buzzing with excitement –– on campus and off. For UC Davis student-athletes who have events scheduled, however, the Picnic Day experience is a little different from that of the general student population.
There were seven home UC Davis sporting events scheduled throughout the day this past Saturday, meaning that six different teams had to forgo the festivities, at least for a few hours. The women's tennis team, for example, had an early start to its Picnic Day as the Aggies squared off in a causeway battle against Sacramento State. Being the final match of the season, this picnic day contest also served as a send-off ceremony to honor the team's three seniors. Kristy Jorgensen, Lani-Rae Green and Jessie Lee played in their final match.
"Of course, as anyone, I'm a little sad –– you know, my last match on these home courts, but I'm excited to hopefully beat Sac State," Jorgensen said before the match. "Honestly, this is the best season I could have asked for for my senior season, so even though I'm sad, I can't really focus on being sad because I'm so pumped."
Head coach Bill Maze said before the match that he looked "forward to honoring [the] seniors" and anticipates another energetic picnic day atmosphere –– something that has become somewhat a tradition for Maze's teams.
"There's a buzz, we love it," Maze said. "It's definitely different and that's why I try to schedule on Picnic Day as often as I can. I love playing on Picnic Day and I hope we get a good crowd […] I can't remember the last time we didn't play on Picnic Day."
Coming off a tough shutout loss to Nevada on Friday, the Aggies edged out Sac State 4-3 on Saturday morning. The Aggies were successful in doubles play, sweeping the one and two matches 6-3 and 6-2, respectively. After securing the doubles point, the Aggies held on to clinch the match in singles play. Green and sophomore Nikita Pradeep each earned straight sets victories, while Jorgensen suffered defeat at the one spot after taking her opponent to three sets. It was freshman Sara Tsukamoto who earned the clinching point with her three-set victory at the five spot.
The added dynamic of Picnic Day seemed to fuel the Aggies, rather than hinder them. Even Jorgensen admitted before the match that picnic day tends to attract a bit more noisier of a crowd, which can be detrimental for a lot of tennis players.
"For tennis, you always want a quiet environment, so it takes a lot of being ready for that and accepting it," Jorgensen said. "Honestly, it's not that much different [than other matches]. You get the occasional drunk friend that rolls through and wants to cheer you on, but they're drunk so they don't really know what they're saying, the opponents get upset. Other than that, it's a really good time. We get more fans on picnic day and after –– after a win –– we get to walk around and see all the festivities. Work hard, play hard."
Although it's this batch of seniors' final Picnic Day match, they, along with the entire team, still have the Big West conference tournament to look forward to this weekend. Maze admitted that physical fatigue and injuries have hindered the Aggies at times during the season, but the team is still "raring to go."
"We're excited," Maze said. "Six and two is the best conference record we've ever had. We were six and two in 2011 and we were seeded second in the tournament. We got a shot at being seeded second again."
In Jorgensen's opinion, she believes that the Aggies have a legitimate shot of winning it all at Indian Wells this year.
"I think this is the best season that I have had on the team," Jorgensen said.
She said that every match is competitive, and that the Aggies will be preparing for the "slower" courts at Indian Wells by adjusting their game styles to be better suited to win "down south."
After Saturday's results, UC Davis women's tennis team finished the regular season with a 15-6 overall record, earning the team a three seed heading into the Big West tournament this weekend. The Aggies will take on their first opponent in the Big West tourney at 11 a.m. on April 27 at the Indian Wells Tennis Garden in Indian Wells, Ca.
Across campus at the Schaal Aquatic Center, the UC Davis women's water polo team also played in its final home contest of the season with a tilt against third-ranked California. Like the Aggie tennis team, the water polo team took the opportunity to recognize its six senior athletes. Among the seniors being honored was center Greta Kohlmoos, who finished yet another stellar season with 43 goals and 46 overall points.
Prior to her final home game, Kohlmoos shared how "surreal" the whole situation felt, given how emotional it has been watching the seniors of previous years honored at their final home games.
"Now I'm going to be the one up there," Kohlmoos said. "There will be tears, for sure."
In light of all of the emotions, Kohlmoos said that the seniors viewed Saturday's game as an exciting final challenge to leave their final mark on the program.
"I feel like I can't even begin to put into words what it has meant to be on this team," Kohlmoos said. "Because it has given me so many opportunities that I never even thought of before I came here. Being a part of a team of really strong, smart women and learning from them."
Kohlmoos also took time to praise her senior co-captain, utility Paige Virgil, who had a career year in the water, netting 53 goals and 14 assists for 67 total points. According to Kohlmoos, Virgil injured her elbow and was in a sling for the team's games against Hawaii and Irvine.
"The fact that those were our two toughest conference opponents," Kohlmoos said. "She was still on the bench cheering, giving advice and doing everything she could with the best attitude for her situation. I think that was really great to see –– it definitely pumped up the team. We wanted to win those games for her […] She's the kind of player and person that everyone on this team looks up to and wants to be."
As a senior member, Kohlmoos has participated in several games on past picnic days. She admits that it's "kind of been a bummer" to not be able to participate in all of the fun events going on across campus and in the community, but understood that this is one of the sacrifices she willingly makes for the sport she loves.
The Picnic Day games themselves, Kohlmoos countered, are a blast to be a part of in their own right. According to her, there is "not really any other game that's quite like it."
"It's really cool too, because it's Picnic Day, a lot of [alumni] come back to see those picnic day games, so it's really cool to see that community," Kohlmoos said. "Although I wouldn't mind being able to go on campus and see some of the other cool stuff going on. But we have our own cool thing going on at Schaal."
California turned out to be a challenge for the Aggies on Saturday, defeating UC Davis 15-6 despite two goals from Virgil. With an overall record of 18-10, the Aggies will be seeded second in the conference tournament this weekend, meaning that the team will have a bye on the first day of action. It's an asset going into the tournament, but Kohlmoos is also "disappointed" because it means that she has one less game to play. Nevertheless, she is confident that she and the team will make the most of the opportunity to win it all.
Elsewhere on Saturday, the Aggies were turning up wins all over campus. The UC Davis softball team earned a pair of victories against UC Riverside in the day's double-header games. Also victorious over the Highlanders was the UC Davis men's tennis team, which won its match by a convincing 6-1 score. UC Davis baseball defeated UC Santa Barbara 5-3, and UC Davis women's lacrosse crushed Fresno State 23-12.
Written by: Dominic Faria — sports@theaggie.org