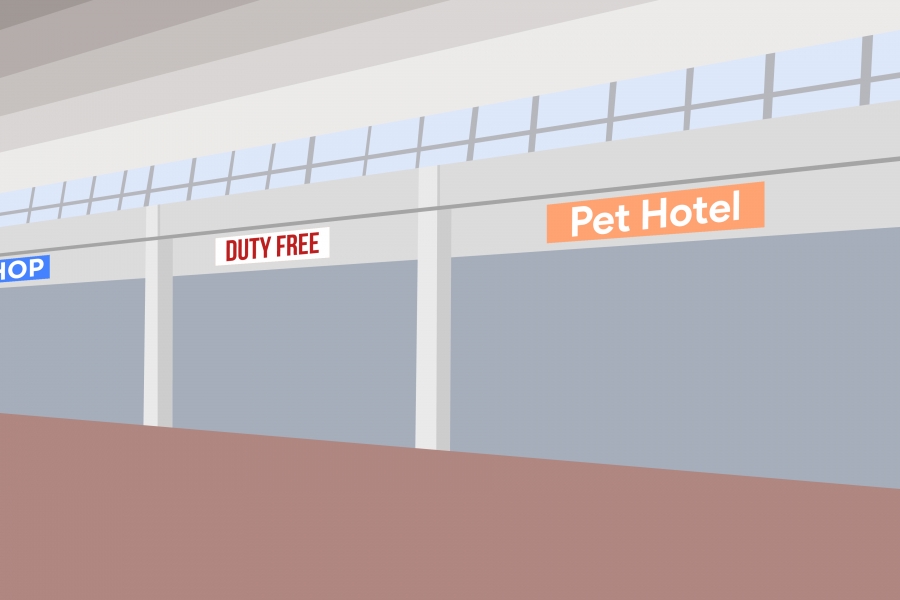 Airport looking for developers to bring amenities
A pet hotel, among other amenities, may be in the works for Sacramento International Airport. Currently, the airport is looking for developers and proposing various additions.
Laurie Slothower, a spokesperson for Sacramento International Airport, stated that the airport is considering a plaza, as well as other commercial uses.
"Sacramento International Airport seeks developers for an amenities district which will serve current airport customers with a variety of possible commercial uses, and a travel plaza which would offer gas, food and other services to vehicles," Slothower said via email.   
The Request For Proposal, or RFP, will then lead to more changes within the airport.
"The RFP offers ground leases of airport property by the I-5 interchange," Slothower said via email. "The developer will be responsible for build-out."
Other uses include meeting centers, restaurants, convenience stores and a pet hotel — or a regular hotel — among other possibilities.
"Potential target uses are not limited to these selections," Slothower said via email. "We're open to other business developments as long as they are consistent with the airport's master plan."
Nevertheless, the airport is striving to have a cell phone lot.
"It is recommended, but not required, that the developer adds a cell phone lot so that customers can grab a bite to eat or get a soda while waiting to pick up their friends and family members from the airport," Slothower said via email.
Slothower then directed more information to be found about the airport's plans in the RFP.
The RFP document stated that the "Sacramento County Department of Airports (Department) is issuing this Request for Proposals (RFP) to allow firms to submit their qualifications and proposals to develop and operate hotel(s), travel center, and commercial mixed use development along the Interstate 5 corridor at the Sacramento International Airport (SMF or Airport)."
The RFP is also allowing firms to submit their ideas to develop and operate the hotel, travel center and other developments along the Interstate 5 corridor at the airport. They are considering the developers are most responsible for determining the best use for the land with a conceptual design for up to 30 acres of development.
The document also mentioned that "the Amenities District is approximately 98 acres located at the 'front door' of the Airport, situated at the main entrance and is intended for retail, office, food and beverage, and hospitality. The SMF South District is located within approximately 295 acres conveniently located along the south side of Interstate 5 allowing for high visibility and access for a travel center."
In addition, airport passenger levels hit a high in 2017, at around 10.9 million fliers. According to The Sacramento Bee, John Wheat, the local airport chief, elaborated on how the airport can expect an increase in ridership; however, he expects them to go up in the next few months and then drop to the 3 percent range in a few years afterward.
"Airline flight plans indicate ridership could be up 12 percent in the first half of 2018," Wheat said.
The push for more developments to attract customers is now on the agenda, as a hotel can have many uses, according to Slothower. It is not specific, however, to the airport's focus, as it's open to other business developments aligning with the master plan.
"The goal is to bring amenities to customers who are already on airport property," Slothower said via email.
Written by: Stella Tran — city@theaggie.org