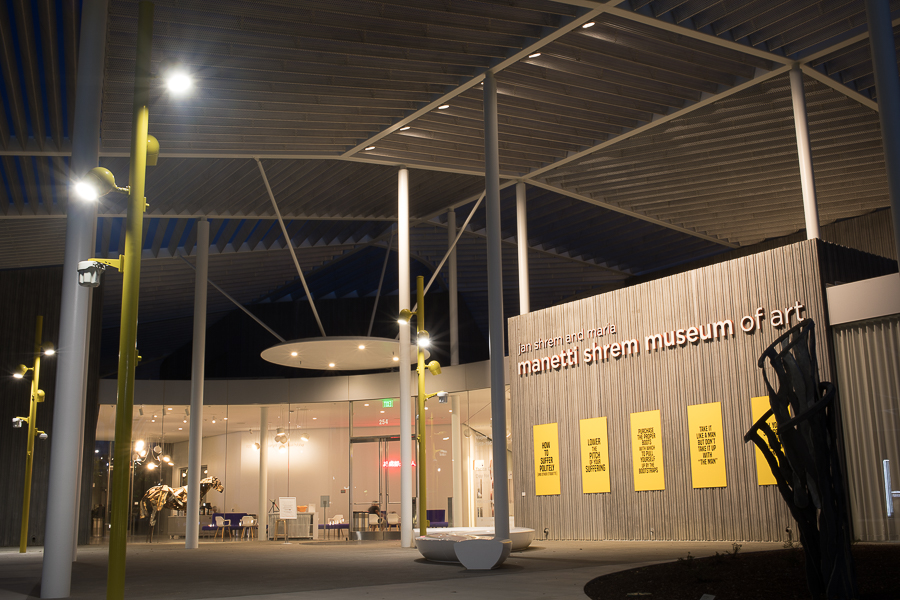 Sweet confections and paintings galore
A long line of students trailed across the museum, each waiting patiently for a single scoop of ice cream at the Jan Shrem and Maria Manetti Shrem Museum of Art. April 19th's theme coincidentally aligned with Wayne Thiebaud's exhibit, full of treats like the ones illustrated in his work.
Thiebaud is recognized for his pop art, mostly consisting of deli foods, pastries and ice cream. Through a technique called halation, particularly by casting a blue shadow around an object, the Sacramento artist was able to distinguish himself from other well-renowned painters of his period.
Kayleigh Becker, a second-year international agricultural development major, gushed about Thiebaud and his work. At her museum job, she learned immensely about the life of one of UC Davis' first art faculty members.
"He was a really prominent artist in the Sacramento area for years," Becker said. "He's 97, still alive, still painting, still teaching and very involved with the Sacramento art culture. We're focusing specifically on this 10-year window of time when he started working at Davis, met and married his wife and found his signature style of painting, which is what we have in this main gallery."
The endless rows of cake with globs of paint swirled on top like real icing could make anyone crave a slice. Although this Third Thursday at the Manetti Shrem was not themed around Thiebaud's exhibit, it seemed too perfect to be an accident.
The studio room provided mounds of cake, frosting, sprinkles and candied toppings for visitors to decorate. People of all ages excitedly swarmed around the table to grab some for themselves.
The cake-decorating workshop was in conjunction with Thiebaud's exhibit and, although unintentional, revealed the beauty in something as mundane as food. Maybe that was the point of Thiebaud's paintings, after all — each piece pleasing to the eye and good enough to eat. However, there is still question regarding the inspiration behind his paintings.
Dante Golden, a third-year community and regional development major, heard various theories behind Thiebaud's art from some visitors. The main theory, however, is that these paintings are political statements highlighting America post-WWII.
"A lot of Thiebaud's paintings are political," Golden said. "At the rise of corporations, when Thiebaud was coming up, he was seeing all this bread and cake. Every corporation had its own little place in food, because this was right after World War II, and that's when a lot of money was being made. Everything was becoming standardized. The fact that everything was so much more isolated [due to corporations], he wanted to take you back to the day where you can stop by a deli counter or a truck stop and get an all-American meal without looking like a type of product."
Third Thursdays at the Manetti Shrem are meant for visitors to immerse themselves into the exhibits through interactive workshops. Each one hosts a new theme, hoping students and locals will come inside and learn something new.  
Liz Quezada, a UC Davis alumna and coordinator of student engagement at the Manetti Shrem, wants to get students and the community engaged because art isn't just exclusive to people studying it. There is always something about it that can resonate with anyone, and Third Thursdays aims to do just that.
"I was a transfer student and I wasn't an art major," Quezada said. "I was a communication major. I didn't really think about art at all. We definitely want to reach out to other majors and the whole university community by inviting them to our Third Thursdays through advisors."
More information on Manetti Shrem events can be found on its website.
Written by: Becky Lee — arts@theaggie.org