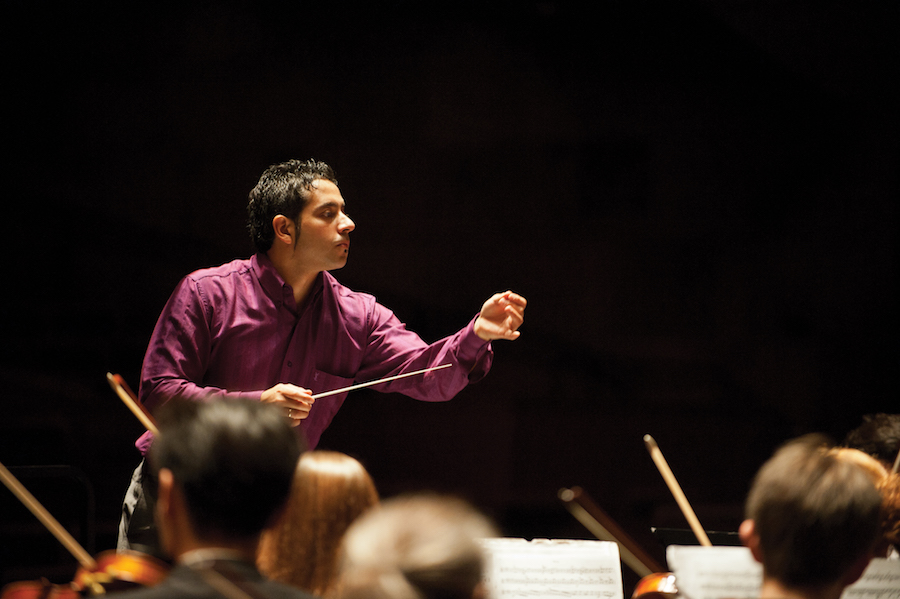 Statement from Department of Music in response to concerns over Christian Baldini's return refers students, faculty to existing resources
Content Warning: This article contains descriptions of sexual harassment which some readers may find disturbing. 
Christian Baldini, 39, a UC Davis symphony conductor, has returned to campus after being temporarily removed without pay after misconduct toward a female undergraduate student. A university investigation was conducted and a disciplinary letter of censure from Chancellor Gary May was sent to Baldini in September of 2017.
The letter discussed a Title IX investigation report into Baldini after alleged inappropriate behavior was brought to the university's attention. His behavior toward the student subsequently led to her departure from UC Davis. Baldini was placed on unpaid academic leave for the duration of Winter Quarter. He was not permitted on university property without the written permission of Associate Dean Claire Waters and did not receive salary from Jan. 1 to March 23.
"[Investigators] found Dr. Baldini to be in violation of our Sexual Harassment and Sexual Violence policy which was a violation of the Faculty Code of Conduct and so he agreed to discipline of being suspended for the Winter Quarter with no pay," said Dana Topousis, a UC Davis spokesperson.
The letter of censure, which was sent to The California Aggie by Topousis, confirmed Baldini "engaged in conduct that included touching this student's hands and shoulder, dancing with her alone (including touching her waist and spinning her, leading to her buttocks being held against [his] body), and kissing this student's cheek."
It was also concluded that Baldini created a hostile environment by making inappropriate comments, calling her a "bad girl" and sending her messages "reasonably interpreted as being sexual in nature."
The letter will not be placed in Baldini's academic review file.
Further sanctions urge Baldini to refrain from the behavior described and any subsequent incidents would be met with potential termination.
"[I] am likely to pursue your dismissal from your faculty position should you be found to have engaged in similar misconduct again in the future," May wrote in the letter. "At the same time, I believe that you are capable of amending your behavior and of conducting yourself in a way that complies with the Faculty Code of Conduct. I trust that your future career at UC Davis will be successful and without any further incidents."
Baldini's explanation for his behavior is that of a case of misunderstanding between his intentions and the student's interpretation.
"Even though nothing sexual was intended, I deeply regret that over time this was perceived by my student in such a way," said Baldini's prepared statement, which was sent via email to The California Aggie. "My faults are failing to recognize that my behavior could have a reaction in her that was unintended. I feel contrite and remorseful that one of my students would have felt this way by something I did, and I deeply apologize for any stress and pain this may have caused."
He referred to his Argentinian heritage as a cultural justification for his actions and comments to the student involved.
"It never occurred to me that calling someone a 'bad girl' in this context could be perceived as a sexual type of comment," Baldini said in the statement. "I obviously need to be a lot more careful and considerate, and I must make sure to prevent anything like this from ever happening again."
The California Aggie approached UC Davis Communications regarding the university's response to students' concerns to Baldini's return to campus. Spokesperson Dana Topousis provided a statement via an email written by Henry Spiller, an associate professor and chair from the Department of Music.
"The Department of Music takes its responsibilities with respect to Title IX and sexual harassment very seriously," the statement read. "We work closely with the campus' Title IX Office and the Office of Academic Affairs to ensure we are providing our students and all members of our community with a safe and welcoming work and learning environment that is free of harassment. When UC Davis learns of sexual harassment, we take immediate and appropriate action consistent with the University's Sexual Violence and Sexual Harassment policy."
Spiller described a meeting he conducted with faculty members of the Department of Music during Winter Quarter in which they reiterated the university's resources regarding sexual misconduct to faculty and students and "reaffirmed our individual and collective commitments to promoting a safe and nurturing environment in which to study and make music."
Baldini did not respond to requests for comment regarding student concerns over his return to campus.
Written by: Elizabeth Mercado — campus@theaggie.org
Editor's Note: A version of this story appeared in print which credited Taylor Lapoint. The author is Elizabeth Mercado. The story has been updated to reflect this change.