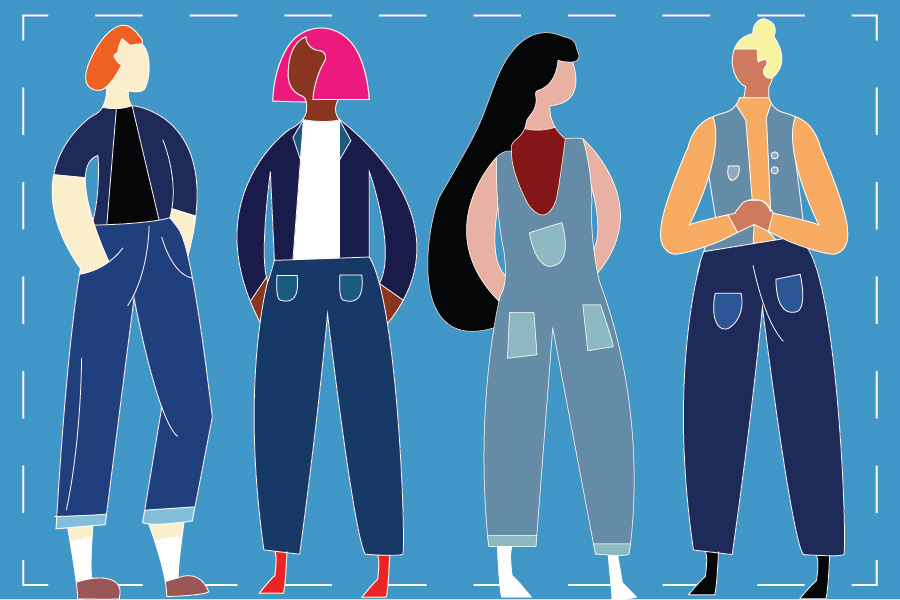 Spreading awareness about sexual assault prevention with denim
In 1998, the Italian Supreme Court overturned a rape conviction on the justification that because jeans cannot be easily removed, the victim of the sexual assault case, who happened to be wearing jeans at the time of the incident, must have helped her perpetrator remove them. Denim Day was thus internationally established in an effort to reform the systems that undermine the victims of sexual violence and to empower survivors to speak out — any and all individuals can choose to wear denim on April 25 as an act of protest against the stigmas surrounding victims of sexual assault.
The Center for Advocacy, Resources and Education and the Women's Resources and Research Center collaborated to promote Denim Day on the UC Davis campus to highlight the significance of establishing April as Sexual Assault Awareness Month.
"Denim Day, a protest that started in the 90s, is all about combating victim blaming," said Allyanna Pittman, an education and outreach specialist for CARE. "Since we are the prevention, intervention [and] advocacy service provider for sexual assault, domestic violence and stalking here at UC Davis, we wanted to use this as an opportunity to raise awareness on campus."
Sarah Meredith, the director of the CARE program, said that Denim Day encompasses CARE's overarching mission of eliminating sexual harassment and sexual violence in any way, shape or form.
"Deconstructing myths about sexual assault is an integral part of what we do, [and] it makes Denim Day important to the work that CARE does," Meredith said. "We see that the UC Davis community is not immune to the myths that are still held by a large portion of society — we have community members who minimize and make excuses for the behavior of the perpetrator, community members who are unsupportive of victims who want to come forward."
Many would say that we live within a culture that fails to hold perpetrators of sexual assault accountable for their actions. This problem can be further exacerbated on college campuses, where incidences of sexual misconduct are sometimes normalized and often go unnoticed. According to Jenna Rutledge, a third-year biological sciences major, this lack of accountability wrongfully shifts the blame from the perpetrators onto the victims.
"I know people would rather not dwell on it, but the fact of the matter is way too many of us have been or know someone who has been a victim of sexual assault," Rutledge said. "And of those victims, way too many of them blame […] themselves for their assault. 'If I hadn't worn that, if I hadn't said that, if I hadn't had a drink, if I went home instead of spending the night, if I hadn't put myself in that situation.'"
Kathy Pham, a third-year psychology and sociology double major, community organizer for the WRRC and member of Asian and Pacific-Islander Queers, believes that patriarchal attitudes have caused victim-shaming and victim-blaming mentalities to manifest themselves in society, giving rise to the rape culture that is internalized on so many college campuses.
"It definitely has a lot to do with the patriarchy and toxic masculinity," Pham said. "Rape culture has been so prevalent on college campuses. Folks aren't willing to report [their sexual assault cases] because they're afraid that everyone they trust is just going to be like 'Oh, that was your fault.' You hear so many people coming out with their [sexual assault] stories, but the media will think they're faking it or they're just trying to get attention. It's not a guarantee that [survivors] will get the justice that they deserve."
Pham sees Denim Day as a starting-point for individuals to learn more about sexual assault awareness and prevention.
"I feel like Denim Day is such an important day, especially for Sexual Assault Awareness Month," Pham said. "Denim Day is a great start because it's subtle but also powerful, because it gets the message across. Just the act of wearing denim starts the conversations around victim blaming, [which] are conversations we should be having not only in April, but throughout the year."
Shellan Saling, a fourth-year international relations major and the co-founder of Eye-to-Eye, decided to participate in Denim Day because she appreciates the feelings of empowerment and solidarity that the event provides for sexual assault survivors.
"I think Denim Day is such a great yearly event for survivors," Saling said. "I like the focus of empowerment. To have something that shows recovery is really positive. Yes, all of us [survivors] have had terrible situations, but we've overcome them. Wearing denim as [either] a survivor or as an ally shows empowerment; people who are willing to organize and speak out to let others know that they're not alone can break down stigmas."
Written by: Emily Nguyen — features@theaggie.org