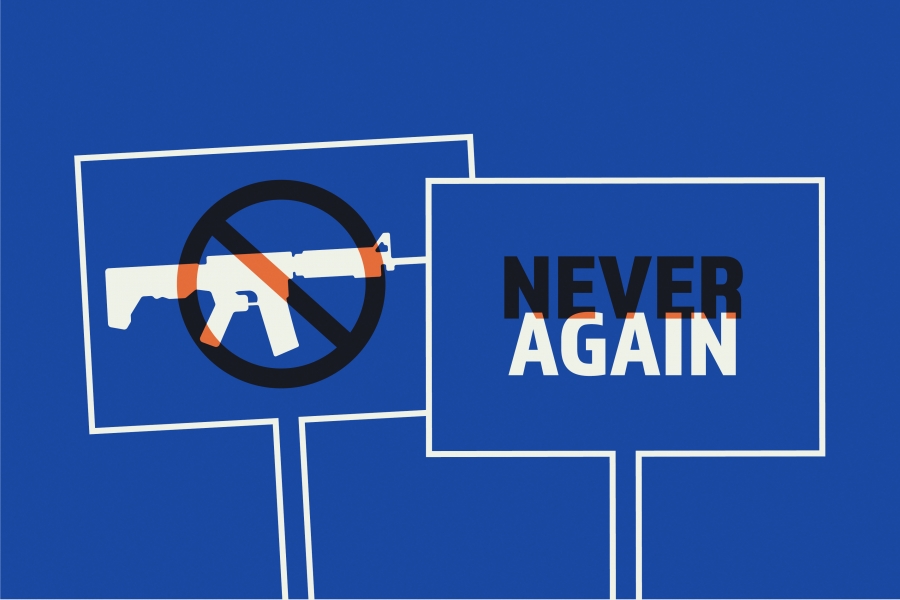 Protest against gun violence, for stricter gun control laws
Since the Parkland shooting in February, students have been rising in numbers to protest for stricter gun ownership laws. One such recent protest was the March 14 walkout. Students left their classrooms to protest against gun violence and for stricter gun control laws. Shortly after, an advisory was sent out by Superintendent John Bowes for the Davis Joint Unified School District, marking students who left the class to protest with an unexcused absence.
"We, the board and the district, are aware that the students do have first amendment rights and that they maintain those when they walk on the school campus," said Tom Adams, the president of the Davis Joint Unified School District Board of Education. "What we make sure is that they [the students] stay on campus for their own protection."
The subject of the advisory has caused dispute in terms of not recognizing students' rights and marking them with an unexcused absence.
"The issue of unexcused absence was really nothing that at this point we hadn't dealt with — in terms of how to actually treat this — and we have to fall back on existing policies and rules," Adams said. "If you're not in class on scheduled time, we have to mark you as unexcused absence."
The district has successfully put a safety task force meeting in order and has adopted Resolution No. 37-18 to address this matter with urgency.
"The issue of school safety is not something we face alone as a school district, and DJUSD has invited staff, parents, students and our broader community to engage in safety task force meetings to identify risks and find ways to implement safety improvements in a timely manner," Adams said.
These meetings are open to the public, and more information can be found at the Davis Joint Unified School District website.
"We are not only educating our public and advertising these meetings to get as much public and parent input as possible, but we are also taking those notes and putting them on the website so people understand what is happening at the meetings and can be informed about it," said Maria Clayton, the public information officer for DJUSD. "All of the information from the meetings will be distilled and will become a part of the conversation for the facilities master plan that we are in the process of doing."
In addition to the safety task force meetings, the district has been voicing its opinion on importance of stricter gun laws to the government.
"We sent a formal letter to our congressional representatives saying we want stricter gun laws," Adams said. "We are adamant in saying that arming teachers was a preposterous solution."
DJUSD is also advancing with efforts to minimize the effects of such incidents of gun violence on students' mental health.
"One thing we have done is to ensure that student mental health is addressed early," Adams said. "With adding up counselors at the elementary level, with the sensitivity to the growing issue at the middle school and high school level, we know that this is a fragile thing."
According to an article written by The Sacramento Bee, Sacramento Mayor Darrell Steinberg called the Planned National School Walkout "a vital part of students' education."
Additionally, the mayor said he would "march beside (the students), or maybe even behind them."
Adams has a final message for the students:
"I want to thank all students who have participated in protests — they have been very good about it," Adams said. "I want to support them in doing that. This is the time when you have to speak up and teach us — the adults — about the right direction to go to."
Written by: Rabiya Oberoi — city@theaggie.org