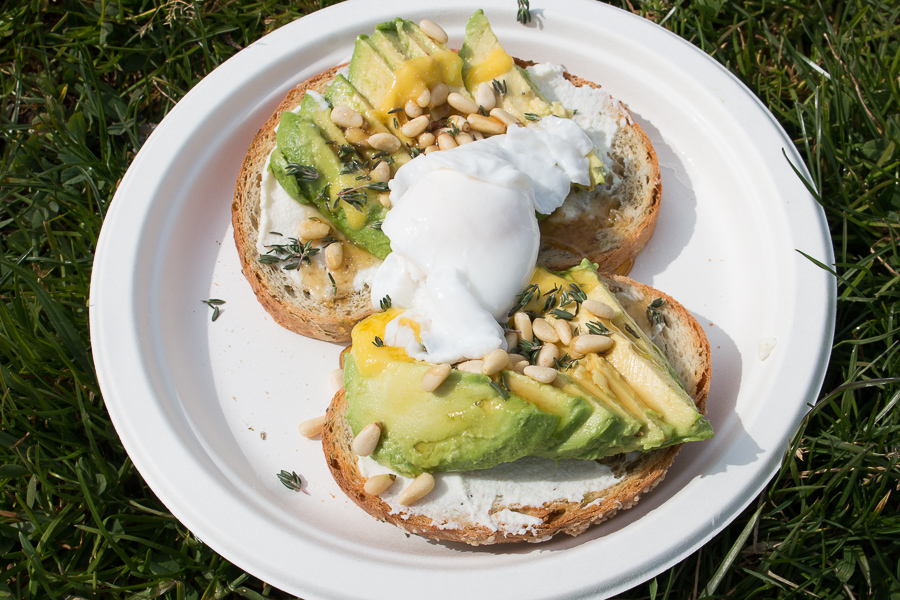 Family-owned business dedicated to serving Davis community
Everyone's favorite Instagram-worthy snack is now at the Davis Farmers Market: avocado toast. For all the foodies out there looking to try the latest food trend, look no further than downtown Davis. At the Davis Farmers Market, residents can treat themselves every Saturday morning to a variety of fresh and delicious avocado toasts at WestToast, served by Zumapoke and Lush Ice.
"I'm so happy that we have a place in Davis with really high-quality avocado toast," said first-year psychology major Gavi Sonntag. "FarMar avo toast is the best, and every week I really look forward to trying a new item on the menu. My favorite is the Bees Knees!"
The craze for avocado toast swept the breakfast scene by storm not too long ago, but has quickly become a staple among most restaurants and cafes. Despite its simple ingredients, avocado toast has become known for its delicious taste, healthy benefits and prime aesthetic appeal. In addition, nearly all of the ingredients used at Zumapoke's stand are conveniently sourced from vendors at the Davis Farmers Market. That includes salted rosemary bread courtesy of Upper Crust Baking Co., jam from Sunblest Orchards and the avocados themselves.
"I had heard of avocado toast and thought it was such a perfect market food," said Farmers Market manager Randii MacNear in an interview with The Davis Enterprise. "Customers love the stand."
Over the past year, Zumapoke has brought its locally sourced avocado toasts to the farmers market, quickly gaining traction as a FarMar staple. Zumapoke, located at 3rd and G streets, is typically known for its poke bowls in downtown Davis. However, owners Dustin and Rachael Ryen elected to broaden their horizons and expand their business. Due to popular demand, Zumapoke brought the avocado toast from the farmer's market into the main store on a regular basis. The menu features a unique variety of toasts, such as the Poke-cado toast, which includes the usual avocado topped with fresh poke. However, as of late, Zumapoke avocado toast is only available at the farmers market on Saturday mornings until 1 p.m.
"Zumapoke has been a lifelong dream of ours, made possible by the generosity of our parents, the sale of a family farm, and our life savings," said the Ryens on their restaurant's website. "By opening in Davis we have become stakeholders in a community very dear to us."
In turn, the family-owned business of Zumapoke has made itself dear to the community of Davis as well. With the Ryens originating in the Sacramento and Yolo County areas, their dedication to serving high-quality foods to the local community is demonstrated in the presentation of the food itself and also in the couple's happy and welcoming customer service.
Zumapoke and Lush Ice is located at 730 3rd St. WestToast can be found at the Saturday morning Davis Farmer's Market until 1 p.m.
Written by: Sydney Odman — arts@theaggie.org