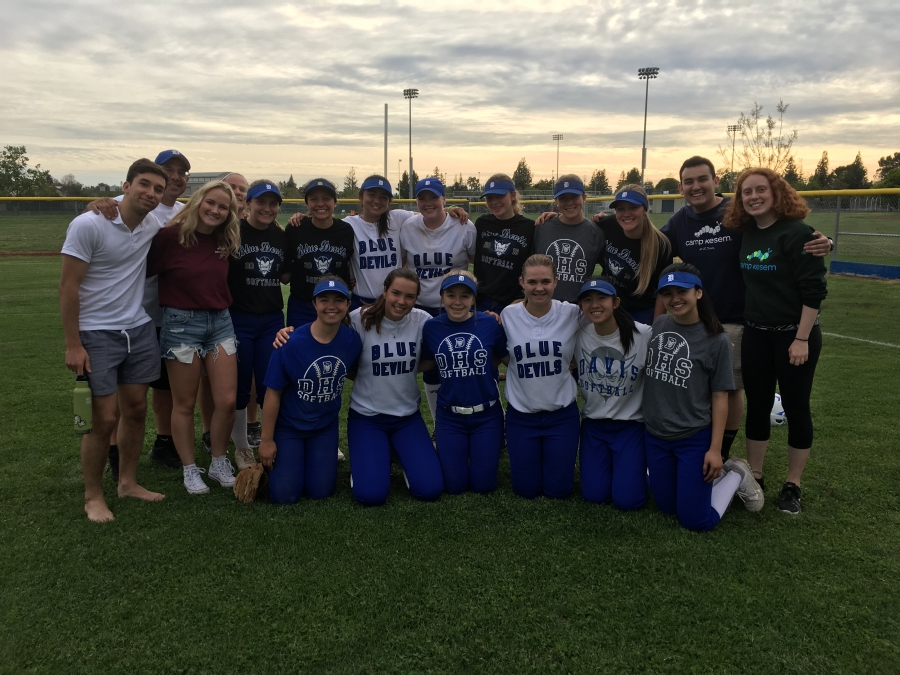 Cancer's far-reaching impacts creates shared connections in Camp Kesem
Spirits were high at the Davis Senior High softball field as the Davis Blue Devils' girls softball team hosted Camp Kesem Day in a special gathering of the Davis community. The softball team gifted supplies for the upcoming summer camp and defeated the Monterey Trail Mustangs 11-0 on April 19.
Counselors and campers from the UC Davis Camp Kesem chapter filled the stands as they cheered on Blue Devils. Davis Blue Devil girls softball head coach Lyn Christopulos lost his brother to cancer last year and wanted to host Camp Kesem Day to honor the organization and its impact on his family.
Camp Kesem hosts free summer camps for children whose parents have been impacted by cancer. UC Davis' chapter is run primarily by UC Davis students, a group of around 100 counselors who host 260 campers for a week-long camping session. Campers and counselors create nicknames that speak to their personality.
Nathan, or "Alleyoop," a Davis High junior and Kesem camper, got his nickname because he played basketball.
He thinks the Davis community coming together for this occasion is a good thing.
"I think that's honestly amazing," Nathan said. "I think it will spread the word even more and get more people involved in the camp, which is always awesome to help people get through experiences like what I have gone through."
Nathan's mother battled breast cancer for three years before passing away. His experience at Kesem has inspired him to become a camp counselor as he is now a counselor in training. He will be attending the camp this June in Grizzly Flat as a camper, but will also mentor younger campers.
"The first year, I went and it was like the second or third day and we were down by the campfire area, and two of these counselors, had this one skit that they did," Nathan said. "It was really funny and it kind of showed me what Camp Kesem is all about. It's all about having fun with people who know what you've been through which I thought was awesome."
Fifth-year history and international relations double major and co-director of Kesem's UC Davis chapter John Dolan, nicknamed "Hobbes" for his fascination with Calvin and Hobbes, says the chapter just hit its fundraising goal for the year.
At the most recent Camp Kesem fundraiser, Make the Magic, around $90,000 was raised. But Dolan wants to break last year's record. With two months until camp, he is optimistic they will break last year's fundraising total, and hopes the extra funds will benefit his campers.
"We do a lot of events throughout the year going to different schools and school boards," Dolan said. "And talk about what Kesem is and trying to help as many kids in the area as possible."
The Blue Devil girls softball team split up into three groups to see who could get the most donations for Camp Kesem's supplies this year. The supplies were mustard, ketchup and chocolate sauce for the camp's "messy olympics."
For the messy olympics, campers get their choice of condiment to spray the counselors. Dolan recalled the experience of getting sprayed with ketchup and mustard, and the feeling of condiments baking in the summer heat.
Fourth-year global disease biology major Kevin Coral, nicknamed "Apollo" for his love of boxing, has been a camp counselor for three years.
Coral recounted one of his most moving moments as a Kesem counselor at a parent memorial.
"Some of my campers asked me to go, I went and there were about 60 or 70 people in this little room and they went around in a circle and shared a memory of their parent," Coral said. "It was a heartbreaking and humbling experience to hear a 6-year-old saying. 'I miss my mom, but it's okay because I have [Camp] Kesem,' I was crying the whole time."
After the game, Kesem counselors and campers were invited on the field to share their experience as counselors. The counselors then started singing camp songs, and everyone joined in.
"Uh-huh! Oh-yea! One more time," chanted the counselors as they led everyone. "Race car style! I said a vroom shifta vroom!"
Christopulos' brother, George, was diagnosed with stage four glioblastoma six years ago. Lyn recalled that his niece and nephew struggled with their father's diagnosis at first, and that the diagnosis weighed heavy on their minds. Kesem was not on their priority list.
"They were not really excited about going it first, they were struggling with the diagnosis to begin with," Christopulos said. "But when they went and came back, they were beyond excited and empowered by their experience."
Camp Kesem has had a contagious effect on the Christopulos family, Christopulos' daughter is now a counselor at University of Oregon's Camp Kesem chapter, and his nephew is the director at UC Berkeley's chapter.
As the Blue Devil girls played duck-duck-goose with campers on home plate, Christopulos reflected on the team's experience of collecting donations for Kesem.
"We were all in from the first moment," Christopulos said. "This is a perfect way to get them involved, and look at them all, they're all in, and I love that my girls dove in and embraced it."
Written by: Bobby John — sports@theaggie.org
Editor's note: A version of this article in print stated that Nathan is a sophomore. Nathan is a junior. The article has been updated to reflect this change.