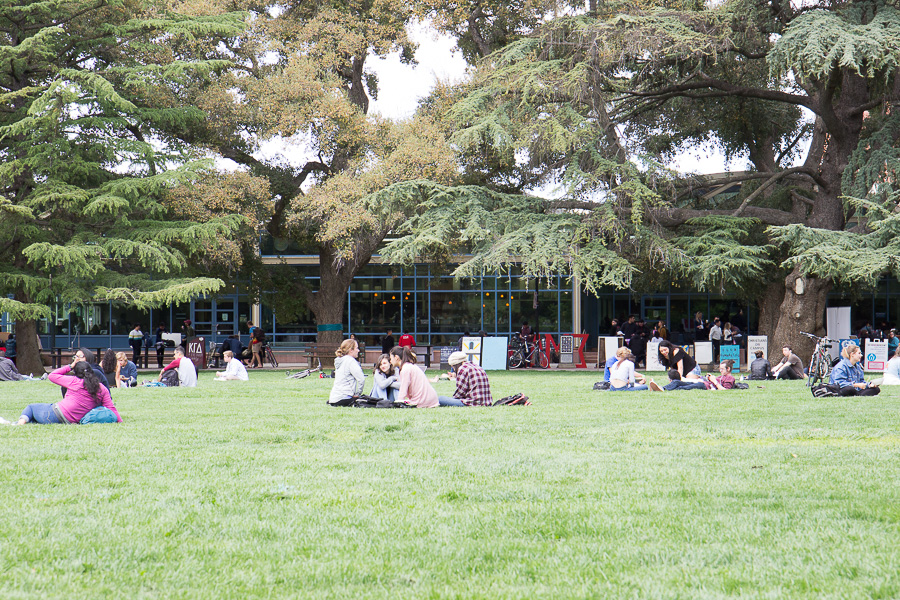 Check out one of these spots next time you want to nap on campus
Spring Quarter means warmer weather, sunnier days and more time spent outdoors. Students often take advantage of this by lounging in the sun, spending time with friends outside and taking seasonal spring naps. The Aggie has compiled a short list of the best spots to nap on campus this spring.
MU Hammocks
If you're lucky enough to land a spot on the elusive blue MU hammocks, use the opportunity to take a quick nap before a class. The hammocks are out nearly every day of spring quarter due to the nice weather, so keep your eye out if you're looking for one of the most relaxing and spacious places to nap on campus.
Grass on the Quad
There's a reason why so many people sit outside on the grass when it starts to get warmer out. The weather makes it a perfect place to sit in between classes and enjoy the sun, and the grass is one of the most comfortable spots to rest during the day. Use your jacket or backpack as a pillow and the quad makes the perfect bed away from home.
Arboretum
If you have some extra time, make the trek over to the Arboretum for a comfortable and quiet spot to nap. Aside from the occasional runner or family of ducks, the Arboretum is an extremely peaceful place to get away and have an opportunity to enjoy the peace and quiet.  
Library
While the library is usually where students go to in efforts to be more productive, the quiet space also makes for a good place to rest during the day. Students have many comfortable options to choose from, including nooks overlooking the library courtyard and personal desks to comfortably rest your head in.
MU Sofas
Thanks to the new renovations, the MU is now filled with comfortable blocks of colored sofas. If you're lucky enough to grab yourself an entire sofa, don't hesitate to spread out and take a nap before your next class. This is probably one of the spots that most resembles taking a cat nap in the comfort of your own home.
Happy napping!
Written by: Alyssa Hada — features@theaggie.org