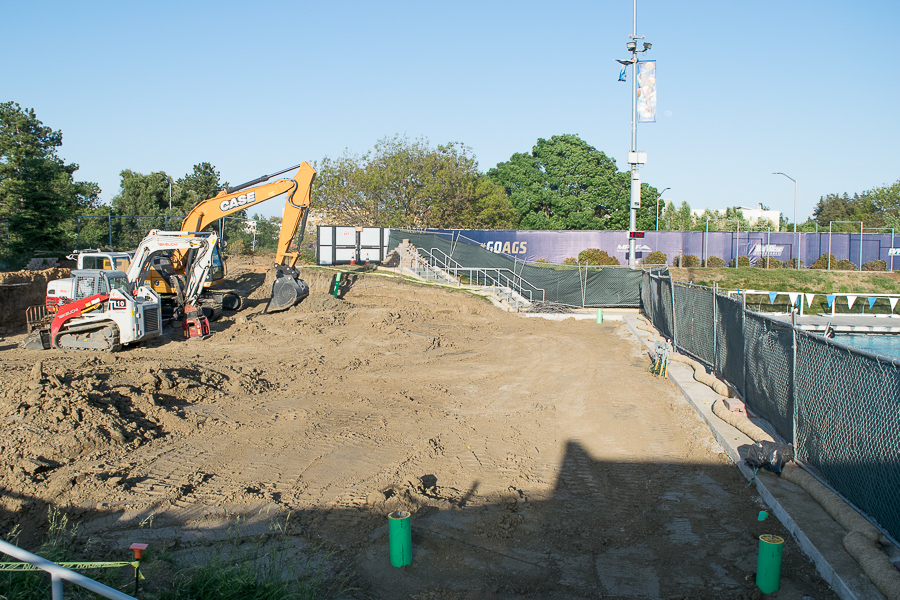 UC Davis to enhance Aquatic Center to include new team center, coaches offices, conference room, renovated swimming lanes
On arguably UC Davis' biggest day of the year, Picnic Day, a ceremony was held at the Schaal Aquatics Center to celebrate construction taking place to enhance the facilities. Along with renovations to lap lanes are the addition of a new conference room, coaching offices and a team center for all UC Davis aquatic teams.
Currently, the coaching offices for men's and women's water polo teams, as well as the swim and dive teams are located in the Cowell Building on campus, which is on the other side of the UC Davis campus in relation to Schaal. Coaches are excited for the renovations and the impact it will have in improved coaching methods.
"I think it's great that we are going to be able to have our offices on the pool," said Child and Meisel Families Director of men's water polo and head coach Daniel Leyson. "I think it is going to help our student-athletes so much in that they have to move around so much from place to place [on campus], so if I want to meet with my players, we are at the pool already so we are saving time in that way. I think it will be great in terms of making life easier for the players, and I am all for that."
The funding for the new multimillion-dollar facility has been stimulated by the contributions of alumni and friends of UC Davis aquatic sports. Cathy and Jack Raycraft and David Hodgens and Linda Olson are responsible for the two biggest donations for the new construction project. Christi Raycraft, a former women's water polo star at UC Davis and daughter of Cathy and Jack, is currently ranked fourth in the Cal Aggie Athletics Hall of Fame for school career goals. Tiffany Hodgens, another former Aggie women's water polo player and daughter of David and Linda, ranks first in the same Hall of Fame for school career goals scored.
All coaches are very excited for the new building and are very thankful to the donors that gave money to help make construction possible.
"In terms of the new construction I think it is really exciting for the aquatic center to have a new building," Leyson said. "We were one of the few departments in athletics that is having new construction and that shows a tremendous commitment of generosity from the people who donated money to make this project happen."
As a thank you and a recognition for all of the various donors contributing to the $1,000 raised for the team center, a Donor Wall of Honor will be located at the entry of the team room.
"It's going to change the dynamics of everything in a really positive way," said women's water polo head coach Jamey Wright. "The coaches and the players will be able to interact so much more often because the offices are right here [at the pool]. The athletes within teams can hang out and talk and interact with each other rather than just going their separate ways, as well as interactions within different teams, as well as the opportunity to set things up like tutors, etc."
The project is expected to be completed in the winter of 2019, and full details of the project, as well as funding, can be found here.
"I just think it is gonna be fabulous and change the positive dynamics of how players and coaches and players and players interact," Wright said.
Written by: Ryan Bugsch — sports@theaggie.org