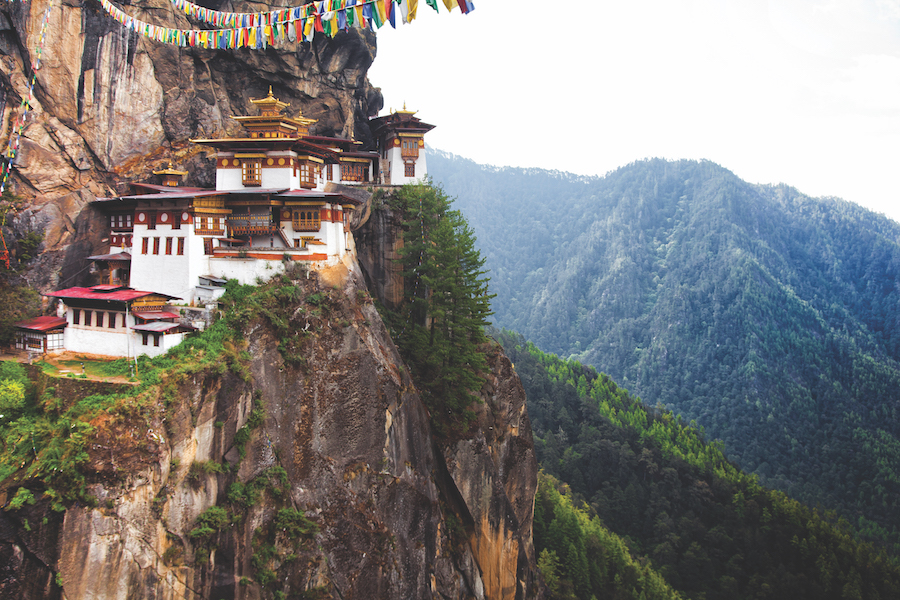 A look at new study abroad programs, process of starting them
Bhutan is said to be the happiest country in the world. Beginning this summer, students at UC Davis will have the opportunity to experience this place for themselves through a four-week study abroad program entitled Bhutan: Introduction to Geographic Information Systems.
"There's a concept called Gross National Happiness […which] instead of measuring success on gross national product by how much economically you're producing, Gross National Happiness is looking at a whole series of pillars on happiness including environmental well-being, psychological well-being, all those kinds of things including economic, education, all these different things," said Karen Beardsley, the instructor of the Bhutan program and director of professional programs for Global Affairs. "It's called GNH and you hear it everywhere and it's taken very seriously. The Bhutanese are very proud of GNH."
The program, Bhutan: Introduction to Geographic Information Systems, is an abroad substitute for Landscape Architecture 150: Introduction to Geographic Information Systems, a four-unit course coupled with a 198 course for four units of pass/no pass credit.
"[Bhutan] is a very special place," Beardsley said. "There's so much to see and do there and experience, so we're going to break it down into a couple of long days in the computer lab, including lectures and labs, and then we'll take a few days of field trips, visiting cultural sites and environmentally significant sites, even using geospatial technology to collect data in the field."
In addition to the class and field trip components, Beardsley will ask her students to keep track of their time in Bhutan through individual and group journaling and story-mapping.
"Because it's a mapping class, I'm hoping to also have the students do some keeping track of their time in Bhutan through journaling but also story-mapping, which is a way of using maps to follow along," Beardsley said. "You can have information about where you went, collect data about different places, and have some text and photos and such associated with that. Then some of that we hope to bring back and share here in the International Center."
The college that UC Davis students will be located abroad at, Royal Thimphu College, is located about seven miles from the center of Bhutan's capital city of Thimphu. Beardsley noted that the country is not very populated; Thimphu itself only has a population of about 150,000, which is roughly twice the size of Davis.
"There are no stop lights in the entire country," Beardsley said. "There is one intersection where they have what's called 'the dancing policeman' at a little roundabout who directs traffic. At one point in time they put in a traffic light and everyone complained and didn't want it so they took it back out again. [Also] the people are about almost 100% Buddhist, so there's Buddhist temples. Basically everyone during the day wears traditional Bhutanese dress."
Tourism is very highly regulated in the country and can be expensive, so being a study abroad student there is a unique opportunity. Students even have the chance to be part of a mentor program.
"For every three or four UC Davis students, there will be a Bhutanese student who will be there to really be their liaison, to show them around, to take them to town, to be their person who can help, and also teach them a little bit of [the native language] Dzongkha," Beardsley said.
The idea for this program came about after Beardsley experienced Bhutan as a Fulbright professor. Between the summers of 2015 and 2016, Beardsley lived and taught in Bhutan on this teaching fellowship and helped set up the GIS lab at the Royal Thimphu College.
"While I was there and I noticed all these other exchange programs that they had," Beardsley said. "I thought, 'what a wonderful experience for a student to come to Bhutan and have this international experience.' It's just such an interesting culture, a safe place, there's just so much about it that made me think 'oh if I were a student I would really want to come here.'"
However, it wasn't a quick process for Beardsley to get this program up and running. Although she originally wanted to run it in the summer of 2017, all the loose ends were not tied up until this year because UC Davis Study Abroad requires a specific application process of faculty and program-leaders.
"The concept is that a faculty member takes a program that they teach on campus, or a class that they teach on campus and just teach it abroad with amazing field trips," said Jennifer Moylan, a program coordinator and advisor for UC Davis Study Abroad. "All summer abroad programs are built around eight units of one core course like the LDA 150 and then a 198, which is four units of pass/no pass. So because we're drawing from our faculty, different people come with all kinds of different knowledge."
Study Abroad offers the opportunity to develop new programs every year when they release a call for proposals in the winter. Sometimes the solicitation may be looking for a few specific traits in a program, but it is always open to fun and unique ideas. This year, UC Davis Study Abroad held two information sessions for faculty to come and ask questions that would help them create a stronger and more thorough proposal.
In the early stages of this process, when the initial proposals are submitted, the program committee looks them over and provides feedback. When this is done, Aliki Dragona, who is the faculty director of faculty-led programs, writes up an executive summary and gives it to Joanna Regulska, the vice provost and associate chancellor of Global Affairs, to get her feedback as well.
"We say on the proposal call that we will respond to our faculty proposals by a certain date (in 2018, it is May first) and then if a proposal is accepted for development, we work with that faculty to build their program," Dragona said in an email. "Sometimes faculty have figured out everything in their proposal: their partner, the dorms, whatnot. But sometimes faculty might need a little help, in which case we say 'if you need a little bit of help with France, let us connect you with Jennie, who is our France specialist' and that's how we help our faculty move forward from the proposal phase to actual program development."
"Each faculty member [whose proposal is greenlighted] gets paired with a program coordinator," Moylan said. "I coordinate right now about ten programs, so I'm working with a faculty member to deeply understand how their course is going to work abroad, what they need for success, what the place they're going to has for resources and how we need to shore it up."
For Melissa Bender, a continuing lecturer in the University Writing Program and the assistant director for writing across the curriculum, the process from beginning to end for her new study abroad program took nearly three years.
Beyond getting everything figured out for the program, there's the added work of having to advertise for the new program so students know about it and will enroll. Bender's program, Iconic American Landmarks in NYC and Washington, D.C., has about 10 people currently signed up for this summer's first trip.
"After it gets approved you start promoting the class the fall before it's going to run," Bender said. "Especially for a new course, you have to do a lot of going around and talking to students about what the course is. I did a lot of class visits."
The program will take its students to Washington, D.C. where the group will tour famous landmarks and monuments like those at the Washington Mall, as well as New York City, where students will visit places like the Statue of Liberty and the 9/11 Memorial.
"This class will be studying the buildings, structures, public spaces that we associate with those two cities, through a rhetorical framework," Bender said. "The question that will be driving the class is 'how do these landmarks of these two cities have an impact in how we understand what the United States is as a nation?'"
Although she couldn't foresee what would take place at the initial conception of this program a couple years ago, Bender believes that now is a great time to run a program like this due to the events in Charlottesville last summer around the removal of Confederate monuments.
"I'm really excited about the class and think that the timing turned out to be really good in terms of that," Bender said. "I think it's a really important time in our nation to be thinking about what these monuments mean to us and why perhaps some people have such strong reactions, as we've seen in places like Charlottesville and New Orleans."
Bender's program is a study abroad opportunity that is actually not abroad. Having done some programs in Europe, Bender knew that she enjoyed this kind of work. So when Study Abroad was thinking about running some domestic programs, she thought it would be a great opportunity for international students at UC Davis.
"While [international students are] here they may want to see other parts of the United States, and New York and Washington DC are pretty high on foreigners' lists when they come to the U.S. for travel," Bender said. "It seemed like a really good opportunity, and I knew it's pretty easy to get between the two cities, so I got into conversation with a few of the folks over at study abroad and ran the idea past them and they gave me the thumbs up, so then I wrote the proposal."
Study Abroad offers many opportunities for its students to have life-changing experiences and is always open to introducing new and exciting programs and concepts. Whether it's visiting the mountains and forests of Bhutan or experiencing the cosmopolitan east coast of the United States, there are plenty of ways students can get out and see the world while studying at UC Davis.
"There was recently some research out that talked about that people who have gone abroad have a really strong sense of self," Moylan said. "I think that's because when we're in our own society, part of what we do is because of our own selves, and part of it is because of everyone's expectations on us, and then when you go abroad there are new expectations on you which you can feel, but you can also feel the expectations of your home place fall away."
Written by: Marlys Jeane — features@theaggie.org