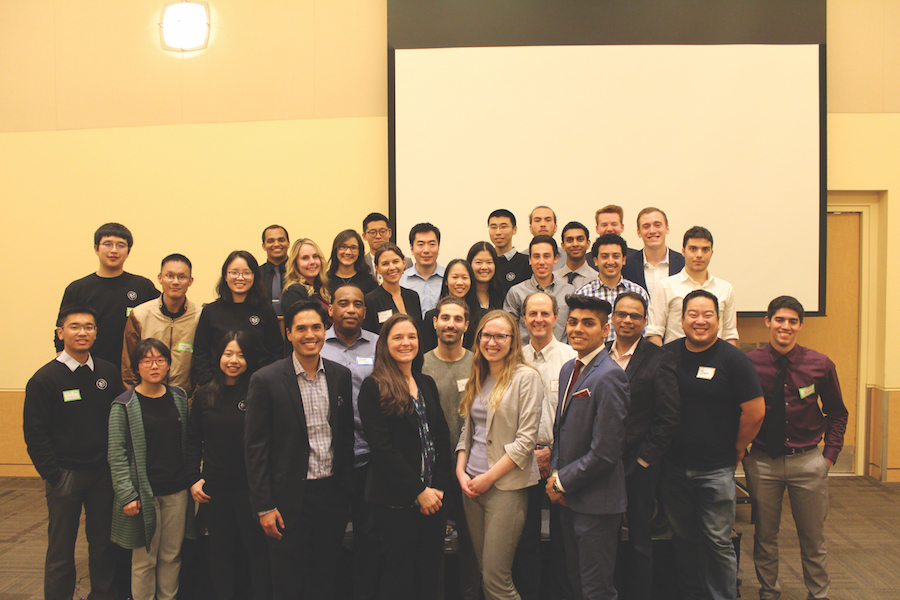 Entrepreneurship program culminated 12-week program with event for companies, investors
Curing breast cancer, keeping Unitrans buses clean and coaching athletes online — all of these services have a few things in common. Namely, they are startups created by UC Davis alumni and are supported by PLASMA.
PLASMA at UC Davis is a new accelerated program for entrepreneurs. Accelerator programs are used by startups to get ahead in the world of business and receive advice from mentors.
As an undergraduate at UC Davis, Mathew Magno and a team of students created a business called Japa in order to manage parking lots better. For certain parking lots, such as some here at UC Davis, the accompanying Japa app shows drivers where open spots are.
"There was an old accelerator program here called the ASUCD Entrepreneurship," said Magno, a PLASMA founder. "Right after Japa got started, we were like ok, let's join this accelerator program because it's supposed to accelerate you and, you know, [be] business ready. And we tried it and it was horrible."
Since Magno didn't like the accelerator program at UC Davis, his company applied and went through an online one called Y Combinator. Magno said that the program was an amazing experience and he was inspired to start one at UC Davis that would be better.
"PLASMA stands for prototyping labs and startup mentorship accelerator," Magno said. "So what we do is we take people with companies or ideas or startups and we mentor them for 12 weeks. Every week we bring in a mentor from the industry, whether it's a CEO that's launched a couple companies, or a venture capitalist or you know, we have lawyers and patent attorneys come in. And we guide them every week to keep them progressing with their company."
To apply to PLASMA, companies have to go through a rigorous process. Judges review all applications and send a selected 15 applications to board members. These are limited down to only 10 companies. Any idea in any stage of development is welcome to apply. The accepted companies are given seed money in addition to access to mentors from the field.
"It's a balance," said Angelika Joseph, a PLASMA board member. "It's a big problem for venture portfolios because there's a lot where you understand that most of the startups you invest in probably won't make it to the Facebook level where they're more than a billion dollars, very few do."
Magno, Ravi Chopra and Liz Tang are the founders of PLASMA. Chopra credited the success of the program to Tang, a faculty member of UC Davis. Tang teaches classes on the topic of entrepreneurship and Chopra believes she is the reason the PLASMA will continue to be successful in the future.
"I see big things for PLASMA," Magno said. "I see it becoming so big that it's going to bring a community of entrepreneurs to Davis and build and grow that community…I feel like PLASMA is going to help that and motivate people to actually start their ideas and build a company and build great products that, you know, will help innovate and change the world."
PLASMA accepts applications from any company, no matter what their focus may be. The mentoring lasts for 12 weeks and at the end of that, there is an event called Demo Day. This year, Demo Day was on April 28 and the companies that went through the PLASMA program gave three-minute pitches to investors and judges. Judges awarded the startups a number of monetary prizes.
This year, Demo Day saw more than $10,000 awarded to companies started by UC Davis alumni. $5,000 was given to JB Solutions for ideas on collecting data on groundwater systems. An app for Chinese international students, called Xiaocun, received $3,000. The innovation that helps keep Unitrans clean was created by Whitecell Technologies. It won $2,000 for an antimicrobial handle, which prevents germs from spreading on public transportation.
The other companies that were a part of PLASMA can keep their seed money and still gained the experience of talking to professionals in business. Others who did not get into PLASMA or other accelerated programs should not view their rejection as a total failure, according to Joseph.
"Ask why [you did not get in]," Joseph said. "And then listen to the answer…And it's because they're [the company] not quite there for whatever reason but that doesn't mean they aren't getting it there […] No shouldn't be no. It should be an encouraging thing."
Magno suggested that students interested in creating their own startups visit the Student Startup Center in Bainer Hall. Other events, such as Create-a-Thon, Shopbot classes and 3D printing classes can help support alumni looking for ways to create their own business.
"We are the future," Magno said. "Why not start now and guide people to do the right thing?"
Written by: Rachel Paul — science@theaggie.org