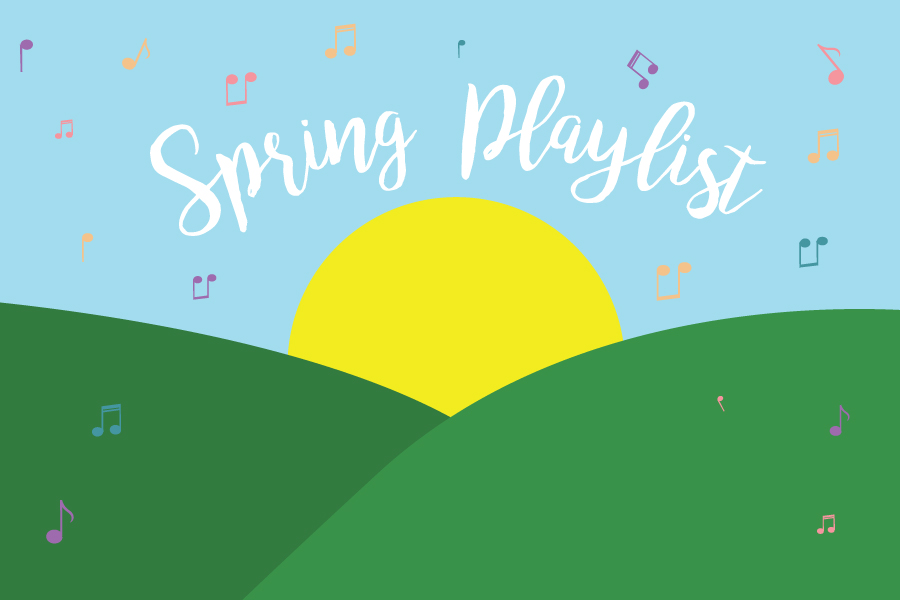 Songs for arboretum walks, sunset strolls
Forgive my introvertedness, but must spring be such a constant buzz of energy? The general spirited mood of Spring Quarter is definitely a plus, and it's reflected in the upbeat, happy music that people typically listen to at this time. But sometimes, something calmer better suits the mood. So put away that pre-game music you've been blasting and listen to this short list of calming, not-so-spring-pep tunes. I imagine ideally swaying along to this under the hue of a honey-yellow light in comforting solitude.
"Iota" — Angel Olsen
In an interview with Consequence of Sound, Olsen describes this track as "dreamy and unalarming, yet lyrically dark." Heavier songs like "Iota" can be intimidating in terms of trying to figure out their meaning and applicability to a wider audience, but Olsen detracts from this feeling by reminding us that her songs are deeply personal.
"I'm not trying to write like a triumphant work, novel, or album. I'm not trying to write a piece about the human condition," Olsen said in the interview. "It's more about my human condition, what I experience in everyday life with my friends, what I've seen around me that I've somehow found a fault with."
In turn, trying to figure out the meaning of every word from something so attached to the artist's experiences and thoughts is nearly impossible.
"Good Side In" — The Japanese House
The Japanese House, the self-imposed stage name for Amber Bain, utterly captivates in her disarming mix of sounds, production, lyrics and vocal pitch, making for a beautifully composed end product. This applies not just to "Good Side In" but to every song she creates.
"Congratulations" — MGMT
In this track, soft guitar strumming accompanies the classic high-pitched, indie, pop and psychedelic voice of MGMT's lead singer, Andrew VanWyngarden, making for a subtle, tranquil and magical ride.
"Love My Way" — The Psychedelic Furs
Flash back to the '80s with this more cheerful dance track. If you've seen "Call Me By Your Name," flashback to when Elio Perlman, played by Timothée Chalamet (sigh), grooves to this on screen.
"Sister Golden Hair" — America
America's folksiness verges almost a little too close for comfort to country music in some instances of this tune. But as is the case with most '70s songs, you can't help but sing along to this track.
"Buzzing in the Light" — Dr. Dog
Dr. Dog originally captured my attention with "Heart It Races," and I subsequently fell in love with their sound through "Ain't It Strange." Dr. Dog is a five-member rock band that brings a sense of mellow euphoria to their tracks. You might relate to the line "Only in the light, I'm buzzing in the light, of this world" as you walk across the sunny Quad this Spring Quarter.
"Life" — The Walters
The chorus dragging out the line "Life moves slowly" in a hazy trance will make you want to relax, withdraw and take some time for yourself.
"Sleep Walk" — Santo & Johnny
At this point in the playlist you might be ready for a nap. This instrumental originally released in 1959 can help seal the deal.
If you're still craving some livelier music to get hyped to, the following is a selection of tunes that should definitely satisfy:
"untitled 02" by Kendrick Lamar
"Red Light" by EARTHGANG
"A$AP Forever"" by A$AP Rocky and Moby
TOKYO" by BROCKHAMPTON
"Prima Donna" by Vince Staples
"Chum" by Earl Sweatshirt
"sweet sweet" by Travis Scott
"Wavy (Interlude)" by SZA
"Forever" by Noname Joseph Chilliams and Ravyn Lenae
"SMILE" by Saba
"sdp interlude" by Travis Scott
"QUEER" by BROCKHAMPTON
"Waves" by Kanye West
"The Dreamer" by Anderson .Paak
"untitled 03" by Kendrick Lamar
"Running Out of Runway" by Topaz Jones
Written by: Cecilia Morales — arts@theaggie.org