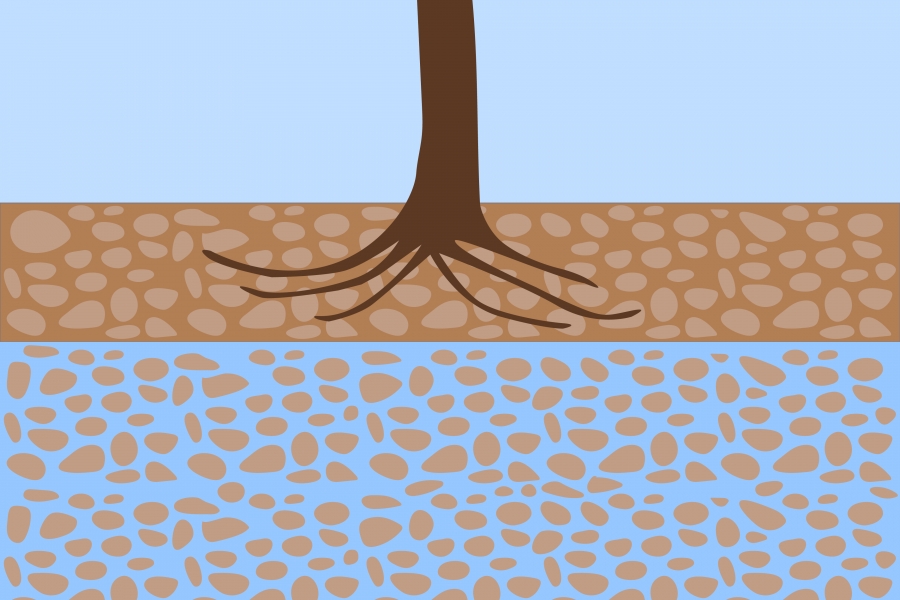 Studying groundwater to protect health, water needs of the future
Water has been a precious resource in California's modern history. Many conflicts have been waged over surface water usage from lakes and dam construction on rivers, but the future of California's water availability may be in the vast groundwater reserves found in the rocks below us.
At a recent installment of Sacramento Science Distilled, Sacramento State scientists Amelia Vankeuren and Justin Miller-Schulze spoke about their work investigating groundwater systems. Using key tracers in water, both researchers are able to understand characteristics of where the water originated from and what type of sources it has touched on its journeys.
Water from rainfall, running rivers, crop irrigation and human waste seeps through the topsoil into pores in the rocks below, where millions of gallons of water collect in aquifers.
"Our aquifers are made up of what look like essentially sand grains, all stacked on top of each other," said Vankeuren, an assistant professor in the Department of Geology at Sacramento State. "In the Central Valley, the water is all stuck in little pores between sediments."
Miller-Schulze tends to focus more on the human contributions to water sources, like caffeine, sucralose and antibiotics, which informs researchers that the water has been in contact with human wastewater. In 2017, Miller-Schulze and other researchers discovered elevated levels of lead in water fountains and sinks at Sac State.
"We found fairly high concentrations of lead in a lot of the drinking water on campus," said Miller-Schulze, an assistant professor in the Department of Chemistry. "That, obviously, made people uncomfortable. The treatment, or what to do there — that's hard to answer."
Lead is usually not found naturally in groundwater systems. The heavy metal is introduced to water supplies by human construction projects, chiefly lead pipes and soldering. Lead causes developmental problems and neurological damage when it builds up in human bodies. Replacing lead pipes is one option to prevent exposure to leaded water at Sac State's campus, but Miller-Schulze thinks filtering at the point of contact might be more practical.
"What we found — and I think what other people found — is that you're not going to replace all the piping in somebody's house, and that's where a lot of this [lead] comes from," Miller-Schulze said. "I think filtering at the point of use is the only option that guarantees that you're going to clean the water as best you can."
Vankeuren uses environmental tracers, like heavy water and tritium radiation, to determine the origins of water flowing to groundwater sources. The 2014 Sustainable Groundwater Management Act requires vulnerable basins to be brought into balance by 2040, but Californians don't know what serves as a "normal" level of groundwater.
"We're using environmental tracers to track the flow path and the water velocity, so we can figure out how much water is getting put into the system from the [American River]," Vankeuren said. "That may help with Sacramento County's Groundwater Sustainability Plan, because one question is: how much recharge do we have?"
UC Davis graduate students Amy Yoder and Stephen Maples work on measuring and modeling groundwater systems in Sacramento County. By measuring how much groundwater is beneath our feet, sustainability agencies can begin to better manage the vast water reserves.
"Due to the 2014 act, Groundwater Sustainability Agencies were formed in California," said Yoder, a masters student in the Department of Land, Air and Water Resources. "They have to design Groundwater Sustainability Plans by 2020, but in many cases, they don't have enough groundwater data. We're trying to increase data availability so that the public and these agencies can see what's happening in the subsurface."
Yoder's work involves dropping measuring equipment into wells to measure the water levels in real-time, sending measuring data out every 15 minutes. During rainfall, levels can fluctuate dramatically, and the changes help scientists better understand the geology and hydrology of the area. Such quality data can help inform both sustainable groundwater agencies as well as researchers like Maples who create models to understand groundwater levels.
One ongoing project between Vankeuren and UC Davis professor Laura Foglia includes flooding a vineyard during the off-season when the grapevines are dormant. The water slowly flows down into the groundwater, helping to recharge the strained system. Vankeuren is sampling the water after it has reached the aquifer to determine if these recharge efforts are contaminating the groundwater with farm runoff.
"A lot of these farmers have been farming this land for many decades," said Maples, a Ph.D. candidate in the Department of Land, Air Water Resources. "They're applying fertilizers and pesticides, which can accumulate in the soil zone. A big question is, are you flushing these nutrients and pesticides down into the aquifer system when we do on-farm recharge?"
Groundwater research will become more important in the coming decades as scientists better understand how to measure and manage the precious Californian reserves. The goal will be to keep the water balance equal between the water flowing underground and the vast amounts being pumped to the surface for human usage.
Written by: George Ugartemendia — science@theaggie.org