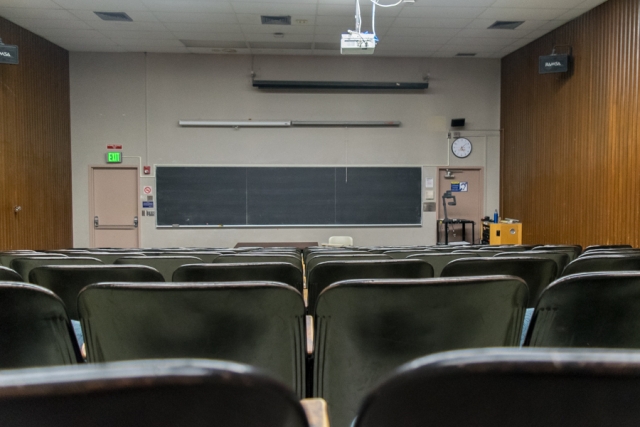 Surge III and Mrak Hall become popular housing options among students
On a bright Thursday morning, UC Davis third-year Callen McCarthy woke up for her 9 a.m. chemistry lecture just like on any other day. Her alarm went off at 8 a.m. and she pushed the snooze button until 8:30 a.m. After putting her clothes on, nodding "Bye" to her roommates and packing a granola bar for breakfast, she crossed Hutchison Drive and entered Sci Lec 10 minutes early for class. Yes, Callen McCarthy lives on campus, but not exactly where you'd expect for a UC Davis upperclassman.
"I've been living in Surge III for almost three months now," McCarthy said, granola bar in hand.
McCarthy is one of nearly 100 students who chose to take up residence in UC Davis classrooms due to the lack of affordable housing.
"For me, it was an easy choice," explained second-year Gabriel Sanchez. "It was either take out loans, apply for scholarships, ask my parents for money, live in my freaking car or move all of my stuff into the place where I spend most of my time anyway."
Sanchez also lives in Surge III, one of the more popular living areas among the other "Residential Undergraduate Classroom Areas," or RUCAs. Other facilities under this unofficial designation include Rock Hall, Roessler Hall, Mrak Hall and selected classrooms in Olson and Wellman halls. At the beginning of the quarter, students decide which area to move to based on their class schedules.
Public opinion on the matter is split along teacher-student lines. Several professors have voiced their concerns about RUCAs, calling them "understandable, but still a disruptive solution."
Professor Andy Boupadakis, who said he preferred to remain anonymous but never said "please," told The Aggie, "I don't care if I get fired for it, I will throw a student out on the street if I have to."
Students, on the other hand, claim that the situation doesn't have an adverse effect on their learning, as most of them are either skipping class or hardly paying attention anyway.
What's clear is the consistent backlash against UC Davis Chancellor Gary S. May and other campus administrators for not providing affordable housing for Davis students.
"I don't personally live in a RUCA now, but if that's the only affordable option on campus, then I might consider it next year," said first-year George Lee. "I mean, if I have to make the choice between buying a coffee every morning and paying rent, I would much rather take the coffee and live on campus for free. The CoHo is so close, too."
UC Davis administrators declined to detail a solution to the RUCAs, saying the matter "will take care of itself and, frankly, we need more money to accommodate incoming freshmen."
In an unrelated turn, local fashion and style company RVCA has recently reached out to RUCA residents about possible sponsorship deals.
Written by: Conner Shaw — cjshaw@ucdavis.edu
(This article is humor and/or satire, and its content is purely fictional. The story and the names of "sources" are fictionalized.)