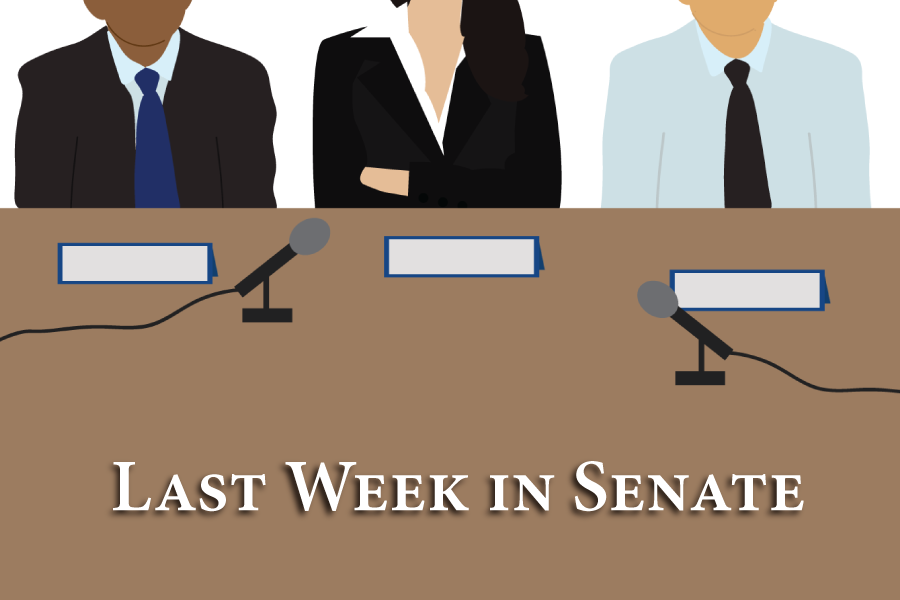 No new legislation introduced at April 19 Senate meeting
Senator Gaven Kaur called the ASUCD Senate meeting to order on Thursday, April 19 at 6:10 p.m. in absence of Vice President Shaniah Branson. Senator Danny Halawi and Senator Brandon Clemens were also absent.
The meeting began with by ASCUD President Michael Gofman nominating Meital Machulsky, a second-year international relations major, for the position of controller. The controller's main function is to create a budget. Machulsky said that she has a history of internships which have allowed her to gain financial experience, and that she currently oversees a group of interns.
"I interned last summer and I did a lot of financial assets," Machulsky said. "I did a lot of data work and analysis. As part of my position right now, I started as an intern and am now managing a small group of interns. I focus on analysis of revenues and establishing the budget market space."
Machulsky was confirmed as controller without objections.
The unit director for Entertainment Council, Liz O'Neill, was also confirmed shortly after. O'Neill, a third-year managerial economics and psychology double major, said she has been working with Entertainment Council since she was a freshman. When asked about her ideas, O'Neill said that she is looking to increase the significance of Lawntopia and bring different types of entertainment to UC Davis, like video games and dancing events.
"Next year we're definitely looking to get Lawntopia way bigger than we have before," O'Neill said. "We're looking to do more types of events and local events. We want more types of entertainment like video games and dancing events. We want to foster a stronger local scene in the community."
O'Neill was confirmed as unit director for Entertainment Council without any objections.
The last confirmation that took place was the Elections Committee chair. Mahssa Rezuei, a second-year biological science major, was asked about promoting voter turnout and said that she thinks her committee should advertise to students from the very beginning once they arrive at orientation.
"One main thing is to promote elections from freshman orientation and getting them involved the very first day," Rezuei said. "People who were in high school government would be interested."
Rezuei was then confirmed without any objections.
According to Entertainment Council's quarterly report, the rental revenue from equipment it owns is expected to add up to between $1,700 and $1,800, which is significantly above the original goal set for the council.
Other quarterly reports were then presented, including that of Student Transportation Services. The report stated that the unit's fiscal goal was reached by the fourth week of Spring Quarter. The STS reported that a current project is hiring new drivers and promoting a few drivers to supervisors.
The Unitrans quarterly report announced new challenges, including a growing deficit. Additionally, its reserves are predicted to be depleted in two years. In order to combat these issues, Unitrans is looking into new revenue sources, like reduced fuel cost, fare increase and fleet advertising, as well as discontinuing some free services it previously offered, such as the V line.
The Senate also discussed ASUCD Senate Bill #57, which intends to create a restricted Picnic Day reserve for revenue that Picnic Day produces. The bill passed, although it was amended to allow only 50 percent of revenue to go into reserves, while the other 50 percent will go back into the association.
ASUCD Senate Bill #56, to allocate money to send a delegation to the UC Irvine Mental Health Conference, was passed without any objections after some amendments.
Senate Bill #55, which authorizes the vice president to administer the oath of office to ASUCD Senators, and Senate Bill #60, which allocates $2,556 from Senate reserves to cover lighting and sound expenses for Lawntopia, were also both passed.
There was also the introduction of emergency legislation, ASUCD Resolution #12, that was intended to show ASUCD's recognition and condemnation of the Armenian genocide by the Ottoman Empire in the early 20th century. This resolution passed without objections.
No new legislation was introduced.
Public discussions occurred, during which Senator Ko Ser Htoo mentioned that UC Davis' annual Whole Earth Festival is coming up in May and its theme this year is Bloom. Public announcements were also made, including a reminder about the ASUCD attendance policy, as three senators were absent from the meeting.
Written by: Sabrina Habchi — campus@theaggie.org